Parenting Poop: What Big Apple Moms and Dads Are Buzzing About
By Christy Purington Mon Dec 8 2008
The massacre in Mumbai is getting
endless news coverage
, most of which leaves readers disenheartened with the world.
This story
, however, will warm your ticker up: A nanny risked her life by rescuing her two-year-old charge in the immediate aftermath of the attacks.
Looks like the Grinch isn't the only one being green this holiday.
CNN
offers suggestions in buying safe and environmentally friendly toys made out of wood, organic cotton, bamboo, wool or hemp.
Remedy your parenting quandaries
Got a few questions about your babe's habits that need answering? Like, um, is that spitup supposed to be putrid orange? Urbanbaby.com is
talking up a storm
about the hour-long
Swellbeing Webinars
, courtesy of the go-to NYC-based parenting resource, which help urban parents navigate particular child-rearing humps through live interactive webcasts. At just $30 each, you can afford to query all of Junior's inconsistancies. Brilliant.
Delivery room goes "Hello, Kitty" crazy
One
hospital in Taiwan
is decked out in the Sanrio feline--from a statue in the lobby to nurses dressed head-to-toe in pink--which they believe will "ease the stress of childbirth as well as boost business." Me-ow.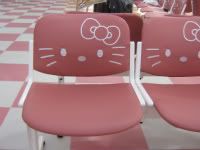 Age is, apparently, just a number
A second 70-year-old woman in India has
given birth
thanks to Invitro Fertilization. Though we're happy for the couple who previously had not been able to have children, we can't help but wonder: How in the world is this mom planning on chasing after her tot as she enters her 80s?!
Over in England, the Oxford University Press' Junior Dictionary has been
revised
to omit many "Christian" terms. Words like "aisle", "bishop", and "chapel" are being kicked to the curb in favor of "blog", "broadband" and "celebrity." Oy. It's only a matter of time until wellie is replaced by Winehouse.
Share your thoughts