Review: Jack and the Beanstalk
By Time Out Kids staff Mon Aug 4 2008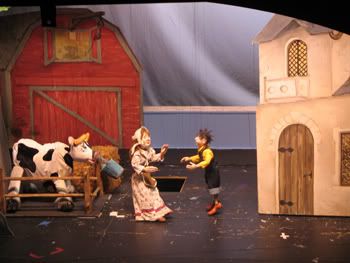 Given the current state of the economy, we all can relate to the financial troubles of Jack, the lovable protagonist of the English classic Jack and the Beanstalk. The Swedish Cottage Marionette Theatre, located in Central Park's cutest performance cabin, presents the adapted-for-tots rendition of the fairy tale, a forty-five minute puppet production featuring a lonely boy named Jack, his endearing cow Dolly and, of course, a deceitful giant.
Jack, you may recall, is left poor after his father's death and must sell his dear cow. Although his hungry mother expects her son to return with gold in exchange for the unproductive bovine, Jack defies her wishes and returns with two lima beans, sold to him by a peddler who convinces Jack of their magical powers. Overnight, the beans (which turn out to be magical, indeed) sprout a massive beanstalk all the way into the sky. The adventurous Jack climbs the stalk, only to run into the giant who had stolen his family's fortune years before. Although the original version leaves the fate of the behemoth to be determined (rumor is he dies), the Swedish Theatre's production is empathetic: Give the swindling giant a second chance!
Not only is the modified plot ideal for little kids, but the marionettes, costumes, original songs and set design all manage to engage tots who may otherwise become distracted from the tale. We can safely say that a trip to see this magical production in the bucolic park is a perfect staycation adventure for your family. Ages 3 to 7. --Madeleine Kronovet
Swedish Cottage Marionette Theatre (212-988-9093, cityparksfoundation.org).
Runs every day through August 24th and on weekends until September 21st.
Share your thoughts