Take your daughter to the polls!
By Christy Purington Mon Oct 27 2008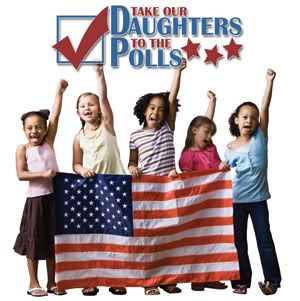 If Hillary Clinton's and Sarah Palin's high-profile campaigns weren't enough to inspire your chickadee, bring her to Alice's Teacup this Wednesday, Oct 29, for Take Our Daughters to the Polls, a nonpartisan celebration and educational event.

Girls in attendance will have their faces painted, create an endorsement button, nosh on tea and cookies, and other election activities. They'll also have the chance to win a 2008 President Barbie (we're not kidding) signed by New York Congresswoman Yvette Clarke.

The event is the brainchild of the co-creators of Take Our Daughters to Work Day, Marie Wilson and Carolyn McKecuen, with support from The White House Project, a non-profit that provides mentoring, funding and other resources to help diverse women attain leadership positions across the country.

Then don't forget to bring your daughter (or granddaughter, niece, little sister) along when you head to the polls on Nov 4. What better way to prep them for casting their own ballots one day?

FREE Take Our Daughters to the Polls Wed 29 4-6pm. Alice's Tea Cup, 156 E 64th St at Lexington Ave. Subway: F to 63rd St; N, R, W, 4, 5, 6 to 59th St--Lexington Ave.

For more information, visit thewhitehouseproject.org.
Share your thoughts