The best spring break ideas for families
Try these stellar spring break ideas for families to keep the kids entertained all break long. Most are just a few hours away!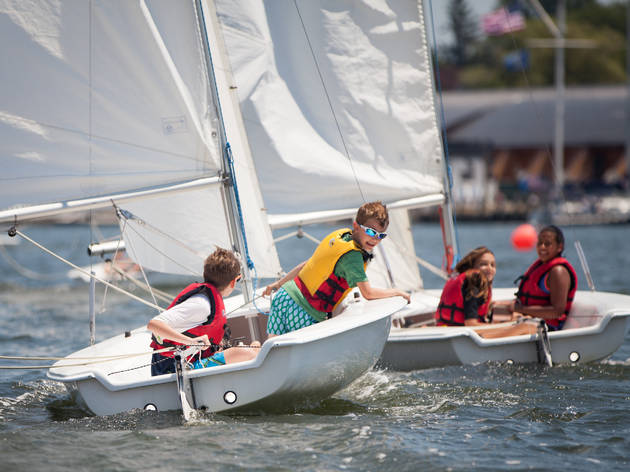 These spring break ideas for families are easy to dream about—especially when school vacation's not far off! If you're looking to avoid too much time on the couch binging on Netflix, grab the crew and head out on any of these spring break getaways.
RECOMMENDED: Full guide to the best family vacations from NYC
They'll return to school having tried some awesome new stuff, and they'll be eager to share their cool new memories with friends. Read on for our ranked list of the best spring break ideas for families!
Looking for more family fun? See our top cheap playdate ideas to chase away boredom, or burn off some energy at one of these indoor playgrounds.
Best spring break ideas for families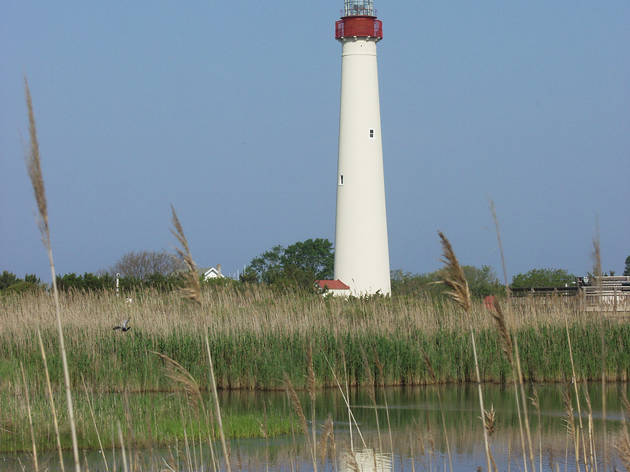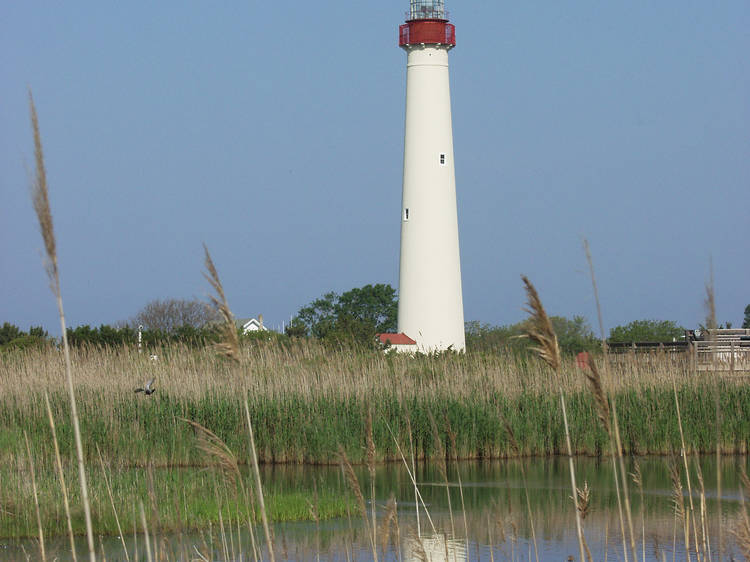 Cape May, NJ
2.5 hours by car from NYC
Visit this beachy destination before the Jersey Shore gets packed with summertime tourists. Cape May, located on the southern tip of New Jersey where the Delaware Bay meets the Atlantic Ocean, is full of great spots for families and curious kids. In addition to strolling along its white-sand beaches, you can explore the remains of the U.S.S. Atlantus or venture out into the waters on a whale-watching tour through Cape May Whale Watch and Research Center (1121 Rt 109, 888-531-0055, capemaywhalewatch.com; $30–$40, children 7–12 $20–$25, children 6 and under free). Head to the Cape May Zoo, an admission-free park complete with trolley trains, a carousel, a rock climbing wall and the Tree to Tree Adventure Park (707 N. Rt. 9; kids' course $30; Adults Course $50). If you're in Cape May on a day with clear skies, pack a picnic lunch and climb the 199 steps to get to the top of the Cape May Lighthouse—you'll be treated for your efforts with 360-degree views for over 15 miles. Rest your head at the Beach Shack, where families will find enough space within its suites and four-legged family members are welcomed with a Paws Up! Dog Package filled with treats, dining credits, and special amenities (205 Beach Ave, 609-884-6542, caperesorts.com, from $119 per night).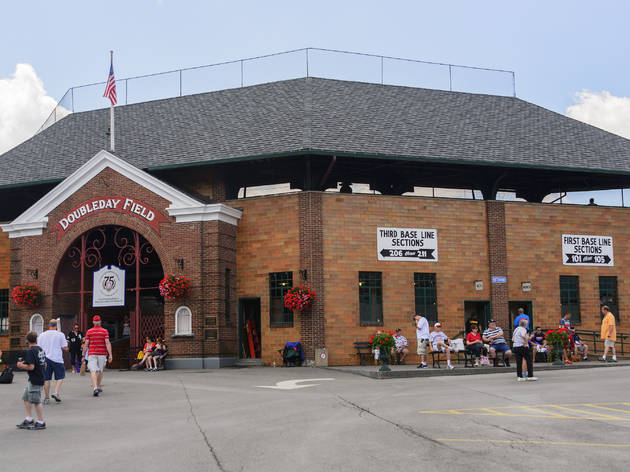 Cooperstown, NY
3.5 hours by car from NYC
With a new baseball season upon us, a trip to the National Baseball Hall of Fame and Museum is the perfect place to learn all about the treasured American pastime (607-547-7200, baseballhall.org, $23, children 7–12 $12, children 6 and under free). Catch a game at Abner Doubleday Field just two blocks away or the Heroes of Baseball Wax Museum to get up close and personal with some of baseball's greatest and a chance to try your hand at virtual reality batting (99 Main Street, 607-547-1273, thisiscooperstown.com). Cooperstown is also more than just a must-see destination for baseball die-hards: Fenimore Art Museum features 20th century American decorative art, photography, and American Indian art housed in an estate with formal gardens overlooking Otsego Lake (5798 State Highway 80, 607-547-1400 fenimoreartmuseum.org, $12, children 12 and under free). City children will get a taste of the village life at the Farmers' Museum where they'll participate in hands-on activities, watch dramatic interpretations of historical events and folklore, ride on the hand carved creatures on the Empire State Carousel, and feed animals in the Children's Barnyard (5775 State Highway 80, 607-547-1450, farmersmuseum.org, $12, children 7–12 $6, children 6 and under free). Visit the Fly Creek Cider Mill & Orchard for lunch and freshly-made cider on the Millpond boardwalk (288 Goose Street, 607-547-9692, flycreekcidermill.com) before tucking in at The Cooper Inn (15 Chestnut Street, 607-547-2567, cooperinn.com, from $184 per night, children ages 4 and under stay free).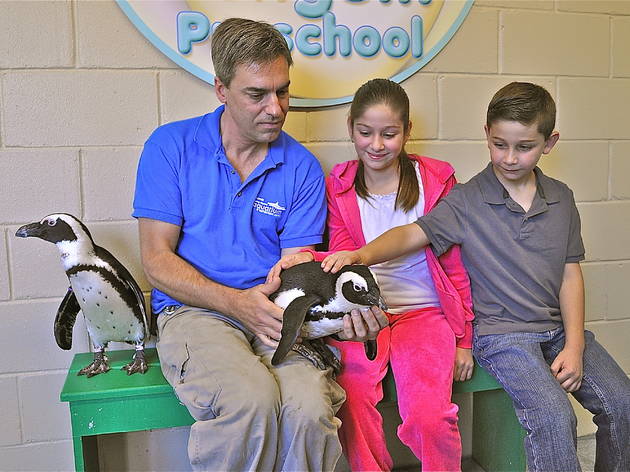 Riverhead, NY
1.5 hours by car from NYC
The Suffolk county town boasts more than just the sprawling Tanger Outlet. The Long Island Aquarium, located along the Peconic River, houses aquatic life of all types, including penguins, otters, octopus and one of the largest all-living, closed-system Coral Reef displays in the Western hemisphere. Children will love getting their hands wet at the touch tank, hone their archeology skills while digging for fossils, and feeding clownfish during a behind-the-scenes tour (431 E Main St, 631-208-9200, longislandaquarium.com, $27.95, children 3–12 $21). Refuel at Turkuaz Grill, a spot full of homey vibes, delicious mediterranean fare, and outdoor picnic tables (40 McDermott Ave, turkuazgrillriverhead.com), before strolling along the Peconic Riverfront Park. If the kids are itching to get into the water after quality time with the fishies, Splish Splash Water Park satisfies that craving with 96 acres of river, pools, water rides, and tube slides (2549 Splish Splash Drive, 631-727-3600, splishsplash.com, $48). Book a stay at Cove Place Inn, a bayside hotel with en suite kitchenettes, a private beach, and a dockside lawn (15 Bay Ave, 631-722-3212, coveplaceinn.com).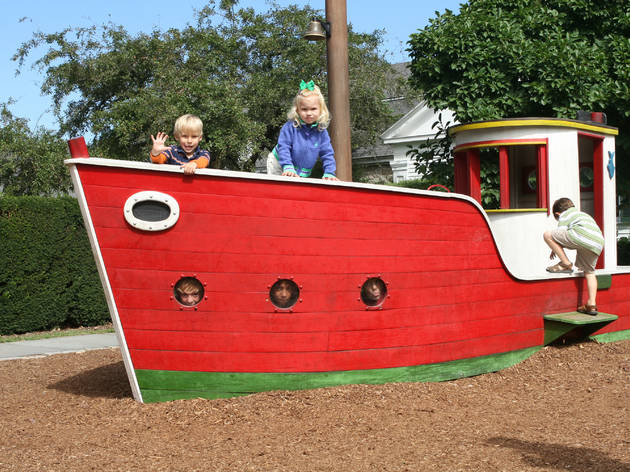 Mystic, CT
3 hours by car from NYC

The seaside escape is full of maritime-related activities for families. The Mystic Aquarium offers the interactive Exploration: Wild exhibit where families can travel through various ecosystems—rainforest, the Arctic, oceans, wetlands, and desert—through videos, fun activities, live animal encounters, and info on the importance of conservation efforts (55 Coogan Blvd, 860-572-5955, mysticaquarium.org, $35, children ages 13–17 $29, ages 3–12 $25, ages 2 and under free). Can't tear yourself away after the park closes? Families can also register for an overnight stay where they'll explore the grounds after hours, work on crafts and a scavenger hunt before tucking in by their favorite indoor exhibit (May 28, 7pm, $55, children $45, ages 5 and up). To explore the life of the sailors who roamed the seas, head to the Mystic Seaport where kids will learn to tie knots, build a toy souvenir, swab a deck, create maritime art, and climb aboard a fleet of playscapes (75 Greenmanville Ave, 860-973-2767, mysticseaport.org, $29, children ages 4–14 $19, children ages 3 and under free). Munch on lobster salad rolls, clam cakes, and other light fare at the Galley Restaurant—there's outdoor seating and an ice cream shoppe with house made cookie ice cream sandwiches to treat the tiniest of seafarers (75 Greenmanville Ave, 860-572-0711, mysticseaport.org). Kick your heels up at the Inn at Mystic (3 Williams Ave, 860-536-9604, innatmystic.com).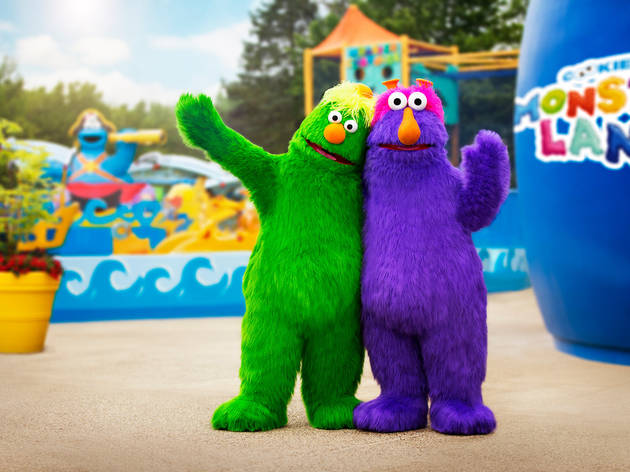 Bucks County, PA
2 hours by car from NYC

Whether your kids are into indoor fun, outdoor adventures, or close encounters with their favorite TV characters, this spot has it all. As the home of Sesame Place, children will love meeting Elmo, Big Bird, and the rest of the furry gang while experiencing thrilling rides tailored just for them (100 Sesame Rd, 215-702-3566, sesameplace.org, $46, children 23 months and under free). The Bucks County Children's Museum offers interactive educational exhibits where kids can dig for buried treasure, design and build their own race car, learn how to operate the Delaware Canal system (500 Union Square Drive, 212-693-1290, buckskids.org, $8, children ages 1 and under free). Ride any of the 46 hand-carved wooden figures on the restored 1922 Grand Carousel at Giggleberry Fair before enjoying arcade games in the Game Room or strolling through the shops at 18th-century Peddler's Village. Giggles Discovers was made for the curious six-and-under set; with a fire station, make-your-own puppet show, and the Waterway full of splashing activities, there's no telling where their imagination will take them. Not to be missed: a chance to attack Giggleberry Mountain, an indoor obstacle course that'll give you a run for your money (Peddler's Village, Rt 202 & 263, 215-794-4047, peddlersvillage.com, Giggleberry Mountain $8, children $11; Giggles Discovers $6; Grand Carousel $3; $23 for All in One Pass). When hunger strikes, choose from the variety of dining options in Peddler's Village. Outdoorsy types can explore the boulder field at Ringing Rocks Park where a tap of a hammer causes these formations to give off a high-pitched ringing sound (Ringing Rocks Road, 215-348-6114); pitch a tent at the Colonial Woods Family Camping Resort; or raft along the Delaware River. And if it's a laid-back escape you're looking for, hop on the New Hope & Ivyland Railroad, for a 45-minute trip through the countryside on a 1925 steam locomotive (32 W Bridge St, 215-862-2332, Traditional Excursion Coach $21, children ages 3–11 $19, children ages 2 and under $5).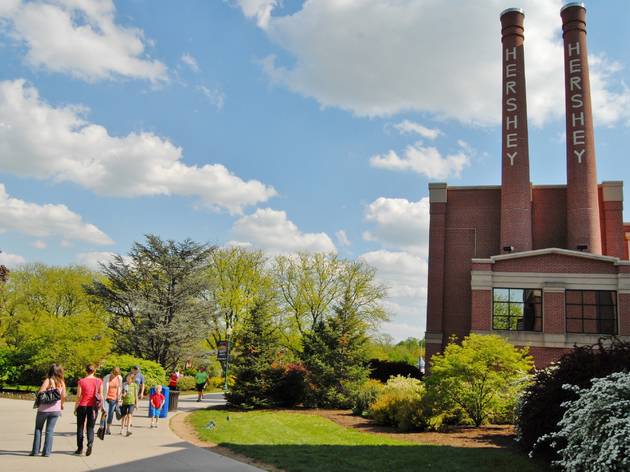 Hershey, PA
3.5 hours by car from NYC
If any members in your crew have a sweet tooth, then a trip to Hersheypark is a must. This season, the park introduces Hershey Triple Tower, a "choose-your-thrill" adventure featuring drops from 189, 131, and 80 feet high (100 W Hersheypark Dr, 717-534-3900, hersheypark.com, $35, children ages 3–8 $24, ages 2 and under free). Continue the theme with dinner at the Chocolate Avenue Grill; the kids menu features penne pasta, grilled salmon, and a char grilled 5 oz steak. Don't worry, picky eaters can have their choice from classics like grilled cheese sandwiches, mac n' cheese, burgers, and hot dogs (717-835-0888, chocolateavenuegrill.com). At the Hershey Lodge, kids get their own special check-in, sign a guest book, play a Hershey's candy guessing game, and receive their own personalized lanyard and chocolatey treat (325 University Dr, 844-330-1802, hersheylodge.com).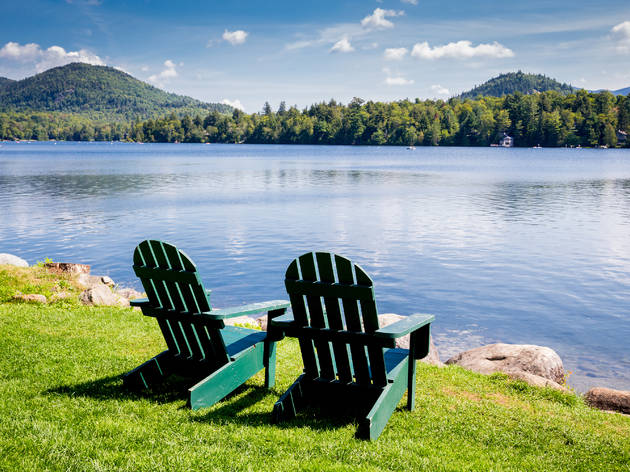 Lake Placid, NY
5 hours by car from NYC
Lake Placid offers families a place to catch their breath with hiking trails, rock climbing, fishing, and paddle boating. Kids will get a kick out of Bowlwinkles' bowling alley, bounce house, and arcade games (2750 Main Street, 518-523-7868, bowlwinkles.net). While you're in the area, be sure to make a stop at High Falls Gorge for a walk around four waterfalls through bridges, glass floor walkways, and nature trails. Afterwards, share a thin and crispy pizza pie at Lisa G's or have the kids select from their own menu (6125 Sentinel Road, 518-523-2093, lisags.com). Once the kids are tuckered out, head to your room at Cobble Mountain where their range of cozy room and cabins can host families of all sizes (2983 Wilmington Rd, 518-302-5690, cobblemountaindlodgellc.com, from $99 per night).
Harriman State Park, NY
1.5 hours by car from NYC
If the pull of nature is getting harder to ignore now that warmer days have arrived, why not trade in the skyscrapers for some towering trees instead? With 31 lakes and reservoirs, 200 miles of hiking trails, beaches and camping areas, this park will feel like you're worlds away from the hectic city. Rent a cabin by Sebago Lake and then teach your kids how to fish. But if you're like most New Yorkers who don't know their way around a fishing rod, rent a boat and enjoy the lush scenery instead (Seven Lakes Dr/Bear Mountain Circle, 845-947-2444, parks.ny.gov).