Alexei Ratmansky
ABT gets a new Nutcracker.
By Gia Kourlas Mon Dec 13 2010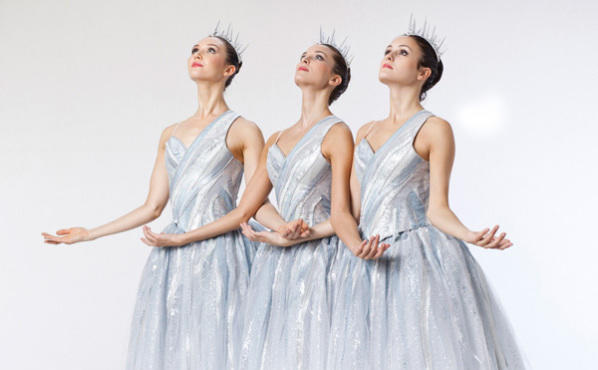 And how is your collaboration going with Richard Hudson?
Fine. Fine. I am happy with what he's done.

Did you discuss the details of the design with him before you started?
We did, we did, but it was not like I was telling him exactly what to do. We discussed the mood, the ideas, what we don't like, and then he was just going his own way. I was waiting to get the pictures, so I would know where they led me. I usually work that way. I don't have the clear picture at the beginning, so I'm happy if someone with a strong mind and strong ideas will locate it. The first act worked from the very beginning. The second act, we had some discussions and tried different things. I didn't want it to be—and Richard as well—sweet. It's more inside here. [He touches his head.] It's sort of a blank place. How to say? It's in a dream, but anything can happen in this place. That's the idea, I think, and it's not geographical. It's another dimension. And like sometimes in a dream, you have an empty place. This is sort of it. But the costumes are very rich and elaborate, with a lot of colors, and so he's going to balance it.

Where is the first act set?
The first act is traditional. I think it's 1810s—the time of Hoffmann's story. We didn't try to be very precise with the timing; at least I didn't try.

It opens in a kitchen. Is that your idea?
Yes.

Why?
Because the party's too long. [Grins] It's so long and it's mime. There is no dancing in it. I mean there are dolls and Grossvater and the kids' dance. That's it. I thought that we needed to break it, and then, it's a good way to introduce the mice and to zoom in and see the characters. Clara, Fritz, and her parents—and the cook who, in her dream, will appear as the Sugarplum Fairy. There is not much story behind that. It is just something that Clara brings with her in her dream. The idea is traditional, and Kevin's idea was to make it acceptable for a wide audience, and I completely agree. I love the controversial versions, but I'm not sure I could do it myself. So I didn't want to try to be very edgy or something. And Tchaikovsky was very good in trying to accommodate all the balletic rules and traditions and conveniences. He was very happy with Petipa and with giving him the exact number of bars, like in Sleeping Beauty. Petipa withdrew, and we are not 100 percent sure why—he was sick, his daughter died, he was old? But he was very productive at this time. Anyway, he missed this chance. But I think Tchaikovsky was following his precise synopsis and scenario. So the intent of Tchaikovsky is very balletic, and I hear it, and I want to translate it into steps.

What is the deal with the chair?
The chair grows, and it's a main element in the transformation. It's very impressive, I have to say. We can say that the chair is spectacular. Go and see the chair. [Laughs]

You might have said this too, but it makes me so uncomfortable when adults play the children.
I didn't want that, no. It's in all the Russian versions, Nureyev's and the Royal Ballet. Most of the versions in Europe, I think, do with dancers doing the leads, and you know the first time I choreographed Nutcracker I had, like, a hundred tapes, and I watched everything. This time I didn't. I didn't do anything, any research before, so I'm not sure about the latest versions. Inevitably you watch something, you see something, you like something, and it stays inside you, so I didn't want the direct influences.

Can you talk about the "Snowflake" scene?
Sure. It's great music, it's very beautiful. It's a Russian thing. The winter is very long, very cold, and you can read a lot of classic novels about people freezing to death. I think the winter—it's an old archetype that it represents the death—so in Gergiev's recording, it's really obvious that the last part of it is very dangerous music just before the finale, which is back to soft. I don't know this word—it's not a challenge, but something that they need to pass through. Like in all the Greek mythology, there is something the hero has to do.

Bigger than a test?
Yes. It's a very strong test. It's not so much the snow acting evil, but it's just that the kids get lost first; they can't see each other. There's a lot of snow. If Drosselmeier doesn't come, that will be the end, and they are really scared.

What is your Drosselmeier like?
[Sighs] I don't think I can answer this question before I finish the whole ballet. [Laughs] I'm still working on it. Definitely he's the one who can be in any of these worlds, so I guess he is kind of a magician. And he helps Clara and Nutcracker, who is his boy, but he doesn't do things for her or for him. They have to do it themselves.

I like that. You've seen Balanchine's Nutcracker, of course. Does it make you tense to think about how there are suddenly three major Nutcrackers in one month, including yours?
Well, I think there is a special audience there. Brooklyn is a very nice location. And a wonderful theater. And of course, Mark Morris's is there, but it's very, very different. I'm sure some people will say, "We don't want to see an edgy Nutcracker. We want a classical one." So compared to Mark Morris's, the classical one is mine, I think, in this theater. I mean, of course, the classic is Balanchine's. We'll see how it turns out. I don't think it matters.

What bothered you about what you had seen in Nutcrackers? What did you want to change?
First of all, the pas de deux. Most of the time it doesn't fill out the music. I know, originally, it was done by the Sugarplum Fairy and her Cavalier, but the music is much bigger than that. That bothers me. What else? When the adults play children. I hate it. [Laughs] And some are doing a very good job, but it's still not right. Some Russian productions have ugly wigs. I think both Kirov and the Bolshoi's are very ugly. And also in Russia they like to put—the men, the princes—they put silver or gold on their hair. Like sparkles.

You're not doing that?
No. I don't think it's a great idea.

So the primary conflict for you is how to tell the story within the music?
Yes. That's it. The dance ends happily. It's light music, but you can't get rid of these melodies—you just hum them in your head—which are very dramatic. So what's the drama about? That's the main question.

Are you happy with what you're doing?
I don't have a clear picture yet. And also, really, the result is [also dependent on] the coaching. The choreography is one step, but the second step is that everything has to be tuned. And I hope we have enough time to do that, because otherwise the best choreography will just fall apart. And the dancers have to feel comfortable in it. They have to find their own truth in it.

Do casts do it differently?
Slight variations. I do that when I see that it works better for this person. Because there are things that I've done, and I listen and look at it and see that something's wrong, and I change. Sometimes I change for worse, and then they will say, "Can we do what we did before?" and some others will say, "We like it better." That's how we get different versions also. It's a process.

Most companies view the Nutcracker as a moneymaker. Are you able to not worry about that?
I don't think about that at all. I mean, if it is a good Nutcracker, then it will make money. Because there is such a huge choice. You don't like this one? You go to another one.

What was the most challenging part to choreograph?
And it still is: the battle. And the party. Because on one hand you want the mime to be realistic and everything to be believable—I'm talking about the party now—but if you go into little details, then it's too much happening in different places, and the party scene is very long. It's too long. I wish I could cut something out.

But you don't want to cut the music?
No. I don't want to cut the music. I don't feel that I have the right to do that. That's the thing. So I need to find a way. And the battle is just difficult. I don't really know why. It's hard. Maybe it would have been better with just dancers doing it. It's really a lot of things happening, and some people are wounded and some die, and you have a hospital. You can do a lot of actions, but it wouldn't be like a ballet. And if you just do dancing, then it doesn't look like battle, so it has to be something stylized, and at the same time you should believe that it's a battle.

Are the dancers in your pas de deux supposed to be real people?
Yes.

Because it's about real love?
Love and not only love. It's about time. Clara suddenly feels that [Snaps fingers] it will disappear. This is probably Tchaikovsky in his older age. Well, he wasn't old when he died, but of course he had melancholy and sadness. The best moments, happiest moments, they pass. And you only have memories. Tchaikovsky's diary, when he was in America, every day ends with, "I was crying. I cried. I was so sad that I cried." That's Tchaikovsky. So I try to reflect that somehow in the pas de deux. Again, not literally, but I sense it in the music. It's looking back. Clara, being a girl, her intuition is more refined than his, the Nutcracker. She's the one who feels that, and he tries to comfort her and is surprised by her emotions. I wonder what happens if we don't see it in the pas de deux? [Laughs] But that was the intention.
American Ballet Theatre performs at BAM's Howard Gilman Opera House Wed 22--Jan 2.