Claes Oldenburg, The Street and The Store + Mouse Museum/Ray Gun Wing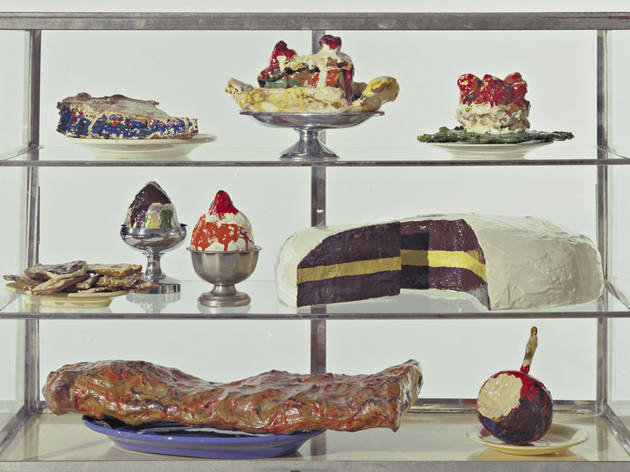 1/9
The Museum of Modern Art
Claes Oldenburg, Pastry Case, I, 1961-62
2/9
Jason Mandella
Installation view of "Claes Oldenburg, The Street and The Store" at The Museum of Modern
3/9
Sean Weaver
Claes Oldenburg, Floor Burger, 1962
4/9
Jason Mandella
Installation view of "Claes Oldenburg, The Street and The Store" at The Museum of Modern
5/9
Lee Stalsworth
Claes Oldenburg, 7-Up, 1961
6/9
Jason Mandella
Installation view of "Claes Oldenburg, The Street and The Store" at The Museum of Modern
7/9
The Museum of Modern Art
Claes Oldenburg, Empire (Papa) Ray Gun, 1959
8/9
Jason Mandella
Installation view of "Claes Oldenburg, The Street and The Store" at The Museum of Modern
9/9
Jason Mandella
Now 84, Pop artist Claes Oldenburg is best known for his drooping, soft sculptures of telephones, toilets and other household fixtures, and for the cheerfully absurdist, gargantuan versions of small objects—lipsticks, clothespins and the like—made in collaboration with his late wife, Coosje van Bruggen, for various outdoor locations around the world. As for where these works came from conceptually, the answer may lie in MoMA's lively presentation of Oldenburg's early projects.
Together, The Street and The Store represent the artist's first forays into full-scale installation, in the early 1960s. Mouse Museum/Ray Gun Wing, installed in the museum's atrium, was created over a 12-year period, between the mid-1960s and the late 1970s, and comprises a collection of altered and unaltered readymades, cast-off objects and artworks housed in side-by-side enclosed structures designed by the artist. Both seem particularly relevant today for the way in which they presciently deconstructed and undermined the workings of consumer society and the art world alike, even as they openly reveled in the culture of spectacle.
Born in Sweden in 1929 and raised in Chicago, Oldenburg arrived in New York's East Village in 1956, where he encountered the immigrant neighborhood's bustling streets, plus a group of rising young artists determined to challenge the dominant New York School. Robert Rauschenberg and Jasper Johns, for instance, incorporated real-world objects into their works. Allan Kaprow, meanwhile, had published an essay in 1958 titled "The Legacy of Jackson Pollock," in which he called for a new art that would incorporate all of life.
In January 1960, Oldenburg channeled these influences into The Street, a jittery immersive environment that filled the basement gallery of Judson Memorial Church on Washington Square. The current iteration at MoMA presents surviving sculptural relics from the original installation as discrete artworks, teaming them with pieces made during the same period. A contemporaneous film playing overhead shows Judson's tiny space crammed with crude wood and cardboard cutouts of giant male and female figures, cars, airplanes, dogs and street signs, around and through which Oldenburg and his then-wife, Patty Mucha, performed in costume. (Other performers during the show's run included Robert Whitman, Al Hansen and Dick Higgins). The work is witty, but ferocious: The outlines of the figures are edged in black as if they had passed through fire; a streetwalker's face looks like a skull, and crude graffiti covers the walls. This section of the show also boasts the gigantic, bulbous, papier-mâché Ray Gun, from 1959, the first appearance of an object that also operated as a character, an idea, a corporate entity, an alter ego and most importantly, according to Oldenburg, as a metaphor for "vision, the power of seeing through walls, i.e., the artist's supposed capacity to discover reality." It would become a recurring theme in his art.
The following year, Oldenburg, under the umbrella of the Ray Gun Manufacturing Company, embarked on a second major project, The Store, filling a rented storefront with colorful, enamel-painted plaster reliefs and free-standing plaster sculptures of everyday items such as clothing, food and toys. Ensconced in glass cases suspended from the ceiling, and hung salon-style on the walls, these lumpy, expressionistic works—all of them for sale—were extraordinarily far-seeing in the way they erased the differences between consumer goods and their perfected images in advertising, not to mention the line separating art from any other commodity. A mountainous silver cash register squatting on a pedestal at the center of the show seems pulled from the real world, but a wall relief depicting a pair of red tights and, next to them, a yellow number nine is clearly taken from a print ad. Equally contemporary is the way in which these essentially interchangeable objects and images culled from consumer culture allow for new connections to be made among them, replacing advertising's subliminal seductions with more personal associations.
Oldenburg's interest in an object's value as a commodity reached its apotheosis in Mouse Museum and its Ray Gun Wing, completed in 1977 as two covered, walk-in galleries—one in the shape of a Mickey Mouse head, the other in the shape of a gun. In Mouse Museum, an assortment of odd items, ranging from dolls to dildos and from fake food to a giant toothbrush, offer themselves up, in a relationship with viewers that is more uncertain than the usual institutional display. At the same time, Ray Gun Wing's array of objects mimicking the right-angled configuration of a gun—a bent straw, for example, or bit of wood—celebrates the artist's ray gun vision not only as a particular form, but as a hope for individual expression set against the pervasive presence of capitalism.—Anne Doran
Venue name:
Museum of Modern Art (MoMA)
Contact:
Address:
11 W 53rd St
New York
10019

Cross street:
between Fifth and Sixth Aves
Opening hours:
Mon–Thu, Sat, Sun 10:30am–5:30pm; Fri 10:30am–8pm.
Transport:
Subway: B, D, F, M to 47–50th Sts–Rockefeller Ctr; E, M to Fifth Ave–53rd St
Price:
$25, seniors $18, students $14, children under 16 free. For discounts, order your tickets in advance