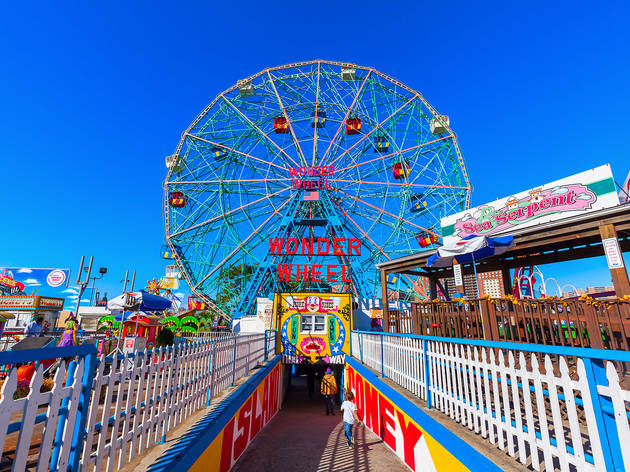 The best amusement parks near NYC
Hold on tight! These amusement parks near NYC offer you the rides of your life on roller coasters and water slides.
Acting like a kid again is never a bad idea, and these amusement parks near NYC are the perfect places to get your adrenaline pumping. Good ol' Coney Island is right in your backyard with one of our fave Ferris wheels and the famous Cyclone wooden roller coaster, but it's also worth venturing to New Jersey, Pennsylvania, and Connecticut for a fun day out. Whether you're looking to cool off at a water park or scream your lungs out on a roller coaster, these amusement parks have something for every type of thrill seeker. These day trips from NYC take five hours or less, so start planning now—and get ready to hang on for dear life.
Best amusement parks near NYC
Travel Time: One hour from NYC by subway
Right on the beach at Coney Island, this park has been open for more than half a century. Mostly geared toward children, there are a few adult rides and amazing fireworks shows on summer weekends—and who can forget the Spook-a-Rama? The indoor pitch-black ride offers a fun thrill for any horror lover, complete with zombies and demons.
Travel time: One hour from NYC by train
At the country's only Art Deco fun park, the big draw is the 1929 wooden Dragon Coaster. But Playland has five more adult and two kiddie rides that predate 1930 too. Walk the mall (as it is now) while you can: Renovations that will bring the park into the 21st century are slated to start in the fall of 2017.
Photograph: Courtesy CC/Flickr/June Marie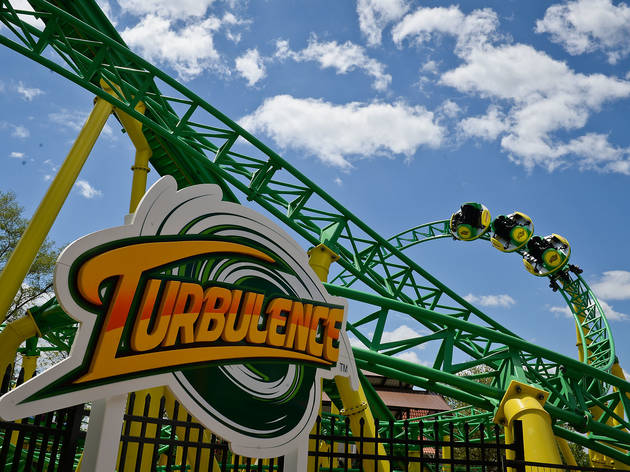 Photograph: Courtesy Adventureland
Adventureland; Farmingdale, NY
Travel time: One hour from NYC by car or train
This Long Island amusement park has been delighting New Yorkers since 1962. Adventureland includes plenty of classics—think bumper cars, an arcade and a wave swing—in addition to more unique rides like the interactive Crocodile Run water ride and Turbulence, Long Island's only spinning coaster. Hit up the face painting and Dippin' Dots for a totally retro day out.
Travel Time: One and a half hours from NYC by car
Despite being destroyed by Hurricane Sandy, this oceanfront amusement park has come back strong and offers everything from classic attractions for kids to rides for thrill seekers. Test out the SkyCoaster, which makes you feel like you're skydiving as you soar over the ocean, or relax on the Sky Ride, a beachy take on a ski lift that's known for its Jersey Shore cameo appearance. The Hydrus—a heart-pounding coaster with a beyond-vertical drop—and a shiny Ferris wheel are new this year.
Photograph: Courtesy CC/Flickr/Hypnotica Studios Infinite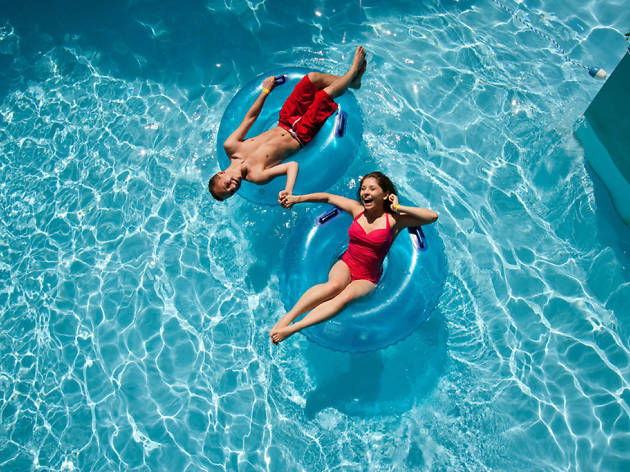 Photograph: Courtesy Splish Splash
Splish Splash; Calverton, NY
Travel time: Two hours from NYC by car
There's nothing like an afternoon at this Long Island waterpark to cool you down on a hot day. Little ones might prefer to chill out on the Lazy River while adrenaline junkies plummet 40 feet down a pitch black water slide on Dr. Von Dark's Tunnel of Terror. Going with a group? Check out Bootleggers Run or Mammoth River if you'd like to ride with your entire crew.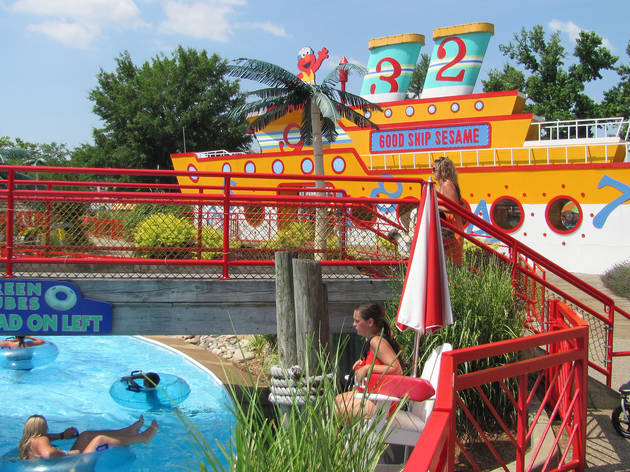 Photograph: Courtesy CC/Flickr/Sikeri
Sesame Place; Langhorne, PA
Travel time: Two hours from NYC by car
Meet Elmo, Big Bird and all your pals from Sesame Street at this kid-friendly amusement and water park. Themed rides like Captain Cookie's High C's Adventure and Elmo's Cloud Chaser combine thrills and TV nostalgia. Don't forget your suit in the summer: You'll want to take a dip in Big Bird's Rambling River while you're there.
Photograph: Courtesy CC/Flickr/Sikeri
Travel time: Two hours from NYC by bus or car
The wildest roller coaster here is named after Kingda Ka, the Bengal tiger that lives next to the ride. It's also the tallest in the world (456 feet) and the fastest in North America (128mph). It's got a new rival, though: the Green Lantern, a stand-up coaster that swings riders through upside-down loops and corkscrew curls. If you prefer water in your face to wind, hit Hurricane Harbor's water park rides. For ground-level thrills, drive through Wild Safari's fields of elephants, rhinos and kangaroos.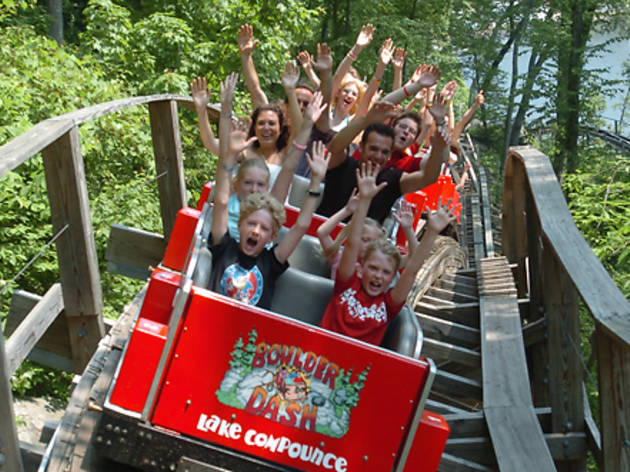 Photograph: Courtesy of Lake Compounce
Lake Compounce; Bristol, CT
Travel time: Two and a half hours from from NYC by car
Lake Compounce's days as an amusement park date to 1846, so it makes sense that its most popular ride is a retro one: the Boulder Dash, a wooden coaster built into the side of a mountain. (It ranked No. 4 on Amusement Today's 2010 list of the top ten wooden roller coasters.) Compounce isn't all old-timey, though. For more modern thrills, check out the Rev-O-Lution: a spinning-platform ride that also moves up and down on a half-pipe-shaped track, ensuring maximum nausea for the weak-of-stomach. Over at the lake, seven water rides will have visitors dodging waves and sliding through darkened tunnels.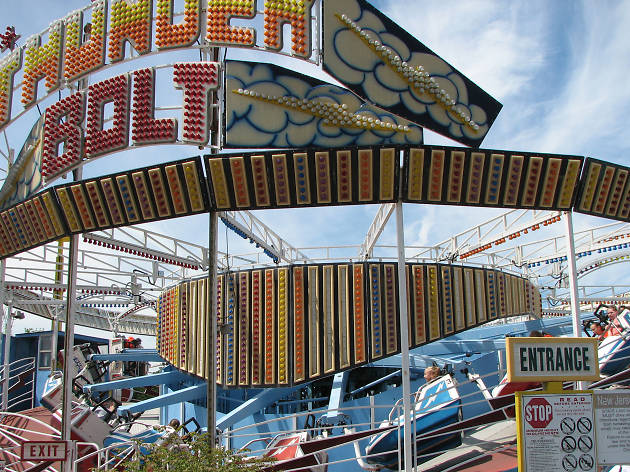 Photograph: Courtesy CC/Flickr/Jeremy Thompson
Travel Time: Two hours from NYC by car or three hours by train
Featuring four awesome roller coasters—the intimidating-sounding Ring of Fire, Thunder Drop, Hellcat and King Neptune's Revenge—there's no shortage of entertainment for even the most seasoned adrenaline junkie. But that's not all, folks. There's also a barrage of kiddie rides and an on-site water park.
Photograph: Courtesy CC/Flickr/Jeremy Thompson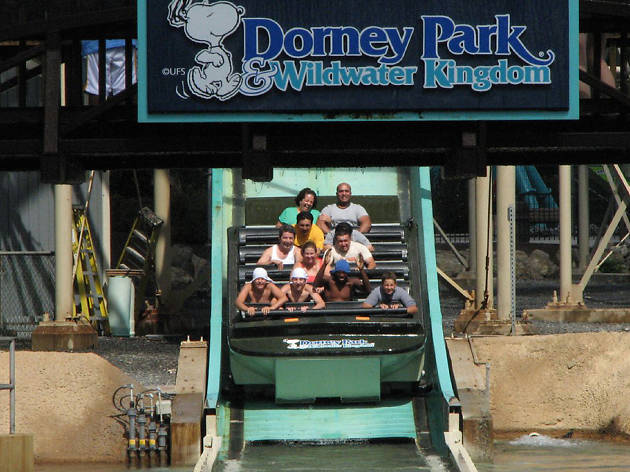 Photograph: Courtesy Creative Commons/Flickr/hounddiggity
Dorney Park & Wildwater Kingdom; Allentown, PA
Travel time: Two to three hours from NYC by bus or car
The park map here is dominated by Steel Force, a looming metal coaster that stretches for 5,600 feet—the longest steel coaster on the East Coast—and takes riders on a 205-foot drop. But Dorney isn't one of those amusement parks that concentrates solely on coasters. As the name suggests, Wildwater Kingdom is almost on equal footing and features water attractions both tall (the 70-foot Aquablast) and vast (the 590,000-gallon Wave Pool). And since you're in Pennsylvania, make sure you grab a Rita's Water Ice before you leave the park (and don't make the mistake of calling it an Italian ice—you'll sound like a tourist).
Photograph: Courtesy Creative Commons/Flickr/hounddiggity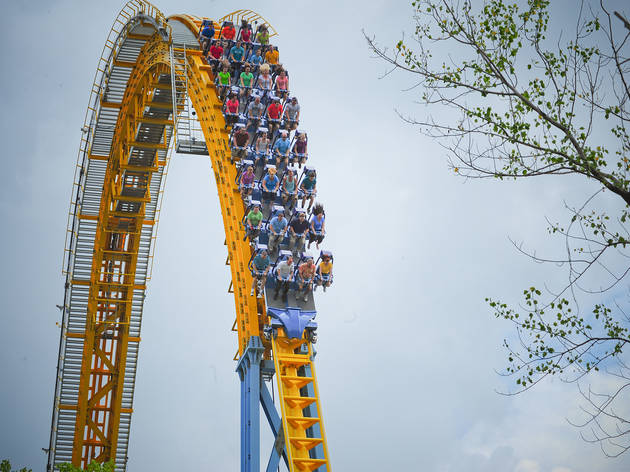 Photograph: Courtesy Hersheypark
Travel time: Three hours from NYC by car
Disneyland meets Candy Land at this kitschy theme park, a celebration of all things Hershey's chocolate. But it's not all sweetness: A trio of roller coasters—Fahrenheit, Great Bear and Storm Runner—provide adult thrills by dropping you 97 degrees, dangling you below the track or launching you from 0 to 72mph in two seconds (and straight up 18 stories), respectively. When you need to relax, head to the Boardwalk to lazily float along the Intercoastal Waterway or hit several other water rides. Chocoholics might also want to stop by The Hershey Story museum for a look into the candy company's history, or check into the 1933 Hotel Hershey to take advantage of the choc-inspired treatments in its on-site spa.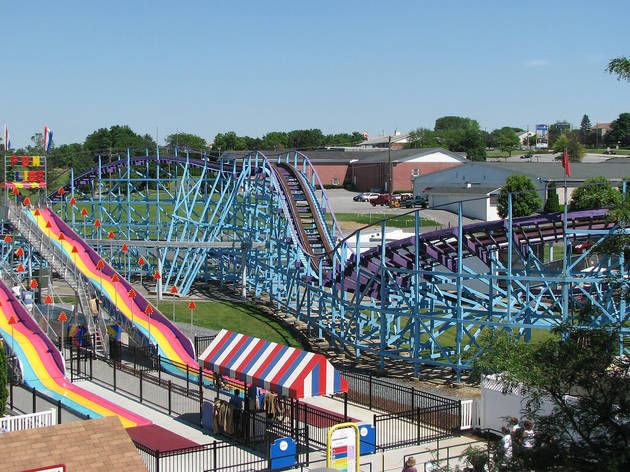 Photograph: Courtesy CC/Flickr/Jeremy Thompson
Dutch Wonderland; Lancaster, PA
Travel time: Three hours from NYC by car
Though it was designed with younger riders in mind, park goers of all ages can find something they like out of the 30-plus rides at Dutch Wonderland. Most kids will be able to handle the two helix turns on the new Merlin's Mayhem coaster, while the Kingdom Coaster is one of the more thrilling rides in the park. Reserve a cabin or campsite next door at the Old Mill Stream Campground to make a weekend of it!
Photograph: Courtesy CC/Flickr/Jeremy Thompson
Show more
Find the best amusement parks in America
Is there a more iconic summer snapshot than that moment you crest the top of a roller coaster drop? Long lines and high temps be damned: Amusement parks are the season incarnate. We've rounded up 10 of the nation's most mind-blowing thrill spots. Be sure to secure your personal belongings before reading.