Is social media bad for NYC?
Could our compulsive documentation of our lives detract from the experience of really living here?
By Sharon Steel; Illustrations by William Varner Tue Nov 30 2010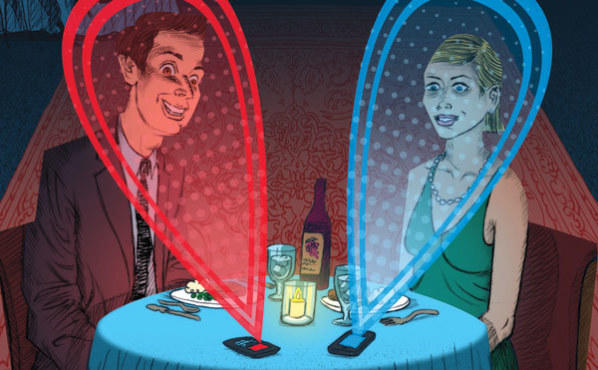 The upside

The old argument accusing technology of turning us neurasthenic is turning out (big surprise) to be untrue: Zealous networking has actually enabled many of us to forge stronger links to the city, inspiring us to discover new sights, take bigger risks, and encourage others to do the same. "Social media has only helped to make my going-out experiences richer," says Brooke Moreland, 29, the founder of fashion community site Fashism. "There is a lot of good stuff in New York, but there is a lot of crap too. I want to maximize my money and time by going to the best places in the company of the best people." The tech spurt has also inspired creativity: A new opera about Internet addiction, The Empty Hours, recently premiered at Lincoln Center; a few years ago the Brick theater mounted a live-blogging stunt; and several NYC museums have launched worthwhile mobile apps.
Paola Antonelli, MoMA's senior curator of architecture and design, has seen plenty of people snap photographs of artwork to send to their friends rather than spend much time looking at the art itself. But she's unbothered by it. (The museum, which allows no-flash photography in most of its galleries, even encourages this behavior by including a MoMA Snaps feature on its new iPhone app. "It's understandable," she says. "We have so many ways to experience reality today and to communicate our feelings about it. That's what social networks are about. You can share the enthusiasm about something, and that something can be a sunset or a piece of art."


So, now what?

In the near future, the ways that we use social media to interact with cultural scenes will be telling. New Yorkers have an uncanny ability to filter a million influences, customizing and threading them into our lives: We're early adopters, but intelligent integrators. We embrace trends passionately, but are quick to drop them when they don't prove useful. We'll need to ask ourselves some questions: What do we consider a worthwhile experience—something we ourselves blogged, or something we've seen reblogged a number of times? And are we frantically documenting our outings because we want someone to know we were there, or because examining and sharing them somehow adds to them?
In the meantime, maybe we just need to get over ourselves a bit; the stories we're starring in wouldn't be nearly as exciting if NYC weren't also playing a lead role. So take yourself out to see a show at the Met or a performance at BAM instead of settling for the TwitPics (see our list of new things here, and please share it on Facebook). And sure, go ahead and obsessively comment and share. Just keep in mind that anyone anywhere can thumbs-up a YouTube video of the Rufus Wainwright concert at Carnegie Hall, retweet a pic of the red-quinoa salad from Octavia's Porch or comment on how insane the Pandasonic party looks. But you, lucky New Yorker, can actually go.