1/15
Photograph: Alex Strada
The Orchid Show: Key West Contemporary
2/15
Photograph: Alex Strada
The Orchid Show: Key West Contemporary
3/15
Photograph: Alex Strada
The Orchid Show: Key West Contemporary
4/15
Photograph: Alex Strada
The Orchid Show: Key West Contemporary
5/15
Photograph: Alex Strada
The Orchid Show: Key West Contemporary
6/15
Photograph: Alex Strada
The Orchid Show: Key West Contemporary
7/15
Photograph: Alex Strada
The Orchid Show: Key West Contemporary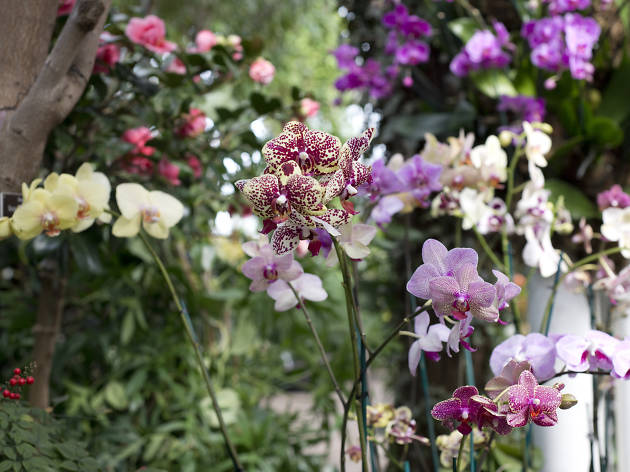 8/15
Photograph: Alex Strada
The Orchid Show: Key West Contemporary
9/15
Photograph: Alex Strada
The Orchid Show: Key West Contemporary
10/15
Photograph: Alex Strada
The Orchid Show: Key West Contemporary
11/15
Photograph: Alex Strada
The Orchid Show: Key West Contemporary
12/15
Photograph: Alex Strada
The Orchid Show: Key West Contemporary
13/15
Photograph: Alex Strada
The Orchid Show: Key West Contemporary
14/15
Photograph: Alex Strada
The Orchid Show: Key West Contemporary
15/15
Photograph: Alex Strada
The Orchid Show: Key West Contemporary
Treat your eyes to some much-needed color therapy at the New York Botanical Garden's annual orchid explosion. This year's Floridian theme combines thousands of tropical blooms with modernist architecture; the display was inspired by an award-winning garden that landscape architect Raymond Jungles designed in 2005 for Judge Richard K. Eaton and MCNY president Susan Henshaw Jones. There's even a re-creation of the couple's backyard oasis for us humble apartment dwellers to envy—and admire.
Rating Breakdown
5 star:

0

4 star:

1

3 star:

0

2 star:

0

1 star:

0
My wife and I have actually been to this event multiple times, a couple of years in a row. We love it so much that it has become sort of a tradition to go to the botanical gardens during the orchid shows. We are not really the flower type of people, and art museums are not our thing either. But something about these orchids draws us back year after year. Orchids are a gorgeous flower, and to take in the 1000's of them on display in a beautiful, artistic fashion is something I am genuinely addicted seeing.
There are multiple displays or orchids. you can spend over 3 hours just sitting there, enjoying, taking pictures, and understanding each flower type.
I recommend this orchid show to families, couples and basically anyone who likes to enjoy a peaceful day out of the house.