Best cocktails in New York City in 2013
New York barkeeps poured stellar sips this year, including nouveau twists on classic cocktails, tricked-out tropical drinks and flavor-packed punch.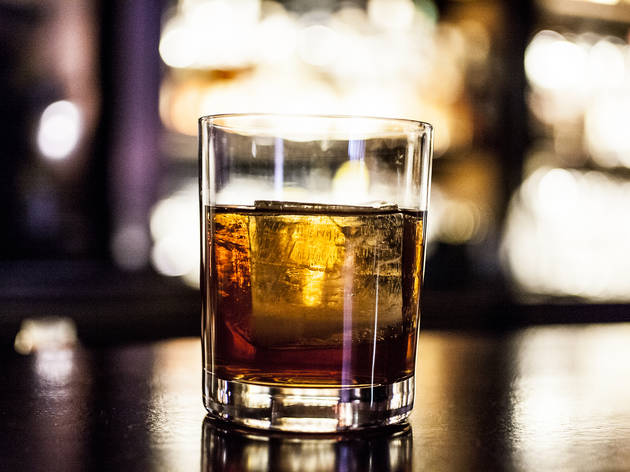 1/10
Photograph: Krista Schlueter
Blackthorn at the NoMad There's no finer spot in the city to burrow into a plush armchair and unwind with a two-finger pour of something dark and potent than this 2013 James Beard winner for Outstanding Bar Program. Nestled behind Daniel Humm's Michelin-starred dining room, Leo Robitschek's cocktail bar is proficient in the classics, particularly this elegant Irish-whiskey sip. Anise-strong absinthe hits you first, followed by the slow burn of honey-sweet Bushmills, herbal Noilly Prat dry vermouth and the belly-warming finish of clove-spiced Angostura bitters. 1170 Broadway at 28th St (347-472-5660, thenomadhotel.com). $15.—Christina Izzo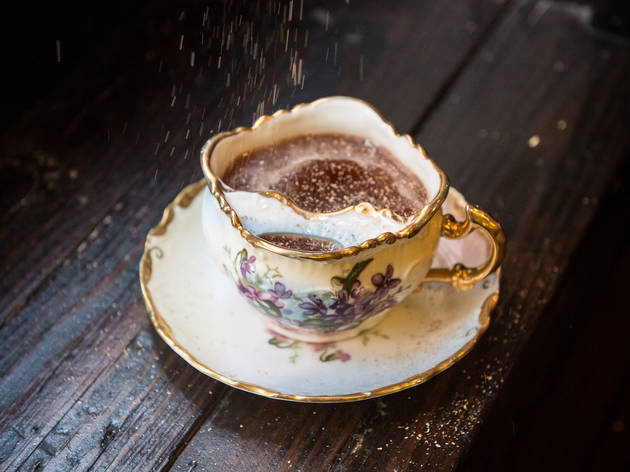 2/10
Photograph: Filip Wolak
Byrrh Wine Daisy at the Dead Rabbit With an archaeologist's verve, Belfast-born barman Jack McGarry has dug up plenty of bygone, dust-covered recipes for his FiDi grogshop, but he found treasure when he unearthed this daisy (essentially, a gussied-up sour) in J.A. Grohusko's 1908 tome Jack's Manual. Building on the original recipe of fruity Byrrh, raspberry syrup, orange and lemon juices, and "fizz water," McGarry invigorates the old quaff with a lively spritz of lip-smacking rhubarb soda and the bittersweet bite of Amaro CioCiaro. 30 Water St at Broad St (646-422-7906, deadrabbitnyc.com). $14.—Christina Izzo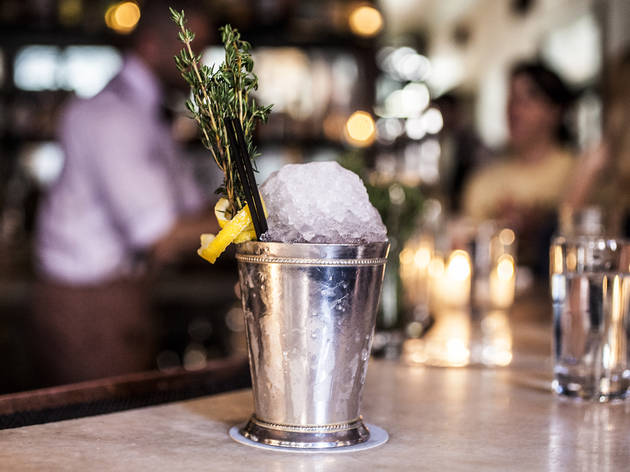 3/10
Photograph: Krista Schlueter
Spanish Crown at Maison Premiere Though conceived as a warm-weather sip, this gem of a julep warrants year-round tippling. Beneath a mound of nugget ice, Kentucky bourbon is replaced with smoky-smooth mescal infused with lemongrass to tame its peppery sting. The well-rounded drink hits all the right notes: Muddled blueberries and lemon lend fruity tartness, and the botanic tag team of crème de violette and Suze counters sweet La Gitana sherry. 298 Bedford Ave at Grand St, Williamsburg, Brooklyn (347-335-0446, maisonpremiere.com). $13.—Christina Izzo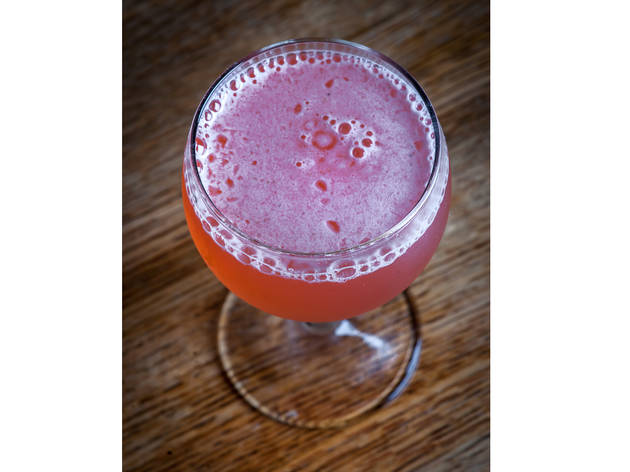 4/10
Photograph: Paul Wagtouicz
Iron Lady at Dear Bushwick The fierce name—and namesake—belies the delicate flavor of this fragrant, floral-infused sipper. A quick infusion of dried rosebuds plays up the botanical notes of Gordon's gin's, while Lillet Rose and simple syrup add light sweetness. Aperol and fresh lemon juice brighten the shaken, pink-tinged wonder with tart undertones. 41 Wilson Ave at Melrose St, Bushwick, Brooklyn (929-234-2344, dearbushwick.com) $10.—Suzanne Lehrer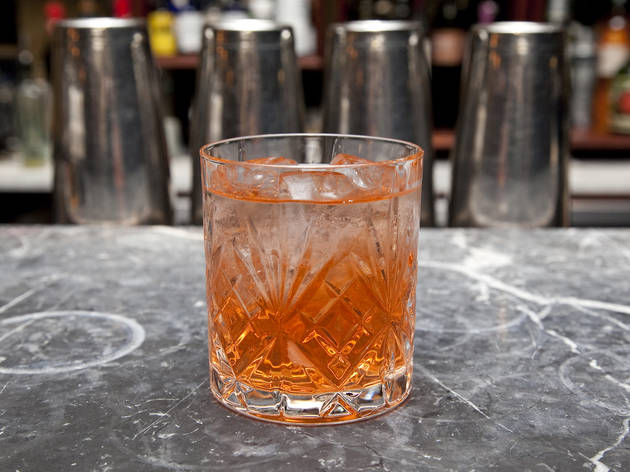 5/10
Photograph: Melissa Sinclair
Wimbledon Milk Punch at Experimental Cocktail Club Inspired by strawberries and cream—a traditional Wimbledon dessert—this creamy punch will have you singing "God Save the Queen." The drink salutes Britain with Hendrick's gin and Earl Grey–infused coconut water. Fresh strawberry puree and satiny clarified milk—the dairy is mixed with a citric acid to remove the solids—mimic the sweet's flavors, while Batavia arrack (an Indonesian rum) and tarragon provide a pleasing herbal undercurrent. 191 Chrystie St between Rivington and Stanton Sts (experimentalcocktailclubny.com). $15.—Molly Aronica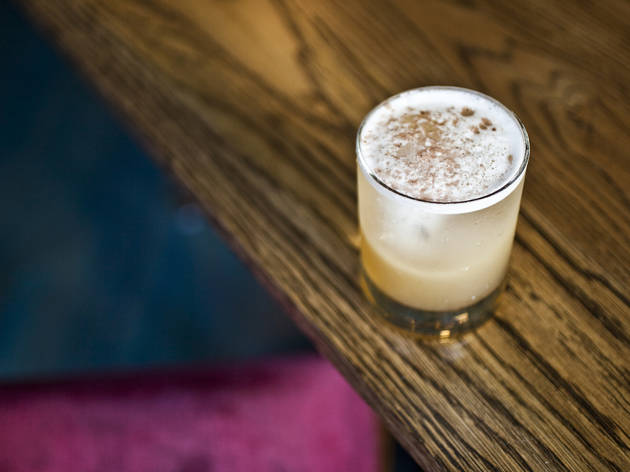 6/10
Photograph: Virginia Rollison
Lust for Life at Pouring Ribbons Don't let the pineapple fool you—this all-season slug is far from tropical, with smoky notes of Vida mezcal and nutty orgeat, plus the soft sweetness and body of palo cortado sherry. The lemon-hued tipple—which also sports a touch of the fruit's acidity—can be served up or over hefty ice cubes, depending on your mood. A dusting of cocoa on the light, frothy cap provides the final touch, giving off a subtle chocolate aroma as you lift the concoction to your lips. 225 Ave B between 13th and 14th Sts (917-656-6788, pouringribbons.com). $14.—Laren Spirer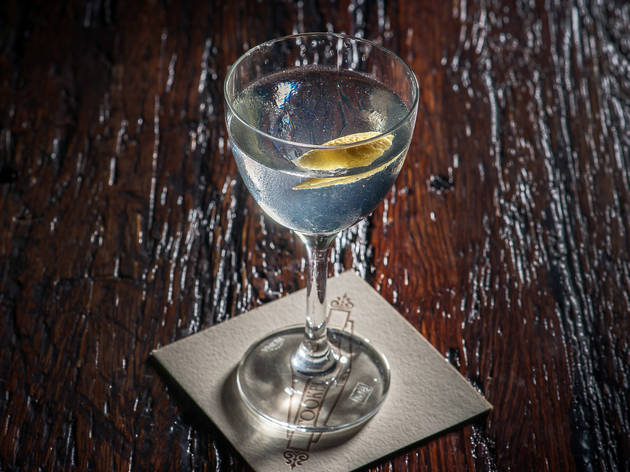 7/10
Photograph: Paul Wagtouicz
Marguerite at Tooker Alley "Shaken, not stirred" may be the tag line of a certain international spy, but you won't see that happening with Del Pedro's velvety martini. Harking back to the cocktail's origins, the master barman stirs dry vermouth with floral Plymouth gin and orange bitters. A lemon twist brightens the full-throttle cocktail, served chilled in a round glass and turning more heads than a Bond girl. 793 Washington Ave between Lincoln Pl and St. Johns Pl, Prospect Heights, Brooklyn (347-955-4743, tookeralley.com). $12.—Patty Lee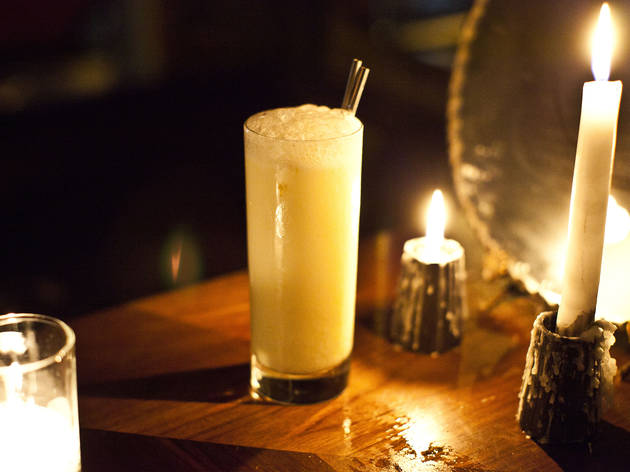 8/10
Photograph: Jolie Ruben
Crème de Julius at Evelyn Drinkery Winking at juice-stand chain Orange Julius, barman Justin Fairweather fuels his heavenly egg cream with vanilla-flavored Galliano, a cognac-Cointreau blend and house naranja de leche (orange-enhanced milk). Adding soda-fountain relic lactart (dairy acid), the cocktail chemist fizzes the sweet concoction with double-charged blasts of bespoke seltzer. Two steel straws puncture the thick, fluffy-as-a-cloud head—misted with orange blossom water—but you won't be doing any sharing after one sip. 171 Ave C between 10th and 11th Sts (evelynnyc.com). $9.—Christina Izzo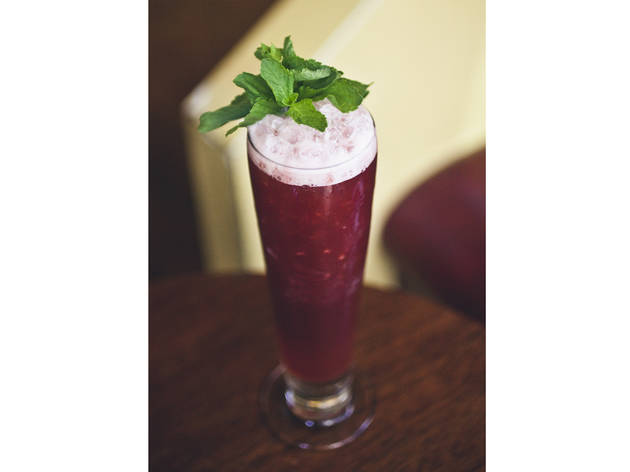 9/10
Photograph: Virginia Rollison
Siegert's Swizzle at Flatiron Lounge Inspired by a recipe with a whoppping quantity of bitters in Charles Baker Jr.'s The Gentleman's Companion, head barkeep KJ Williams uses Angostura as a base spirit in this off-kilter tiki quaff, which is named after the tincture's inventor. He teases out Ango's herbal notes with green Chartreuse and its spice with cinnamon syrup. Pineapple, lime and grapefruit juices boost the equatorial vibe; sherry and blackberry liqueur add sweet complexity; and crushed ice and mint bring freshness. 37 W 19th St between Fifth and Sixth Aves (212-727-7741, flatironlounge.com). $13.—Laren Spirer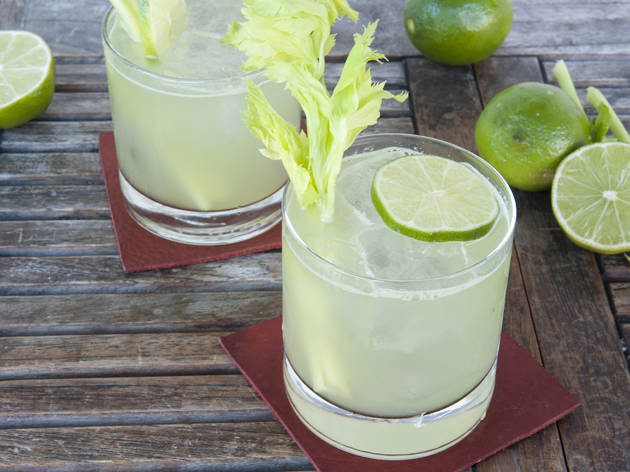 10/10
Photograph: Liz Clayman
Celery gimlet at Saxon + Parole This snappy twist on the classic gin gimlet—made with citrusy Spring 44 gin—swaps out the traditional lime juice for verjuice (a vinegary product of unripe grapes). Green Chartreuse and fresh celery extract add herbaceousness, while floral St-Germain rounds out the refreshing drink with sweetness. 316 Bowery at Bleecker St (212-254-0350, saxonandparole.com). $14.—Molly Aronica
New York cocktail lovers had plenty to choose from with this year's excellent slugs. Our favorite drinks included a Spanish-tinged julep, a highbrow egg cream and a head-turning martini. From daisies to gimlets and everything in between—these are TONY's top tipples of the year.

RECOMMENDED: All 100 best dishes and drinks
Sponsored listing
The Holler
If a trip to the Holler leaves you feeling transported, don't worry, it's not the hurricane cocktails taking over. The Bed-Stuy spot—which takes over the former home of local LGBT favorite One Last Shag—is the latest NOLA-accented project from the team behind the nearby Cajun eatery Catfish. Crescent City charm is evident from the moment you step under the glow of the neon moon that marks the entrance, but the real stars of the bar are the straight-from-the-bayou Fat Tuesday daiquiris, heady slushies powered by Everclear and Bacardi 151 that come with a surprisingly easy-to-swallow price tag. Add 10 rotating drafts, two wine taps, a 100-disc jukebox and a Creature from the Black Lagoon pinball machine, and the Holler seems like it might be something to shout about.
Venue says: "BACKYARD IS OPEN!!! Enjoy cocktails and Daiquiris in our beautiful backyard!"