Drinks
Browse all of 2011's #100best dishes and drinks See more in Restaurants + Bars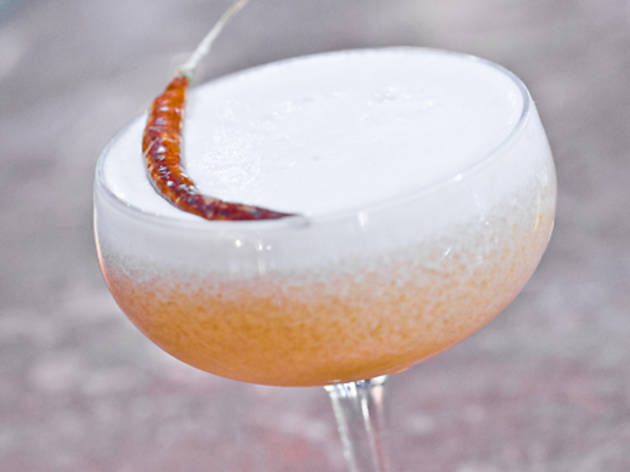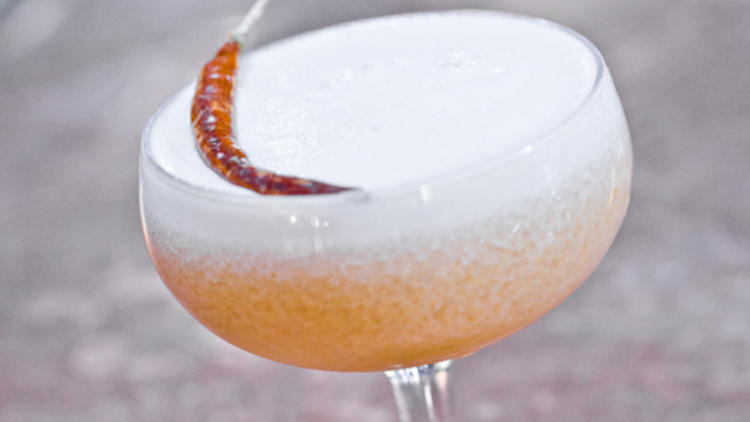 1/8
Photograph: Jakob N. Layman
Sixth Street at PDT
Sixth Street at PDT
Playing off the complex spicing used in abundance at the Indian restaurants lining East 6th Street, this garnet-hued sipper kicks up gin with piquant house-made ginger beer, a kafir-lime cordial and a pungent curry powder. Guava puree lends a tart tropical fruit flavor, while a shake with egg whites and a pour of soda water set off the balanced drink with creamy foam. 113 St. Marks Pl between First Ave and Ave A (212-614-0386). $15.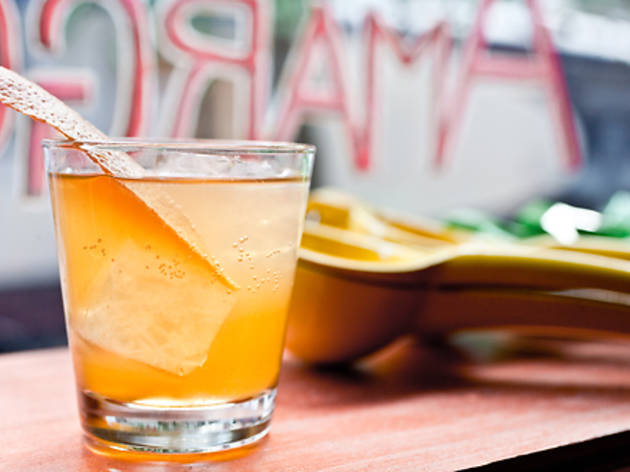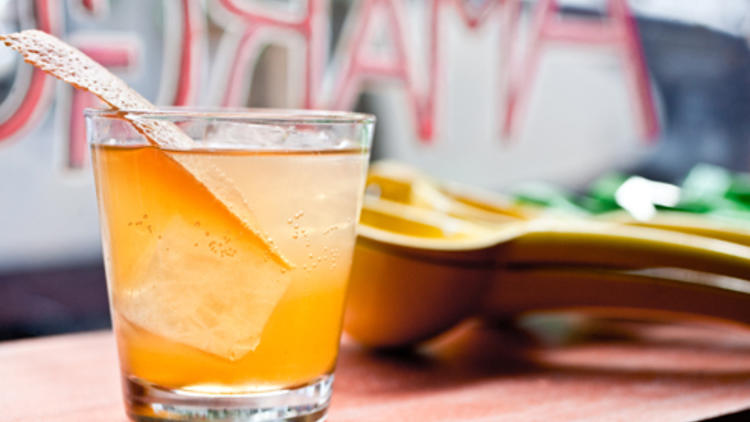 2/8
Photograph: Jakob N. Layman
House gin and tonic at Amor y Amargo
House gin and tonic at Amor y Amargo
The G is the only thing this complex cocktail has in common with your garden-variety G&T. The bartenders here swap out Schweppes for a boozy, quinine-laced tonic cordial (plus a splash of club soda), then pad the drink's sweet and fruity notes with maraschino liqueur and a dose of Bittermens Hopped Grapefruit Bitters. The result is an orange-hued, floral-scented nip that coats the palate in sweet citrus, before delivering a bracingly bitter finale. 443 E 6th St between First Ave and Ave A (212-614-6817). $12.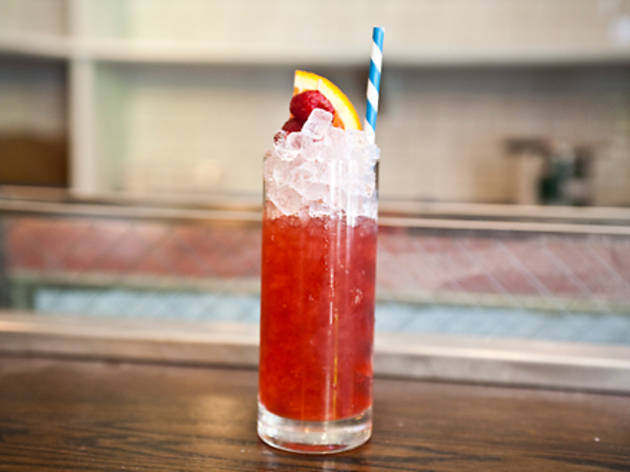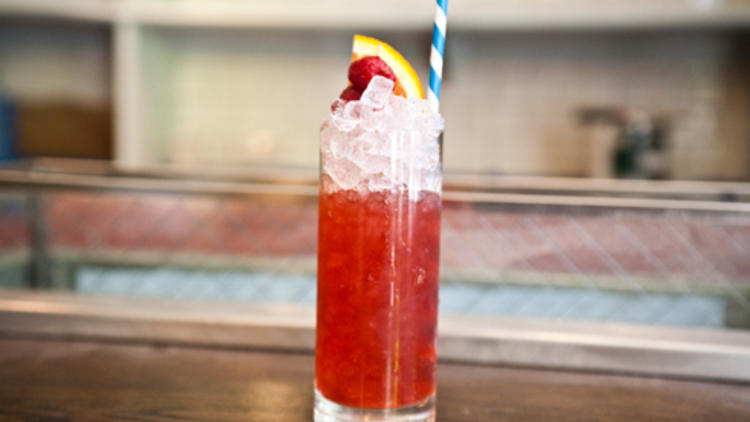 3/8
Photograph: Jolie Ruben
Sherry cobbler at the Beagle
Sherry cobbler at the Beagle
Baroque cocktails built with a pantry's-worth of ingredients have their place, but a drink made with a few simple, well-chosen components can be just as heady. Take, for example, the Beagle's rendition of this unfussy favorite of 19th-century sots. To hooch that's complex enough on its own---Lustau Dry Amontillado sherry, with its intense notes of nut, molasses and citrus---bar manager Dan Greenbaum adds raspberries muddled with a wedge of lemon and a splash of simple syrup. Sip the ruby drink served over mellowing pebble ice through a julep straw. 162 Ave A between 10th and 11th Sts (212-228-6900). $13.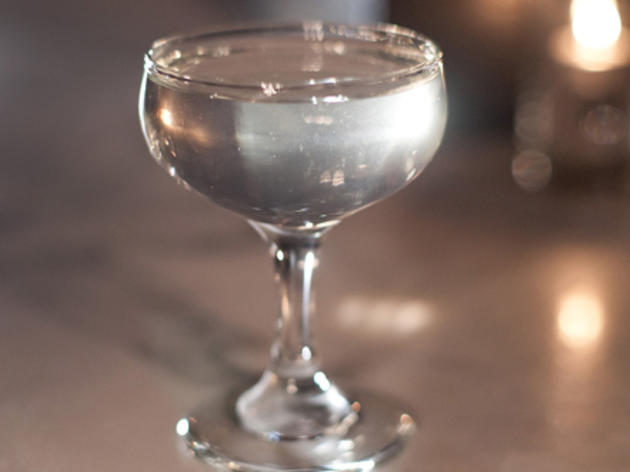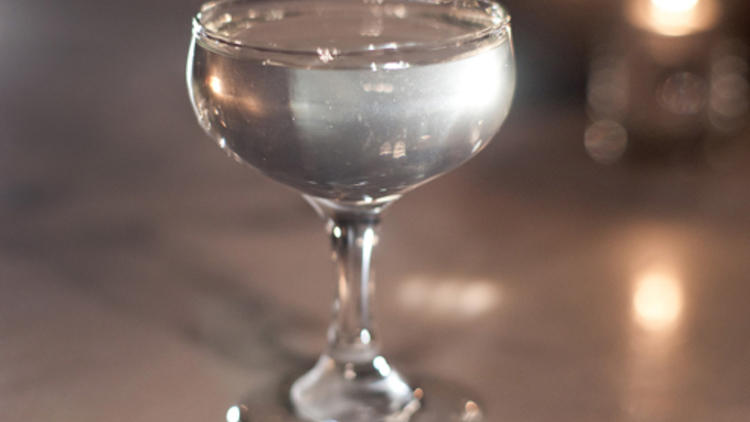 4/8
Photograph: Paul Wagtouicz
Sweet Hereafter at Death & Company
Sweet Hereafter at Death & Company
Swapping in floral Campo de Encanto pisco for gin, barkeep Joachim Simo takes the straightlaced martini for a sultry Latin American spin. St.-Germain and Dolin Blanc vermouth amp up the botanicals. Sharp Cocchi Americano, along with grapefruit bitters and peel, bring it home with a dry, citrusy finish. 433 E 6th St between First Ave and Ave A (212-388-0882). $13.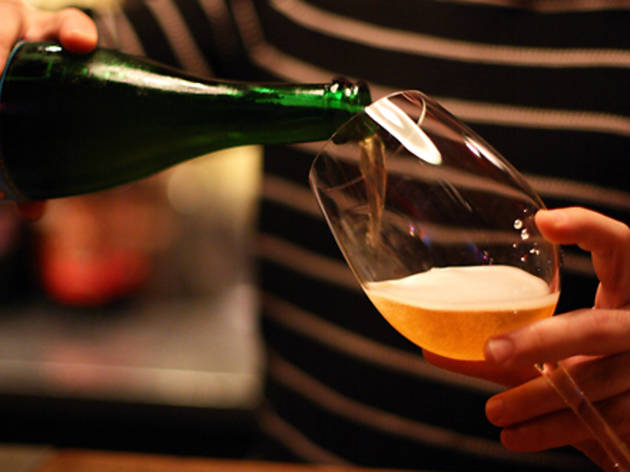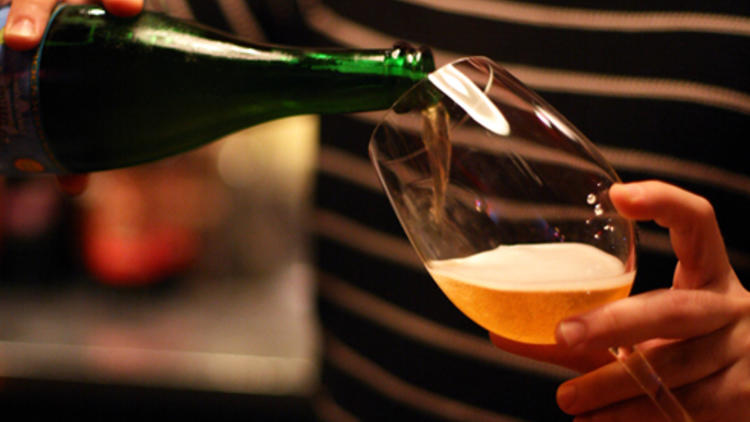 5/8
Photograph: Cinzia Reale-Castello
Lambrucha
Lambrucha
The craft-beer movement has created plenty of genre-bending suds styles, but few are as weird and wonderful as this funky pour: a tart, pinkish quaff made by blending lambic (a sour ale from Belgium) with kombucha tea. The two fermented brews make an intriguing couple---prickly acidity and champagnelike bubbles produce a refreshing crispness, while the low alcohol content (just 3.5 percent ABV) means you can sip liberally without fear of getting sloppy. Available at Whole Foods Bowery Beer Room, 95 E Houston St between Bowery and Chrystie St (212-420-1320). 750ml bottle $11.99.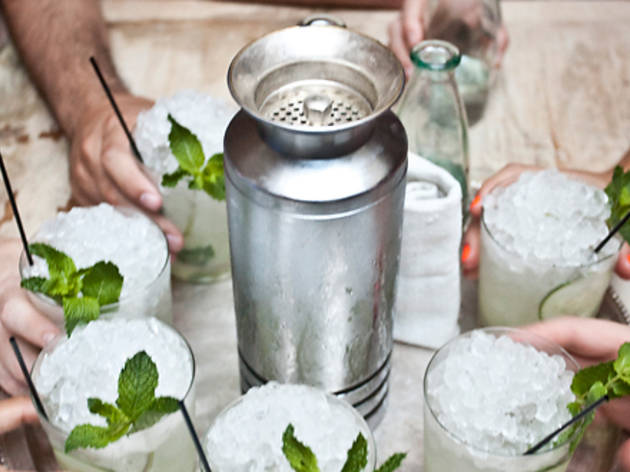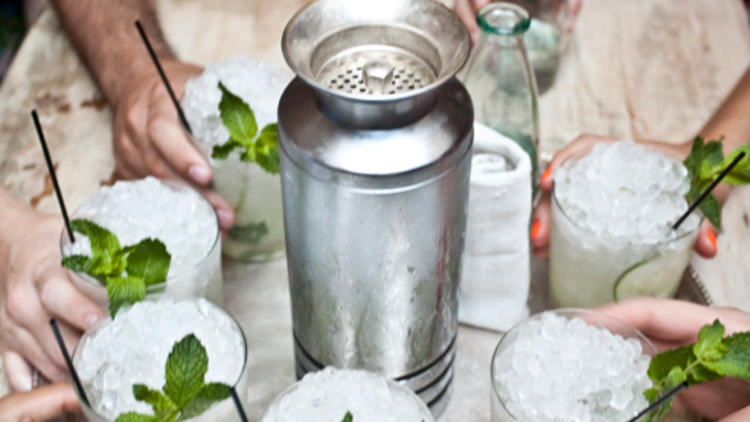 6/8
Photograph: Jolie Ruben
Broken Mirror Skyscraper at Elsa
Broken Mirror Skyscraper at Elsa
The Green Fairy's hallucinogenic effects may be myth, but this herbaceous, shareable quaff will cast a spell on absinthe newbies and enthusiasts alike. A bracing mix of the anise-flavored liqueur, lime and muddled mint---rounded out with dandelion and burdock bitters---is chilled with slow-melting Kold-Draft ice cubes in a six-serving silver shaker. Pour your share over pea-shaped ice, lighten it with soda water and clink glasses with your crew. 217 E 3rd St between Aves B and C (917-882-7395). Six servings $60.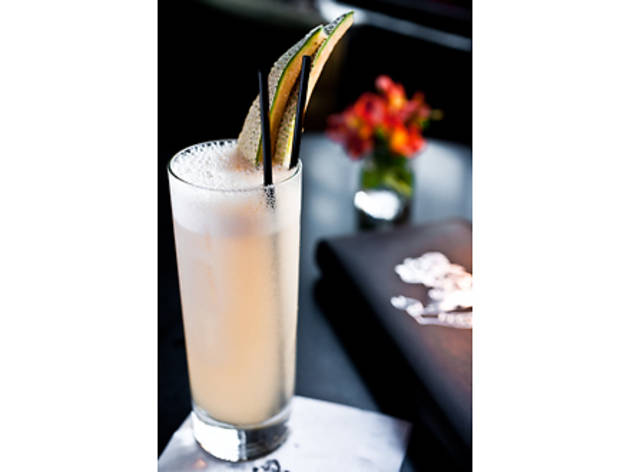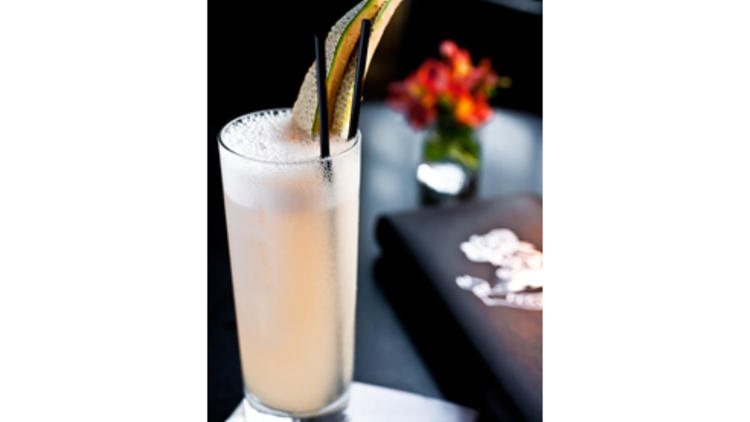 7/8
Photograph: Jakob N. Layman
Greenmarket Melonball at the Pegu Club
Greenmarket Melonball at the Pegu Club
For this refreshing orange-tinged tipple, barkeep Kenta Goto deftly deploys a pair of uncommon cocktail ingredients: melon and Calpico, a dairy-based soft drink from Japan. The tangy, milky beverage smooths out Plymouth gin with a silky body and the mellow sweetness of cantaloupe juice. A quick shake gives the cocktail an ethereal frothiness, and spritzes of absinthe brighten it with a vegetal nose. 77 W Houston St between West Broadway and Wooster St (212-473-7348). $13.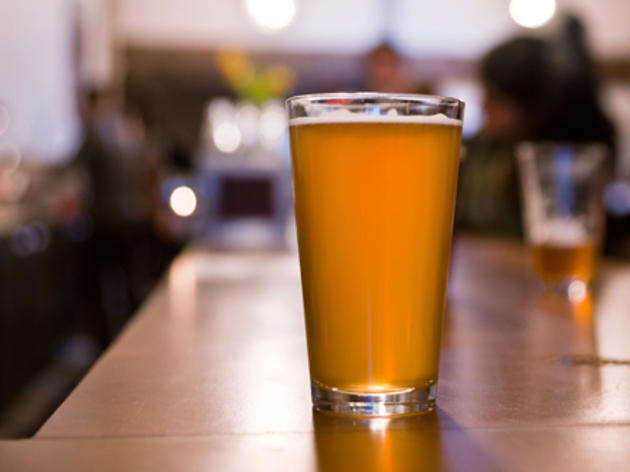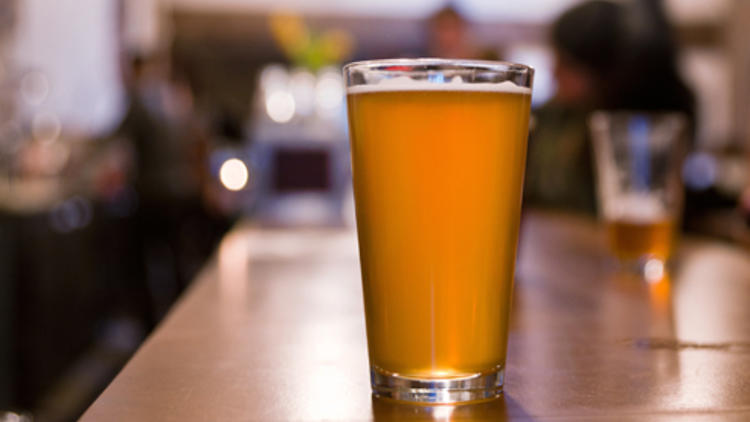 8/8
Photograph: Paul Wagtouicz
Barrier Brewing Company beers
Barrier Brewing Company beers
This tiny Long Island outfit developed an outsized reputation this year, keeping beer lovers hot on the trail of their berlimited, exceptionally balanced suds. Sixpoint alums Evan Klein and Craig Frymark build their catalog just two kegs at a time, rotating through more than 20 styles and self-distributing the goods to a handful of NYC beer bars. Highlights include the biting Ruthless Rye IPA, a cask of dry and refreshing Cycle Saison, and the velvety, coffee-infused Rembrant Porter. But when those aren't around, we've learned to just order any Barrier brew we see, before it's too late. Find a regular Barrier at 61 Local, 61 Bergen St between Boerum Pl and Smith St, Cobble Hill, Brooklyn (347-763-6624). Prices vary.
Sponsored listing
Rye House
As the name suggests, American spirits are the emphasis at this dark, sultry bar. Along with a selection of bourbons and ryes, there are gins, vodkas and rums, all distilled in the States. Using the homeland hooch, mixologists Jim Kearns and Lynnette Marrero shake and stir top-notch mixed drinks like the refreshing house punch made with arrack (a rumlike spirit) and chai-infused rye. The Creole Daiquiri combines New Orleans rum with chorizo-flavored mescal (it's a bit like sipping a taco, which is a good thing). While the focus is clearly on drinking, there's excellent upscale pub grub: We liked the fiery fried buffalo sweetbreads.
Venue says: "Specials all Summer long! Sat & Sun 1p-7p- $5 bites, $9 apps, $6 drafts, $9 wines, & $11 cocktails. Cocktail of the month: Physical Graffiti"