New-to-NYC beers
Get your hands on these cultish craft suds, never before seen in New York City.
By Joshua M. Bernstein Wed Feb 15 2012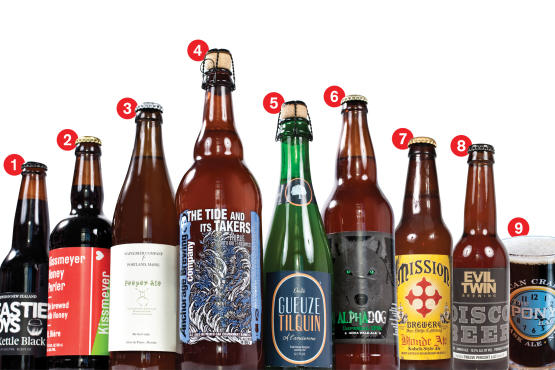 1. Yeastie Boys
These music-obsessed New Zealanders flout brewing conventions with outr beers such as the Rex Attitude, which deploys peated malt to achieve the smoky character of Scotch whiskey (fun fact: it's named after a French techno song). For other hits, they look closer to their home for inspiration: The Digital IPA showcases New Zealand's native Motueka hops, known for its pungent tropical fruit notes.
What to drink: With a hoppy aroma, Pot Kettle Black is New Zealand's first black IPA—an American innovation that mashes up the hoppiness of an India Pale Ale with the dark, malty character of a porter or stout. Available at City Swiggers, 320 E 86th St between First and Second Aves (212-570-2000). 11.2oz bottle $6.99.
2. Kissmeyer Beer
Anders Kissmeyer hails from Denmark, where he cofounded Copenhagen's revered Nrrebro Bryghus brewery. Taking cues from boundary-pushing American brewers, he launched his one-man gypsy brewery a year ago (he travels from brewery to brewery, using their facilities), turning out inventive riffs on classic styles. Standouts include the tropical-tinged Citra Tripel—a hopped-up Belgian ale—and the zingy PilNZer, which is packed with New Zealand hops.
What to drink: Dosed with Danish heather-flower honey, the silky, roasty Honey Porter boasts a smooth finish. Available at Cooper's Craft & Kitchen, 87 Second Ave between 5th and 6th Sts (646-606-2384, coopersnyc.com). 12oz pour $9.
3. Maine Beer Company
While some breweries garner attention for their oddball experimentation, this New England gem has won over beer lovers with its humble commitment to "do what's right." The motto refers to the outfit's charitable component (1 percent of all sales is donated to environmental groups), but it's also reflected in the straightforward, well-balanced ales that brothers David and Daniel Kleban craft in their tiny, wind-powered brewery. While they may not have Anheuser-Busch-size ambitions, the duo's small catalog includes soaring successes like the resinous Lunch IPA and the vanilla-flavored Mean Old Tom stout.
What to drink: The dry-drinking Peeper, a pale ale, entices with a fresh, citrusy aroma. Available at Bar Great Harry, 280 Smith St at Sackett St, Carroll Gardens, Brooklyn (718-222-1103, bargreatharry.com). 12oz pour $7.
4. Anchorage Brewing Company
While American sour ales and barrel-aged beers have been garnering attention for a while, few brewers combine the two cutting-edge trends quite as deftly as Alaska's Gabe Fletcher. His seasonal releases—each made just once a year in berlimited quantities—are dosed with wild Brettanomyces yeast to produce offbeat flavors, then mellowed with a nap in French oak barrels. The results include idiosyncratic ales such as the funky, aromatic Bitter Monk double IPA and the floral Love Buzz Saison.
What to drink: The Tide and Its Takers Triple is a earthy sipper with lemony Sorachi Ace hops, a spicy bite, and notes of vanilla and oak. Available at Breukelen Bier Merchants, 182 Grand St between Bedford and Driggs Aves, Williamsburg, Brooklyn (347-457-6350, breukelenbiermerchants.com). 750ml bottle $19.99.
5. Gueuzerie Tilquin
For centuries, Belgium's Senne Valley has been synonymous with lambic, an indigenous ale that derives its pleasantly tart and sour tones from wild yeasts. A gueuze combines multiple aged lambics; brewer Pierre Tilquin uses four. Newcomers to the industry are rare, which would explain the excitement surrounding Tilquin, the country's first new blender since 1997. He sources an assortment of aged lambics from area breweries, then mixes them into finished products like the bottled Gueuze Tilquin l'Ancienne, a full-bodied, complex sipper. The draft version has a lower ABV (4.5%) and is designed to be an easier drink.
What to drink: The lovely, hazy gold Gueuze Tilquin l'Ancienne tastes of green apples spritzed with lemon. Available at Whole Foods Bowery Beer Room, 95 E Houston St between Bowery and Chrystie St (212-420-1320, wholefoodsmarket.com). 12oz bottle $10.99.
6. Laughing Dog Brewing
One of Idaho's few craft breweries premiered in NYC last year, debuting its enticing line of canine-inspired suds. Seasoned beer nerds will appreciate uncommon and subtle styles such as the malty CSB, an English-style Extra Special Bitter and the smooth Cream Ale, fermented with both lager and ale yeasts to achieve crispness and a slightly fruity character. But the brewery is equally adept at crafting assertive beers like the dark Dogfather imperial stout.
What to drink: The superhoppy Alpha Dog imperial IPA reins in its malt sweetness to spotlight a tidal wave of piney bitterness. Available at Whole Foods Market Bowery Beer Room, 95 E Houston St between Bowery and Chrystie St (212-420-1320). 22oz bottle $7.99.
7. Mission Brewery
San Diego has built its brewing reputation on boldly hopped quaffs from cultish producers like Green Flash and Stone. Many of Mission's ales—including the marvelous, grapefruit-driven Shipwrecked Double IPA—fit right in on hometown taps. But the versatile brewery has other tricks up its sleeve too, balancing the boozy hop bombs with more easygoing session ales like a clove-and-banana-accented Hefeweizen.
What to drink: The Klsch-like Blonde is a fine session beer, with delicately fruitiness and a crisp, dry finish. Available at Mission Dolores, 249 Fourth Ave between Carroll and President Sts, Park Slope, Brooklyn (718-399-0099, missiondoloresbar.com). 16oz pour $5.
8. Evil Twin
Denmark's Jeppe Jarnit-Bjergs, whose twin brother is behind the genre-busting Mikkeller label, brings his impish sense of humor to bear upon a range of potent, whimsically named brews. Releases like Soft DK, a vanilla-tinged Imperial stout, and a series of ales inspired by international hipster 'hoods (Williamsburg included!) are as tasty as they are subversive. He also has a knack for high-concept creations like Yin and Yang—a brawny stout and strapping IPA, respectively, that are meant to be blended like a classic Black and Tan.
What to drink: The Disco Beer stemmed from Jarnit-Bjergs's love of bubbly: Though it's an Imperial IPA, the oak-aged brew has a hops profile that echoes flavors found in chardonnay and champagne. Available at Whole Foods Bowery Beer Room, 95 E Houston St between Bowery and Chrystie St (212-420-1320). 330ml bottle $11.99.
9. Wandering Star Craft Brewery
A love of British- and Belgian-style beers led New York City homebrew vets Chris Cuzme and Chris Post to launch this exciting upstart with Englishman Alex Hall, an evangelist for unfiltered, unpasteurized cask ale. While Post brews in Pittsfield, Massachusetts, Cuzme and Hall do quality control, sales and events in NYC, seeking out top-notch craft-beer bars (The Ginger Man, d.b.a. Brooklyn) that will treat their fresh suds correctly. Look for releases such as Zingari, a silky witbier, and the soft, lightly fruity Raindrop Pale Ale.
What to drink: Designed to be served as a cask ale, the dry, nutty Mild at Heart is an English-inspired session beer with gentle flavors of roasted coffee. Available at d.b.a. Brooklyn, 113 North 7th St between Berry St and Wythe Ave, Williamsburg, Brooklyn (718-218-6006). Pint $6.
10. Hill Farmstead Brewery
Few domestic brewers have bewitched the city's beer cognoscenti as much as Shaun Hill, whose Vermont-based outfit specializes in generously hopped, unfiltered ales mostly named after his ancestors. With feverish demand far outstripping the small brewery's limited production capacity, count yourself lucky if you find a pint of his standout imperial IPAs, like the piney, citrusy Abner or the dank, sticky Ephraim.
What to drink: For its nerdworthy single-hop series, the brewery makes beers with just one hop varietal to highlight the ingredient's effect on the final result—the Motueka Single Hop Pale Ale is bursting with juicy tropical-fruit notes. Available Feb 20 at Blind Tiger Ale House, 281 Bleecker St at Jones St (212-462-4682, blindtigeralehouse.com). 12oz pour $8.50.