The rise of the nanobrewery
Move over, micros. Nanobreweries---scrappy, hyperlocal beer makers that produce fewer than three barrels at a time---are storming NYC taps.
By Joshua M. Bernstein Tue Feb 15 2011
Photograph: Jolie Ruben
greenportbrewery062
Greenport Harbor Brewing Company
Barrier Brewing Co.

The motto "brewing for quality, not quantity" speaks to the focused philosophy of this Oceanside, Long Island, nanobrewery, a pet project from Sixpoint alum Evan Klein. He started the one-barrel outfit this past summer, focusing on the same unfiltered suds that he helped make in Brooklyn. "I have the flexibility to brew the beers I want to make," Klein says of his small-batch approach, capable of churning out about two to six kegs at a time. Those include a range of hop-forward, year-round offerings, such as the floral Greenroom Pale Ale, the chocolaty Rembrandt Porter and the malty, citric Bulkhead Red. He also releases seasonals like the summery Beech St. Wheat (spiced with cardamom and bitter orange peel). Though Klein started as Barrier's sole employee, personally distributing his wares to Brooklyn's Bierkraft and the uptown Dive Bar minichain each week, he's recently enlisted the aid of Craig Frymark, another Sixpoint vet.
Drink this: Klein's brawny Ruthless Rye IPA packs a boatload of piney hops to match its spicy backbone. Available at Broadway Dive, 2662 Broadway between 101st and 102nd Sts (212-865-2662, divebarnyc.com). Pint $6.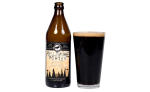 Blind Bat Brewery

Rustic smoked beers that suggest a liquefied campfire are the specialty of Paul Dlugokencky's part-time nanobrewery, which he runs out of a converted garage Centerport, Long Island. To give his creations their smoldering essence, he hand-smokes barley malts and grains over a variety of woods. The BBQ-friendly results include the tart Old Walt Smoked Wit—made with wheat roasted over mesquite kindling—and the mellow Vlad the Inhaler, which channels a near-extinct Polish beer style called a grodziskie (it's laced with notes of blazing French oak). Dlugokencky's inventiveness doesn't end there. His unsmoked recipes are equally eccentric, such as the dry Long Island Potato Stout made with locally harvested spuds. And to complete the charmingly DIY package, he taps his skills as a cartoonist and illustrator to create colorful labels. Dlugokencky also self-distributes the product to a handful of outlets on Long Island and Manhattan, including Jimmy's No. 43 and New Beer Distributors.
Drink this:The gently carbonated Hellsmoke Porter balances complex smokiness—derived from malts dried over alder and apple woods—with hints of bittersweet chocolate. Available at New Beer Distributors, 167 Chrystie St between Delancey and Rivington Sts (212-473-8757). Bottle $5.25
Greenport Harbor Brewing Company

No local startup made a bigger splash in the past year than Greenport Harbor, which produces its small-batch ales out of a repurposed firehouse in the tiny fishing town that gives the brewery its name. The newcomer first hit NYC taps with one of the summer's standout sips (the crisp, citrusy Harbor Ale), only to follow suit with equally impressive seasonal releases including the superbly balanced Leaf Pile (a pumpkin beer packed with whole spices) and winter's warming, rich Antifreeze. Consistency is a habit that head brewer DJ Swanson developed while making beer for the John Harvard's pub chain. Now, he can pour his passion into a more robust range of ales, which combine the best of English and American brewing traditions—even his hoppiest quaffs are balanced by the type of strong malty backbone you'd expect across the pond. While Greenport is a bit bigger than your average nano, it still maintains a fiercely regional approach to making beer, distributing its products exclusively on Long Island and in the five boroughs (find it at spots such as Bierkraft, Jimmy's No. 43 and Mission Dolores).
Drink this:The easy-drinking Black Duck Porter nails the style's trademarks—a frothy head and notes of cocoa and coffee. Available at Mission Dolores, 249 Fourth Ave between Carroll and President Sts, Park Slope, Brooklyn (718-399-0099, missiondoloresbar.com). Draft $6.