Whiskey Soda Lounge Ny opens in the Columbia Street Waterfront District
Thai-food trailblazer Andy Ricker (Pok Pok Ny) launches a Brooklyn outpost of his popular Portland whiskey den.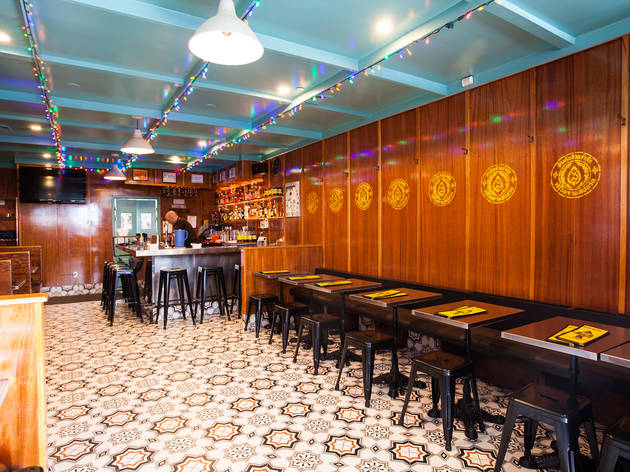 1/7
Photograph: Jessica Lin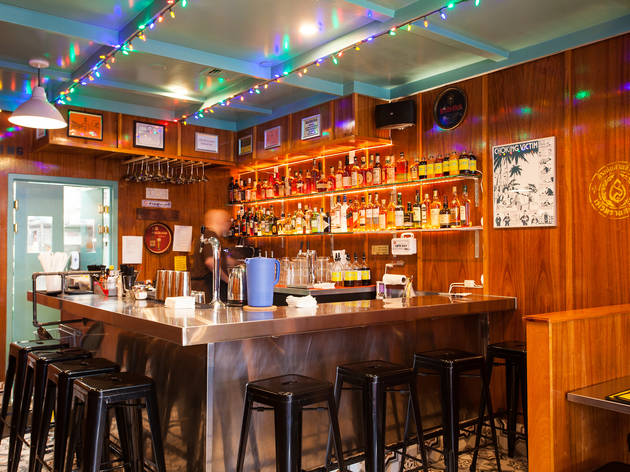 2/7
Photograph: Jessica Lin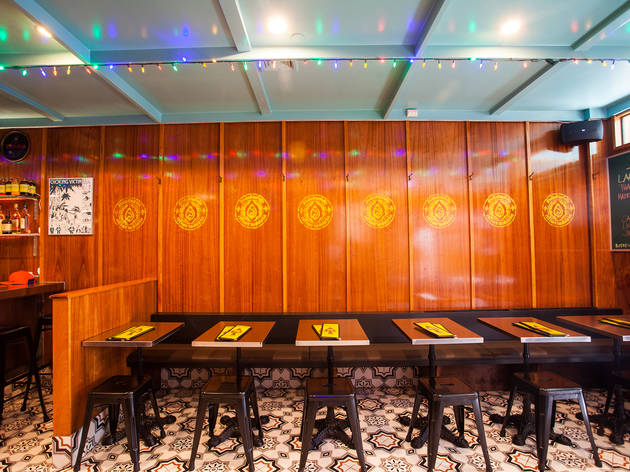 3/7
Photograph: Jessica Lin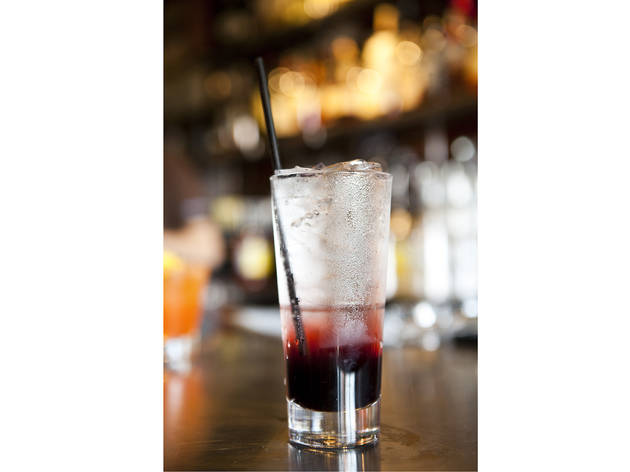 4/7
Photograph: Jessica Lin
Raspberry drinking vinegar at Whiskey Soda Lounge Ny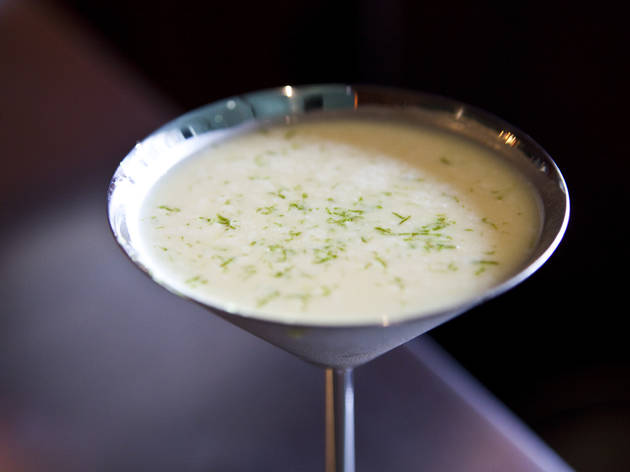 5/7
Photograph: Jessica Lin
Mango Alexander at Whiskey Soda Lounge Ny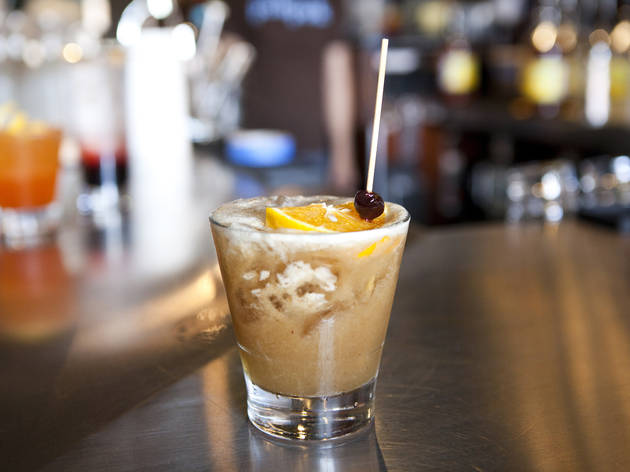 6/7
Photograph: Jessica Lin
Tamarind Whiskey Sour at Whiskey Soda Lounge Ny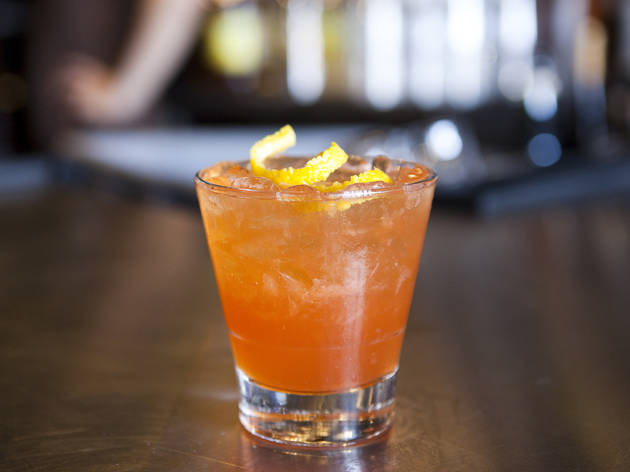 7/7
Photograph: Jessica Lin
Rhubarb Blush at Whiskey Soda Lounge Ny
The unstoppable Andy Ricker expands his New York holdings with another anticipated Portland, OR, import: Whiskey Soda Lounge Ny, a late-night whiskey bar right down the street from Pok Pok Ny. Homing in on aahaan kap klaem (Thai pub grub), the Food & Drink Award–winning chef dispatches crowd-pleasing nibbles, including charcoal-toasted cuttlefish, galangal-and-garlic Manila clams and, yes, his famous fish-sauce wings. True to its name, the 42-seat spot features an American-heavy whiskey selection, available neat or with soda—a Thai drinking staple that Ricker swigged during his backpacking days. Cocktails culled from Pok Pok's bar program (tamarind whiskey sour, vodka-spiked Mango Alexander) are also available at the stainless-steel bar. Modeled after a Southeast Asian shophouse (a multi-level store), the wood-paneled lounge features geometric-tiled floors, a wall covered in clippings of Muay Thai fighters and antiques salvaged from Bangkok's TalatI Fai Chai market. There are also guaranteed good vibes—the restaurateur sanctioned a quartet of monks from Westchester's Vajiradhammapadip Temple to bless the joint. Check out the menu below. 115 Columbia St at Kane St, Columbia Street Waterfront District, Brooklyn (no phone yet, whiskeysodalounge-ny.com)
MENU
EAT:
Aahaan Phrom (food ready to eat)
Shrimp Chips, 3
Plaa Lek Thawt Krob (deep-fried dried anchovies with Shark sriracha sauce), 3
1/4lb House-Roasted Red Peanuts (Pok Pok-style with lime leaf, garlic, chilies and sea salt), 5.50
Kai Saam Yang "chicken three ways" (chopped lemongrass, peanuts and shallots), 3
Sticky Rice, 3
Aahaan Raw Diaw (food that takes a while)
Plaa Meuk Ping (charcoal-toasted dried large Thai cuttlefish), 8
Miang Kham (chilies, ginger, peanuts, dried shrimp, lime, shallot and toasted coconut with ginger sauce in betel leaf wrappers), 9
Huu Muu Thawt (crispy deep-fried 5-spice stewed pork ear strips with black vinegar dipping sauce), 8
Sai Muu Thawt (5-spice stewed pork chitlins fried crisp and served with a sweet black vinegar dipping sauce), 8
Yam Plaa Meuk (poached fresh squid salad with chile, garlic, tomatoes, Chinese celery, green onions, mint and cilantro), 12
Yam Het Huu Nuu Khao (salad of white "mouse ear" mushrooms with ground pork, Thai chilies, tomatoes, scallions, cilantro, lime, palm sugar and fish sauce), 10
Jin Tup/Muu Tup Roht Dii (low and slow grilled flank steak/pork neck with salt and MSG, pounded with a sledge hammer and served with naam phrik khaa, a Northern Thai chile-galangal dipping sauce), 14
Muu Sawan (deep-fried marinated dried pork with Thai coriander seeds and deep fried lime leaves, served with jaew, an Isaan dipping sauce), 9
Phat Hoi Laai (stir-fried Manila clams with pork stock, chilies, garlic, galangal, krachai and Thai basil), 16
Khai Luuk Khoei (deep-fried boiled free-range farm eggs with sweet and spicy tamarind sauce, dried chilies and fried shallots), 10
Naem Sii Khrong Muu Thawt (sour cured pork riblets deep-fried and served with cabbage, peanuts, ginger and chilies), 14
Ike's Vietnamese Fish Sauce Wings, 15
Tom Saep Muu (Isaan sour-hot soup with pork and offal, herbs, aromatics, lime and chilies), 14
DRINK:
Cocktails, 12:
Tamarind Whiskey Sour (tamarind, lime juice, palm sugar and bourbon on the rocks)
Salted Lime Vodka Collins (Thai salted lime, vodka, lemon juice and soda on the rocks)
Pok Pok Gin and Tonic (house-infused kaffir lime gin served tall with tonic)
Pok Pok Bloody Mary (with Thai chilies and aromatics pounded in the mortar and pestle)
Deviation (Aviation gin, maraschino liqueur, lemon juice, amerna cherry juice, served up)
Apple Gin Rickey (Som apple drinking vinegar. gin, lemon and soda)
Mango Alexander (mango, vodka, coconut cream and lime, shaken and served up)
Rhubarb Blush (aperol, gin, fresh lime and rhubarb bitters, on the rocks)
Hunny (grapefruit juice with lime, Som honey drinking vinegar and tequila)
Khing & I (Mekhong, lime and house-made ginger syrup on the rocks)
Lord Bergamot (Smith Teas bergamot tea-infused vodka, Som honey drinking vinegar, orange liqueur and soda on the rocks)
Umeshu Cooler (Japanese Ume Plum wine and soda served tall on ice)
Southside (gin, fresh mint syrup, lemon juice and a splash of soda)
Stone Fence (Applejack, Som apple drinking vinegar, draft cider and bitters)
Yuzu-Honey Whiskey Hot Toddy (Korean yuzu-honey tea with bourbon)
Vietnamese Coffee, Grown Up Style (Vietnamese coffee spiked with brandy)
Sponsored listing
Wine 30
This restaurant and wine bar serves thirty wines by the glass and more than 200 wines by the bottle. The lunch, brunch and dinner menus change seasonally and use fresh local ingredients. A cork party room and wine cellar are available for private events. Outdoor seating is also available during warm weather.
Venue says: "It's wine thirty. Come relax and have a glass. Book your private event at our outside patio or private wine cellar, email info@wine30.com"