Each week, we take two New Yorkers who swear they're totally undateable, and put our matchmaking skills to the test. Afterward, we find out what went well on their date, and what went horribly, horribly wrong.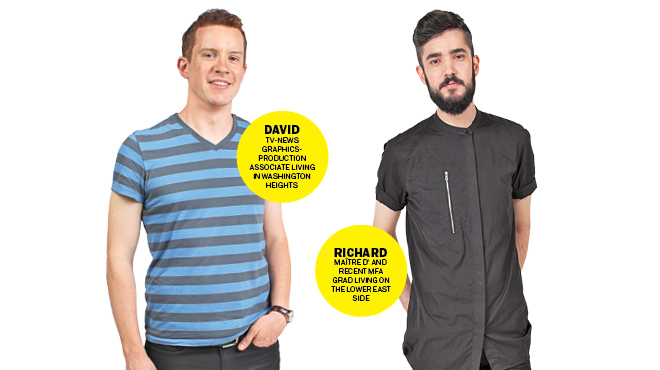 Why they're single:
David: Finds there's 
too much of a flake-out 
factor with online dating
Richard: Is very 
guarded, and when he does 
let someone in, it's 
often the wrong guy
Ideal date:
David: Dinner and drinks somewhere downtown 
that he hasn't 
tried before
Richard: Stiff drinks in 
a dark corner of 
some bar
THE DATE
First impression
David: "Normally I'm not into facial hair, but his was very attractive. He had a thick beard, which was cute, and nice eyebrows. He seemed like a genuine, down-to-earth guy."
Richard: "He was cute and put-together. I was attracted to his red hair—I have a thing for gingers. I usually like a scruffier, brooding type, but I wasn't going to let that deter me."
Chemistry
David: "We gelled over binge-watching 30 Rock. 
It felt much more comfortable than normal first dates. We flirted a lot—I think it went much better than we both anticipated."
Richard: "We didn't ask typical first-date questions—we talked about allergies and whether we want to be buried or cremated. There was flirtation, but I'm not sure about chemistry."
Awkward Moment
David: "On the chalkboard in front of the restaurant, it said DATE? with a cute drawing of two people. The waiter pointed it out to us and was like, 'I drew this for you guys.'"
Richard: "I don't like to eat on dates, so I was hyper-aware of food on my face. I dropped an entire spoonful of mango dessert into my hand. I wasn't sure what to do."
Afterward
David: "We walked out together, and I asked for his number. My biggest regret is not going for the smooch. I wanted to but didn't have the cojones."
Richard: "I had plans to meet up with friends after, so he walked me halfway there. There wasn't a kiss, but we shared a nice hug. 
It was polite and cordial."
Verdict
David: ♥♥♥♥♥ "I'd like to get to know him. In my head, I'm planning a next date, but the words haven't been written yet. I'm hoping for date three—it's more hopeful than two."
Richard: ♥♥♥ "I'm not sure if there was a love connection, but I had a very nice time. I know he wants to go out again, so I'm going to let him take control. We'll see."
Our daters went to Upholstery Store: Food & Wine (713 Washington St, 212-929-6384)
RECOMMENDED: See more Undateables
Want to be set up on a free blind date? Email undateable@timeout.com.
Comments