Pussy Riot, Rob Ford and Edward Snowden made dimensional
Biographical titles written by journalists about fascinating political figures speed their way into print.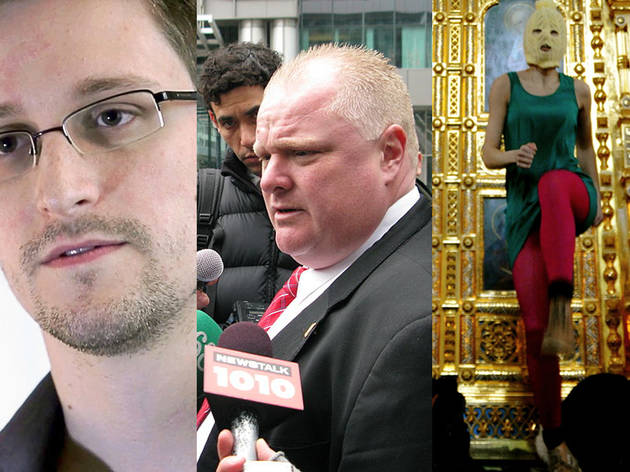 Crazy Town: The Rob Ford Story by Robyn Doolittle (Viking, $26)
Extreme figure in question: Ticklish, trash-talkin' Toronto mayor Rob Ford
How his case is presented: This thorough investigation by Toronto Star reporter Doolittle explores how the conservative politician cultivated his average-joe persona. Even being caught on video while smoking crack hasn't meant political downfall; his supporters relish his accessibility and crusade for low taxes. Although the city council has stripped Ford of much of his authority, Doolittle believes he might still win reelection.
Verdict: Doolittle's tome gives this train wreck more attention than he deserves.—DS

Words Will Break Cement: The Passion of Pussy Riot by Masha Gessen (Riverhead, $16)
Extreme figures in question: Feminist Russian performance group Pussy Riot
How its case is presented: Russian-American nonfiction writer Gessen understands her subject deeply. She wrote a book about Vladimir Putin, spent a lot of time with the family of the group's detained members, and ran in the same circles while organizing protests in Moscow. The breezy yet pointed Cement covers the highlights: the upbringing and ideological foundations of core members Nadya Tolokonnikova and Maria Alyokhina; Pussy Riot's rebellious acts; and the members' subsequent trial and conviction.
Verdict: Though the most we hear from the pair themselves comes in letters sent to Gessen from prison, the book still offers a genuine glimpse into their unjust (former) incarceration.—ML

The Snowden Files: The Inside Story of the World's Most Wanted Man by Luke Harding (Vintage, $14.95)
Extreme figure in question: Zealous confidential-document leaker Edward Snowden
How his case is presented: Not surprisingly, Snowden, who delivered a cornucopia of classified NSA documents about U.S. mass surveillance to The Guardian, receives a positive portrait from Harding, a journalist for the liberal British newspaper. In this in-depth exposé, the controversial former CIA employee is depicted as an idealistic computer geek with libertarian leanings, who risked imprisonment because he was disturbed that the NSA was scooping up phone and Internet data en masse.
Verdict: Even if you don't believe Snowden's deeds constitute a patriot's act, this book raises important issues about the right to privacy in the digital age.—DS

Sponsored listing
Elizabeth's Neighborhood Table
With its porch swing and white picket fence, this Upper West Side restaurant looks more like a country farmhouse than a New York City bistro. It's fitting, then, that the seasonal menu highlights traditional American comfort foods made with natural and organic ingredients. A typical dinner might start with an order of jumbo lump crab cakes with apple-fennel slaw ($16) or mac and cheese in a cast-iron skillet ($10). For the main course, you might opt for the turkey meatloaf with mushroom gravy and garlic mashed potatoes ($22), a roasted heritage pork chop with braised red cabbage and fruit compote ($26) or the crispy fried chicken with greens, gravy and more of that creamy mac ($25). Craving a burger? The restaurant offers beef ($13), turkey ($15), lamb ($16), chicken ($13), salmon ($18) and veggie patties ($14). Finish the meal with a homemade chocolate malt ball brownie ($6) or a seasonal fruit crumble topped with a scoop of Ronnybrook Farms ice cream ($8).
Venue says: "Our urban farm house is the thoughtful spot you've been searching for! American Comfort Food in a charming, relaxed dining atmosphere."