The Life and Opinions of Maf the Dog...
By Matthew Love Mon Nov 29 2010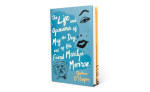 Time Out Ratings :
<strong>Rating: </strong>4/5
"All the great stories are about servants," announces Irving Howe, one of the characters in Andrew O'Hagan's latest novel. Little does he know that at his heels sits Mafia Honey (or Maf, for short), the book's canine narrator, modeled after the Maltese pooch Frank Sinatra gave Marilyn Monroe near the end of her life in 1960. The fictional Maf not only defends the fragile Monroe, but also Trotsky, Scotland and the rights of all loyal mammals.
In O'Hagan's mutt-centric world, Maf is not only casually omniscient but mentions, early on, his breed's penchant for digression. This allows him a lowly yet knowing platform from which to muse on art, politics, psychoanalysis and the celebrated personalities Monroe bumps into. As the author strives to turn his dog's-eye view into comedic high art, fun unfolds in the details: In O'Hagan's highly literate animal kingdom, for instance, dogs don't like cats because felines prefer poetry to prose. And when the tone threatens to become less than breezy, O'Hagan tosses in a canine-centric aside or joke.
In the end, Maf and Marilyn are similar—simple to the casual observer but incredibly complex under the surface—but Maf knows himself while she does not. Despite having been a servant to countless men's desires, she persists in believing that "fame conceals self-knowledge," and the powerless Maf watches her fade away without it.
O'Hagan reads from The Life and Opinions of Maf the Dog, and of His Friend Marilyn Monroe Tue 7 at Barnes and Noble (86th St & Lexington).
Buy The Life and Opinions of Maf the Dog, and of His Friend Marilyn Monroe on Amazon.com | Buy it on BN.com
By Andrew O'Hagan. HMH, $24.