Curves ball
Allanah Starr flaunts her well-crafted features at a trio of weekly trans parties.
By Les Simpson Wed Apr 23 2008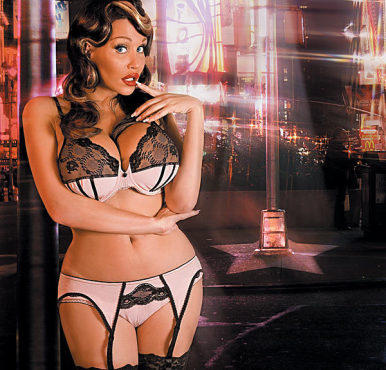 BREAST INTENTIONS Starr is the hostess with the mostess at her popular shindigs.
Because of its association with the porn industry, the term shemale is considered by many in the transgender community to be a sleazy one. But for Allanah Starr, born male and now living as an X-rated actress, the term suits her just fine—as a marketing tool for her "chicks-with-dicks" websites and movies (including her signature series, Allanah Starr's Big Boob Adventures), as well as her frisky after-dark events. With three weekly parties and another in the pipeline, she reigns as queen bee of New York's nightlife for girls with a little something extra.
Starr is a success at throwing parties in part because she's a sweet and good-humored host—and interview, as evidenced at a recent afternoon chat with TONY. Like many transsexuals (Starr prefers this label to the more PC transgender), she's undergone extensive plastic surgery—for her, it's a "hobby"—with more than 50 procedures to produce eye-popping 36FF-28-46 measurements. But during the day, in casual clothes and no makeup, she looks like any other nipped and tucked (and busty) sexpot whose age is a bit fuzzy. "I'm somewhere between 30 and death," she offers.
In January, Starr flew to Las Vegas for the annual AVN Awards (sponsored by the trade magazine Adult Video News and considered the Oscars of the adult entertainment industry), where she was honored as Transsexual Performer of the Year. "You can say that I definitely slept my way to the top," she says, laughing. Her risqu reputation works great for promoting parties, and fans eager to see her and her trannie pals in the flesh can choose from Goddesses, Thursdays at Moomia; Hard Candy, Fridays at Caffe Buon Gusto; and Push, Saturdays at Fusion. In the works is a cabaret show at the drag-themed restaurant Lucky Cheng's, which she plans on cohosting with her frequent nightlife collaborator and equally curvaceous friend Dina Delicious.
Starr's foray into nightlife began early. Born in Cuba, she grew up an effeminate boy in Miami and emerged in the early 1990s as an over-the-top club personality named Damian Dee-Vine. After a few years of club kid craziness, it was on to hormones and surgery that eventually resulted in her va-va-voom appearance. In 1999, Starr moved to New York to be with a boyfriend, but the relationship soured after a couple of years and she found herself at a crossroads. "I said, Gosh, what can I do to make money? So I did some nude modeling and started my own website and everything just started snowballing from there," she says. That's when she chose Allanah Starr as her catchy porn name.
Many of the other self-dubbed shemales who attend her parties are also employed in the sex industry, making for lusty get-togethers. The gals adhere to an unwritten dress code that calls for provocative attire, including see-through blouses and the tightest of minidresses. It's eye candy galore for men who are attracted to transsexuals, and Starr—who lives with a new boyfriend—makes sure they feel at ease with a nonstop supply of smiles and hellos. "Unfortunately, there's a big stigma for men who like girls like us," she explains. "Before they come in, a lot of the guys have to first have a couple of drinks and circle the block a few times." But if their admirers are sometimes shy, the hostesses aren't, and the cruisey vibe keeps the parties jumping.
Once a month, the Friday party features special themes; at a recent masquerade ball, Starr glided through the crowd in a flowing Grecian gown, sporting a dramatic hairdo that she described "as Liz Taylor meets Bride of Frankenstein." Befitting her star status, part of her night was spent holding court at a large table of friends and clubland celebrities. Among them was Delicious, who says the party appeals to anyone looking to escape predictable nightlife. "We get club kids and gay guys and voyeuristic couples who are so amazed at all the transsexuals on parade," she says.
And that parade route just seems to be getting bigger. Turn on the TV and you can watch NYC showgirl Candis Cayne as a foxy mistress on the prime-time soap opera Dirty Sexy Money or Calpernia Addams as the object of desire on Logo's reality dating show Transamerican Love Story. "I think it's wonderful that the mainstream is finally showing transsexuals as sexual beings," says Starr. "We like sex just as much as anyone else."
Hard Candy is Apr 25, 2008, at 10pm. See shemaleevents.com for info on all other Allanah Starr parties.