Heads up! We're working hard to be accurate – but these are unusual times, so please always check before heading out.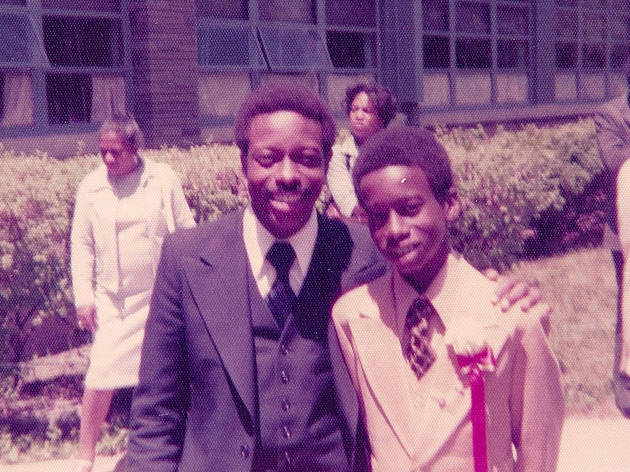 Jerome Derradji chronicles house's earliest recordings with a new compilation.
122 BPM: The Birth of House Music celebrates the music of the Mitchbal and Chicago Connection labels.
Trying to unravel the history of Chicago house's early-'80s beginnings requires sifting through a Rashomon-esque array of competing histories: Beyond Frankie Knuckles's pioneering DJ sets at the Warehouse and Ron Hardy's at the Music Box, the story tends to be refracted through whoever is doing the telling. But with the release of 122 BPM: The Birth of House Music, a massive three-disc set compiled by the Algeria-born, France-bred, Chicago-based Jerome Derradji—the head of the Still Music label—the picture has become a tiny bit clearer.

The comp, complete with extensive liner notes, tells the story of Mitchbal Records and its sister label, Chicago Connection. Originally founded by Nemiah "Mitch" Mitchell Jr. and David Baldwin in the late '70s, the label originally focused on funk and soul. But by the early '80s, Mitchell's nightlife-savvy son, Vince Lawrence, along with Lawrence's pal, Jess Saunders, convinced Mitchell to begin releasing the kind of music that was beginning to seep out of the clubs. The result was 1983's "(I Like To Do It in) Fast Cars" by Z-Factor which was essentially a Lawrence solo record (Saunders joined in for later releases). And thus, the recorded history of house music—or at least, something that would soon morph into house music—began. (Lawrence eventually went on to start the groundbreaking Trax label with Larry Sherman, while Saunders founded Dance Mania.) TONY caught up with Derradji to talk about the compilation's seminal music and the complex story behind it.

What got you started on 122 BPM? It seems like it must have been a mammoth undertaking.
It was a few things. I was done with The American Boogie Down compilation, and I thought I should do something similar for the people who were doing stuff in Chicago—and have it be about house, of course. Since I'm not originally from Chicago and I have a different perspective, I thought that maybe I could see value where others didn't anymore, simple because they had lived through it. And as I got started on this, I met Vince, and then I met his dad, and they had all these crazy stories and all this crazy music. So why not tell their rightful story, and put it out in the best way we can? It was like writing the first page of the story of recorded house, the one that nobody really talks about.

Well, it was 30 years ago.
Yeah! [Laughs] I was originally talking to Vince about doing something with Trax, and I realized that wasn't going to go anywhere. But then Vince said, "You know, my dad had this label.…" I was like, "Tell me about it!"

The history of house music in Chicago seems pretty complex, with many different versions of the story, depending on who you talk to. Why do you think that is?
I think it confusing because nobody really knew what they were doing! It actually was somewhat well-documented; I'm forgetting its name right now, but there was actually a little magazine that was covering the clubs at the time. The biggest problem is who recorded what, and when they recorded it. Everybody knows about Ron Hardy and Frankie Knuckles, and how Frankie started putting 909 and 808 [drum-machine] beats on top of his mixes. But not many people know that Mitchbal put out the first records.

This was a bit after Hardy and Knuckles had first been doing their things, right?
Oh yeah, and it was already called house at this point, and people in Chicago knew about it. But nothing had been recorded professionally yet. Nothing had been pressed onto a record.

I've found that most people that are into house, and have some sense of its history, feel that Trax and D.J. International iare sort of where the sound's recorded history begins.
As you said, it's way more complex than that. There's a label called Sunset Records, for example; that was Matt Warren's label. They were doing DJ parties with a huge mobile-disco sound system way back in the '70s. They had records coming out around the same time [as Trax and D.J. International]. There were all kinds of things happening. But the first ones were really, truly Mitchbal's. He showed everybody how to do it.

When did the first Mitchbal record actually come out?
That was in 1984. But we've looked at the tapes, and the first sessions actually date back to 1981. Those were sessions recorded downtown at Universal Studios on 24 tracks, and they had an engineer and everything. They actually were trying to do a kind of new wave thing, imitating what Frankie and Ron were doing at the time.

A lot of people feel that house sprang directly out of disco, but those records sound like a cross between new wave and Prince-style funk.
I would say it's the collision of disco and new wave, with people trying to do it with machines instead of with bands, or half with a band and half with machines.

Mitch himself had a pretty interesting history, even prior to the label. I didn't know he had been a DJ while in the aRmy, posted in Texas, for instance.
Yeah, he's a pretty interesting guy; but I think the most important thing about both Mitch and Vince Lawrence is that they are entrepreneurs who really wanted to succeed in the music industry. Mitch had a passion and a vision that carried through to his son. It's a passion for both music and business, and that's what made it happen.

Didn't Mitch actually drop out of the scene at some point?
He had to! He became a cocaine addict. He partied way too much. He made a little money, and that was it for him; he was a man of the night. The crazy part about all that is that he forgot to release a bunch of records!

There are a number of unreleased tracks on the compilation. Are those the ones you're referring to?
Yeah, and there are lots more than just them.

Let's get to that in a second. But first, let's talk about Chicago Connection a bit. Why did Mitch start up that sublabel?
What happened was that Mitchbal kind of turned into Z-Factor's label. All the way up to [1984 single] "Fantasy," Mitch was taking too long to release"Fantasy," and Jesse Saunders ended up releasing "On and On" on another label. But Mitch had a lot more Z-Factor music, and he went to release a couple of more Z-Factor singles and an album. Vince and Jesse were never again on Mitchbal. At that point, Vince went off and started doing Trax with Larry Sherman, and Jesse went on to start Dance Mania records in 1985. So Vince and Jesse, between them, started two of house's most influential labels.

And what about Mitch?
He said, "Fuck it, I'm gonna do it too," and started Chicago Connection Records. He had so much music to release, and he wanted to do something bigger than Mitchbal. And Chicago Connection became an outlet for so much great stuff.

Got it.… I think.
It's definitely a bit confusing. The first Chicago Connection records actually have Mitchbal catalog numbers, and stuff like that. It's really a mess, which is partially why this took three years. The first thing was convincing both Mitch and Vince that this was something they should do. That took a pretty long time by itself. And then it took a while to figure out what kind of deal can we do, and how can we do it. And then, finally, after that was all take care of, Mitch opened up his house and said, "Okay, let's see what we have." And there were all these tapes.

That must have been pretty exciting. And you said there's lots more unreleased music, beyond what's on the comp?
There are many more significant records to be released. There will be a lot of 12-inches and there will be more compilations; there was far too much material to release all at once. But the daunting part was how to even start on this in the first place. You have two full labels, with lots of unreleased stuff; everything is crossing over from label to label, so the two labels are completely mixed up; and you have a bunch of tapes that cost a fortune to transfer. So we decided that what we would do with this release is simply tell the story of Mitchbal. Let's do a comp, see what how it works, and take it from there. We're sitting on so much stuff, it's unbelievable. There's a ton of pre-house stuff, too—lots of funk and soul and disco that Mitchbal put out before the label went house.

What's Mitch like nowadays? Does he look back on all this with fondness?
Mitch realizes that he did something great. He's really happy that he did it. He changed his life after all of this; he eventually got really successful in real estate. But he's really excited about this whole thing. Vince also; in many ways, his story, the one beyond Trax, has never been told. Even a lot of old-school Chicago DJs, all they'll remember is Trax and D.J. International and Dance Mania. When you talk to them about Mitchbal, they'll be like, "Oh yeah, maybe they had one good record, but I don't even remember what it was."

Perhaps this compilation will jog their memories. It shows what a real wealth of material is out there, beyond the standard Chicago house classics.
Yes, there's a tremendous amount of material out there. And it really stands the test of time. Much of it is very stripped down and minimal, but it was also made by people who knew their music. I think a lot is owed to Frankie and Ron; those guys simplified it for everyone else. They played the music in the clubs, people would hear it and say, "We need to do the same thing in a studio."

A lot of it sounds quite modern, too. You could drop a track like Mr. Lee's "I Can't Forget" into a set today, and it would fit right in.
The story of that record is crazy. It actually originally came out on Trax, but it was produced by Mitchbal, and Mitchbal forgot about it. So Larry Sherman, as he would do, just took it and released it on Trax. That was the first Mr. Lee to be released. The second Mr. Lee was also produced by Mitchbal…and we have the tapes to prove it!

122 BPM: The Birth of House Music (Still Music) is out now.