Late-night services
Where to get a tattoo, massage, haircut or manicure.
By Sam LaCroix Tue Jan 11 2011
Whatever Tattoo Photograph: Virginia Rollison
Get a tattoo
Whether you're trying to piss off the rents or squelch a lover's suspicions, the needle wielders at Whatever Tattoo (sandwiched between the IFC Center and a sex paraphernalia outlet) are ready to scratch out whatever dream your imagination can draw—even if your vision was inspired during the wee post-after-party hours. Whatever Tattoo, 329 Sixth Ave between 3rd and 4th Sts (212-229-0687). Mon--Fri 11am--2am; Sat, Sun 11am--4am; tattoos start at $60.
Get a massage
If a bad blind date has you wound up tighter than Joan Rivers's fifth face-lift, stop by Spa Sol for a tension-obliterating nightcap. Relax with a Swedish or shiatsu massage (50 minutes, $90), or detox with a body scrub ($60--$70). Sweat out any remaining emotional baggage with a sauna—steam-room--shower combo (free with the scrub, otherwise $30). Spa Sol, 4 W 33rd St at Fifth Ave (212-564-2100, spasolny.com). Mon--Sat 10am--2am; Sun, holidays 11am--1am.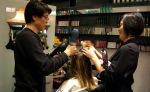 Get a haircut
You just left one bar, and you're heading to another to meet your date, but damn, a glimpse in a storefront window reveals a rat's nest under that winter hat. Whatever the hour, glitzed-out salon Hair Party has your back. Sit down for a blowout, trim, cut or color amid crystal chandeliers, gold curtains and brass tiles, while enjoying a gratis coffee, tea or champagne. Hair Party 24 Hours, 76 Madison Ave at 28th St (212-213-0056, hair24hours.com). Daily 24hrs. Women's cuts start at $70, men's start at $50, coloring starts at $100.
Get a manicure
The selling points at Wink are its after-hours convenience and killer deal: Fingernail spiffing costs just $9, and a mani-pedi combo is $29 (both come with quick complimentary neck and shoulder massages). Wink Spa and Nail, 169 Lexington Ave between 30th and 31st Sts (212-448-9202). Mon--Sat 10am--11pm, Sun 10am--10pm.