Just for Laughs 2012: Our random notes about the comedy festival's 30th anniversary season
As JFL's English week in Montreal kicks into high gear, TONY offers daily impressions.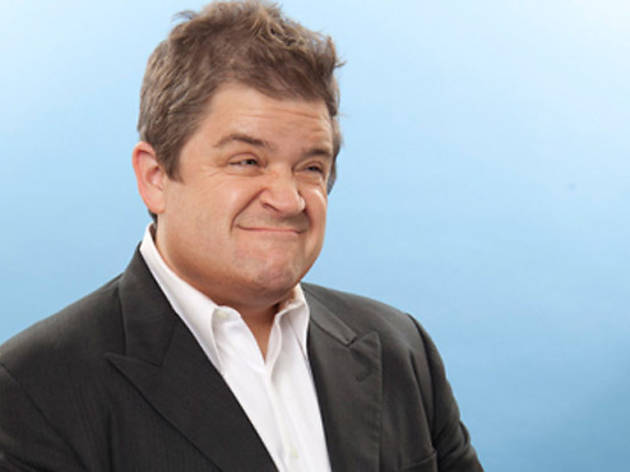 Just for Laughs is at once an energizing and frenzied experience, a blur of theaters, comics, jokes and bars. (Okay, the one hotel bar everyone always ends up in at the end of the night.) This is especially true this year, as JFL marks its 30th anniversary; the schedule is jam-packed with great acts and events. Here, TONY records a few of our impressions of the fest—and adds new stuff every day.
Wednesday, July 25
• Regarding the festival frenzy: It's never too early to be exhausted. During Patton Oswalt's set—one of the first shows of the night—we spotted a big guy with an industry badge ("Carl") slumped in his chair, arms folded neatly behind his back, snoozing comfortably.
• Oswalt's got some great new scenarios, of course. But let's talk about his intro, set to Metallica's "Enter Sandman." (This was apparently one of ten songs he had to choose from, given the constraints of a scratched CD.) Mocking the discrepancy between the heavy song and his "schlumping" entrance he said, "Look out, people! Look who's got a 20-sided die in his sock!"
• We remember how impressed we were by young comic Jerrod Carmichael at last year's New Faces show, but not even we could have predicted the growth we witnessed during his set at Neal Brennan's Midnight Surprise showcase. He's confindent, calm, and most importantly, his joke writing has taken a leap. Check out the context shift in this sweet baby: "Probably the most awkward time to forget your keys is when you're trying to abandon your family."
• It's always nice to be in a room full of people who readily offer a cogent and passionate take on what comedy should be. Either that, or they're joking it up on the Schtick Schooner to Bitville—in which case, just enjoy the complimentary ham.
• We're in the middle of the city in the middle of the night, and we can hear the chirping of countless crickets? How charming! Let's get on this, New York!
• We're in the middle of the city in the middle of the night, and we see not a street sweeper, but a sidewalk sweeper?!? (Possibly cleaning the vomit produced by visiting Americans reacting to that legendary Canuck politeness.) In any case: How civilized! Let's get on this, New York!
Thursday, July 26

• Is it possible that Montreal's economy is worse than NYC's? There are lots and lots of homeless people in the city. Thankfully, the government of Canada is nice enough to round them up and take them to a bed and breakfast at night—we assume, because they disappear after midnight.
• Sometimes comics would prefer that you don't make a sound. At one of the New Faces shows, Adam Cayton-Holland reacted poorly to a bubbly, ubiquitous female laugh that previous comic Mike Drucker said he'd like to preserve in a music box. Following a bit after which she was quiet, he said, "I consider every joke you don't laugh at a victory." And the rest of the crowd roared.

• Ah, Andy Kindler! In between all of the jokes he makes about the jokes he makes, he actually tells jokes. Last night he said to the crowd that if he had a time machine, he'd go back in the past to prevent Ace Ventura: When Nature Calls from being made. "Then I'm going after Hitler," he said. "But only if there's time!"

• It's fun to see people we like in completely different contexts. UCB stars Dominic Dierkes and Joe Wengert, who both are playing in the New Faces shows this year, made it clear that improvisers can choose a POV and make their way to the stand-up stage.
• Sleep is magical. Almost as magical as seeing the Muppets live onstage. Almost.
Friday, July 27

• It's still good to laugh at even those figures everyone in the comedy world agrees on. During Andy Kindler's annual "State of the Industry" address, he spent some time airing his grievances with Louis C.K., likening him to the emperor in the fable, The Emperor's New Clothes. After a number of steady, perfectly good riffs, Kindler then took off, chanting steadily in a robot voice about his history with and feeling about C.K., making jokes along the way. It was committed and well-done; it also earned him a standing ovation.

• It is difficult to be the quiet one in a cast of talkers. During the Bob's Burgers reading and discussion, Dan Mintz—who plays Tina on the show—stayed pretty silent. Even when prodded by moderator Paul F. Tompkins, he kept his words to a minimum. Then, when an audience member asked something about the characters' voices and how they've changed, H. Jon Benjamin decided it made sense for Mintz to talk. "Ooh, Dan," he goaded. "Tell your one story!"

• Keegan-Michael Key and Jordan Peele, who are in the fest after having just wrapped shooting the second season of their show on Comedy Central, had a satisfying show with a lot of fun improv. After outing Peele as a fan of MMA, Key asked for some moves and/or holds that Peele might perform on him. Someone yelled out "arm bar," and, after some goading from Key, Peele sighed and said, "Okay, lay on the ground." Key then walked to the edge of the stage, loomed over the audience member in question and said, "Fuck you." (Later, as Peele performed the weird-looking move on Key, he chanted, "Arm in dick! Arm in dick!")

• Okay, we redact that earlier statement about the homeless here. Turns out Canadians round up their homeless at midnight but then bring them back from the bed and breakfast at 12:05 am. One just need to know what streets and parks to walk through.

• We're starting to believe that we've not been to JFL until we've seen the sun rise from the hotel room. This is possibly weird, but it's hard to tell because at the moment it is six in the morning.
You might also like
JFL Wrap-up 2011
JFL Wrap-up 2010
JFL Wrap-up 2009
See more in Comedy