Time Out Live, our Comedy Festival show, stars...
By Jane Borden Mon Oct 25 2010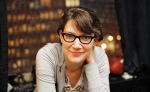 Sara Schaefer
Who she is
A chief denizen of the online comedy scene, who's finally tackling stand-up too.
What she does
Wins Emmys for the Late Night with Jimmy Fallon blog, made videos with Aretha Franklin and dozens of top musicians for AOL, was the Web voice of Best Week Ever, cuts her teeth onstage every chance she gets.
Why we like her
Although she is newer to stand-up, she already knows her voice: It's at once demure and blunt. She's the quiet, put-together gal who's suddenly telling you about her night terrors and tramp stamp, and somehow none of it is surprising.
Sara Schaefer hosts Tue 2.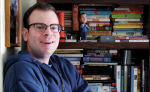 Adam Wade
Who he is
An adorable, compelling and hilarious storyteller and a guy with a captivating New Hampshire accent.
What he does
Wins the Moth StorySlam competition almost every time he participates—now 16 and counting, the current record—while also winning the heart of every audience member.
Why we love him
As funny as his tales are, they don't really include jokes. Rather, he's simply 100 percent honest. When he relays his efforts to be cool in high school or get girls in college, or do either today, the crowd is also laughing at itself.
Adam Wade hosts Storytelling Class Show Fri 29.