Sweet sensation
In time for the debut of her first cookbook, Momofuku Milk Bar, pastry chef Christina Tosi gave us a behind-the-scenes look at the making of a Momofuku dessert. Presenting TONY's own limited-edition cookie, the Ritz.
By Mari Uyehara Mon Oct 17 2011
It's been a banner year for Christina Tosi. The 29-year-old pastry darling opened two more outposts of the perpetually mobbed Momofuku Milk Bar (Williamsburg in June and the Upper West Side in September), snagged a nomination for the James Beard Rising Star Chef award, and wrote her first cookbook—one of the most hotly anticipated releases of the season—which hits shelves this month. The book showcases the quirky homespun treats that won the cultish bakeshop a devoted following: cereal-milk soft-serve, Crack Pie, and Compost Cookies stippled with grocery-aisle munchies like potato chips and pretzels. To find out how Tosi conceptualizes her off-the-wall eats, we asked to peek over her shoulder while she developed a special dessert for TONY—the limited-edition cookie, the Ritz.
The treat actually began as another cookie entirely: Inspired by the Mexican corn-on-the-cob street food elote, Tosi and her team first considered a corn cookie with Fritos, chili powder and lime zest. But after 12 test runs, they found that the flavor combo just wasn't working. "The Frito-lime crunch was good," says Tosi. "But only in a cheesy, mayonnaisey [context]. [We couldn't] strip it down and make a cookie out of it." The team ditched the corn, chili and lime and focused instead on elote's other traditional topping—cheese—which sparked the idea for a cheese-and-cracker cookie. They started toying with cheddar along with saltines and Ritz crackers. (Tosi has worked with crackers before—a recipe for a saltine panna cotta appears in the book.) But as they tested batches, Tosi and her team found themselves "huddling around the sheet of Ritz crunch," compulsively snacking on the mix of crushed crackers, sugar, milk powder (a dehydrated dairy product that amps flavor in baked goods), salt and butter that had been caramelized in a low-temperature oven. It was clear that the addictive snack deserved marquee treatment as its own cookie, sans the queso. "Drenching Ritz crackers in more sugar, salt and butter makes them super-delicious," says Tosi. "And people can relate to the flavor—it tastes soothing." To make the sweet, they added pulverized Ritz crackers to the cookie batter, folded in the Ritz-cracker crunch and then baked the dough into chewy rounds. The result: an ultra-rich, salty-sweet butter cookie with a hint of the iconic snack food's unmistakable flavor. Did they get it right? You tell us: The Ritz can be found at the Brooklyn Momofuku Milk Bar through the end of the month.
Momofuku Milk Bar, 382 Metropolitan Ave between Havemeyer St and Marcy Ave, Williamsburg, Brooklyn (milkbarstore.com). $2.
---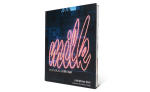 The book: Momofuku Milk Bar
Crack Pie fiends can make their own Momofuku desserts with the help of this stylish hot-pink-and-black baking handbook. Tosi breaks down her most beloved confections for the home cook, all delivered in a fresh voice that blends downtown cool with earnest enthusiasm. Find homey mash-ups (cinnamon-bun pie), updated classics (a from-scratch funfetti cake) and sophisticated constructions (guava sorbet with liquid cheesecake and a cream-cheese skin).
Momofuku Milk Bar Available Tue 25 at Amazon.com; $35. Click here to win a copy, signed by Christina Tosi.

Read more
Brand-new bakeries
Win Christina Tosi's Momofuku Milk Bar cookbook!