Village Halloween Parade in NYC 2021 guide
Use our Village Halloween Parade NYC 2021 guide for everything you need to know about the spookiest procession in the city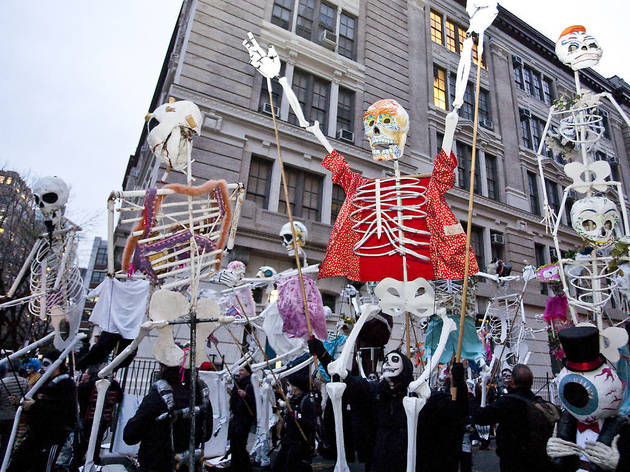 The Village Halloween Parade—NYC's creative and spooky procession—is one of the best Halloween events in Greenwich Village and it's back this year!
Each year, more than 50,000 zombies, ghouls, witches, monsters, robots, Jedis, giant puppets and more things that go bump in the night take to the streets for a night of costumed revelry. And while New York's freaks missed out when it was canceled last year, it has secured its permit for October 31 and has raised enough funds to make it happen!
In early September, Jeanne Fleming, the artistic and producing director of the parade, told media outlets that she needed to raise $150,000 by October 5 in order to put it on.
"We don't have the money," Jeanne Fleming, the artistic and producing director of the parade, told the New York Post. "We're trying to raise the money."
The fundraiser on givelively.org did not immediately raise the needed amount, but according to the New York Daily News, New Yorker and financial adviser Jason Feldman just donated $150,000.
"This is the best medicine for our city," he told the Daily News. "It's just such a fun, free-spirited thing. Everyone gets to be themselves. It's just a fun, wonderful thing for a lot of people."
So get your costume ready, the Village is getting spooky!
RECOMMENDED: Full guide to Halloween in NYC
When is the Village Halloween Parade in NYC?
The Village Halloween Parade is on Halloween, Sunday, October 31, 2021.
Where is the Village Halloween Parade in NYC?
The Halloween Parade runs up Sixth Ave from Spring St to 16th St in Manhattan. For more information visit halloween-nyc.com.
What is the Village Halloween Parade's theme this year?
"Let's Play!" to honor the children of NYC (and our inner children).
Who is the Grand Marshal for this year's Village Halloween Parade in NYC?
Comedian Randy Rainbow "because of his bravery in singing truth to power and making us laugh during hard times," the Village Halloween Parade's website says.
How do I march in the Village Halloween Parade in NYC?
It is usually free to march in the parade, but costumes are mandatory. The procession lines up at Sixth Ave and Canal St and rolls out from 6:30pm–8:30pm. North and west entrances to Sixth Ave will be blocked off by 6:30pm, folks can join the line from East Broome, Sullivan and Canal streets east of Sixth Ave. We recommend gathering your fellow creatures of the night a few blocks away rather than trying to find your group in the middle of the chaotic lineup.
If you want to march in the special theme section, not to mention skip the line, special tickets can be purchased for $25.
Where can I watch the Village Halloween Parade in NYC?
Spectators can get to Sixth Ave early and grab a lookout spot before the parade rolls out at 7pm. Sixth Ave becomes most congested with spectators between Bleeker and 14th Sts, so we suggest setting up camp at either the head (Spring to W Houston Sts) or tail (14th St to 16th St) of the parade.
Halloween Parade NYC 2021 content
Archive Halloween Parade in NYC content