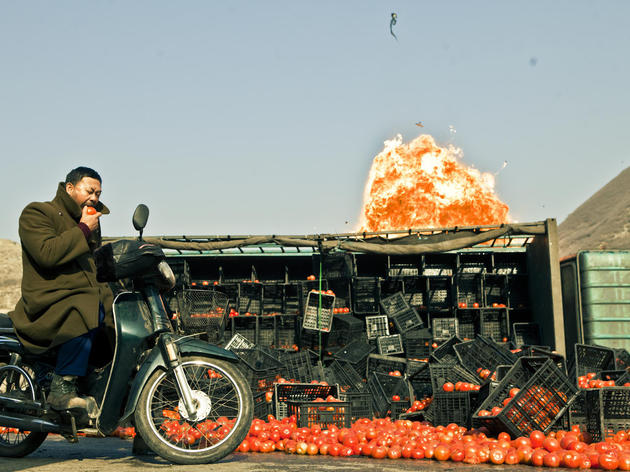 A motorcyclist (Wang Baoqiang) weaves his way along a rural Chinese road. He might be a farmer on the way to market, or a traveler from abroad (his Chicago Bulls cap suggests as much) making his way between cities. There's nothing, though, to suggest what happens next: Three people armed with axes demand that the man stop and hand over his money. He pauses for a moment, reaches into his pocket, then pulls out a gun and dispatches the thieves with the serpentine assurance of a John Woo combatant. Is this really a film by Jia Zhangke (24 City), whose work, even at its most strident, has never gone for the gut quite this much? It is indeed, and the grab-you-by-the-lapels opening is a mere prelude to the butchery to come.
Loosely inspired by King Hu's wuxia classic A Touch of Zen (1971), the film tells four intertwining stories, each featuring an oppressed protagonist pushed to a vengeful breaking point. The carnage is so outlandish—Jiang Wu's disgruntled, not-gonna-take-it-anymore miner blows people to gory smithereens with a rifle; Zhao Tao's masseuse-on-the-edge wields a fruit knife with wild-eyed, skin-slashing fervor—that it frequently feels as if Jia is pandering to his audience's basest instincts. (He certainly wouldn't be the first Chinese director with a subversive reputation to go frivolously populist.)
But as the splatter and gristle accumulate, the bloodletting strangely begins to complement A Touch of Sin's own uneasy place between commercialism and critique. There's a sense that all the thematic messiness is intentional, a way for Jia to diagnose the ills of a country whose economic and social fabric is wilting under the effects of rapid modernization. But are there solutions? Certainly no easy ones, and helplessness wins over the characters—and the movie—more often than not. "He who seeks vengeance must dig two graves: one for his enemy and one for himself," goes the proverb. Beyond a few fleeting glimmers of hope (the climactic passages, especially, feel like a defiant gasp from beneath a pile of corpses), Jia's latest seems designed to bury us all.
Follow Keith Uhlich on Twitter: @keithuhlich
Cast and crew
Director:
Jia Zhangke
Screenwriter:
Jia Zhangke
Cast:
Jiang Wu
Wang Baoqiang
Zhao Tao