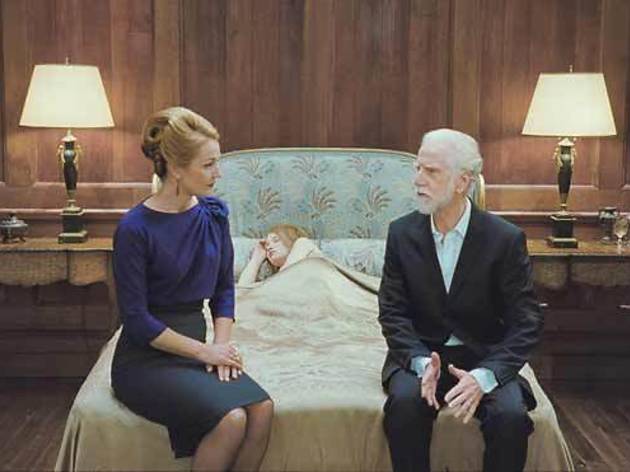 Cannes 2011 halftime report
The French fest's lineup trumpets a message: Save the women and children first.
When you walk down the Croisette (the avenue that's the home base of the Cannes Film Festival), you feel as if you've stumbled into a beehive full of scrambling journalists, swivel-headed looky-loos, and paparazzi yelling "John-NY!" (Depp) and "An-GIE!" (Jolie). Stroll away from the hullabaloo, though, and you'll find yourself on the beach with a gorgeous view of the Mediterranean, or wandering narrow, bistro-lined streets that you'd swear were lifted straight off a postcard.

RECOMMENDED: Full coverage of the Cannes Film Festival

This year, the beautiful scenery made for a nice—and, at times, all-too-necessary—counterpoint, because once you stepped into a screening room, you were apt to be subjected to human ugliness en masse. Admittedly, there was some whimsy to be found, notably in Woody Allen's so-so bonbon Midnight in Paris, and Michel Hazanavicius's The Artist, a throwback to silent movies that's become a minor sensation.

But feel-bad films reigned supreme for the fest's first week: By the time Cannes hit the halfway point, audiences had been subjected to beaucoup examples of horrific violence, human-rights violations, pedophilia and more exploitation of women than you could shake a rape whistle at. You had your choice of forced sexual congress while asleep (Aussie psychodrama Sleeping Beauty) or awake (Mexican beauty-pageant crime thriller Miss Bala). You could pick stories of youngsters who had been abandoned (The Kid with a Bike, a rather slight work from Cannes favorites the Dardenne brothers) or locked away in a basement by a predator (Michael, a typically chilly character study from Austria that embodied Hannah Arendt's "banality of evil" quote to a T). And if you wanted a one-stop-shopping option, why not go for We Need to Talk About Kevin, Lynne Ramsay's adaptation of Lionel Shriver's novel that featured all of the following: the mighty Tilda Swinton resenting her own motherhood, a truly psychotic teen, a high-school massacre and, naturally, an underage corpse.

In short, the female body became a battleground and the kids weren't all right. But when these treatises actually worked, the sense of slogging through negativity was replaced by a truly transcendental high. Novelist-turned-filmmaker Julia Leigh's Sleeping Beauty, about a young prostitute (Emily Browning) whose clients prefer her to be unconscious, perfectly melds its formal rigor to notions of social and gender-specific enslavement; it's the incredible debut feature of 2011. Actor-turned-director Mawenn Le Besco's Polisse, a microcosmic look at an elite Child Protection Unit, delves into cultural taboos while operating as a first-rate cop-ensemble drama. Finally, auteur-cum-symbol-of-injustice Mohammad Rasoulof's extraordinary B Omid Didar—made on the sly while the Iranian filmmaker was about to be imprisoned for political activism—may be the most paranoid movie about a persecuted pregnant woman ever made.

Potentially grim masterpieces from Pedro Almodvar, Joachim Trier, Lars von Trier and other big names are still to come. Time to delve back into the darkness.