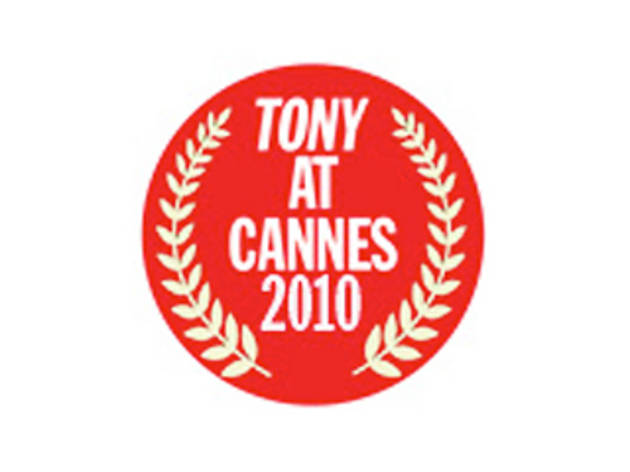 Cannes: Halftime report
TONY weighs in from the Croisette on the hot topics of hearts and dollars in fluctuation.
Money vied with love on the Riviera, as the Euro took a nosedive and the 63rd Cannes Film Festival embraced the subjects of economics and romance with unusual gusto. Even Ridley Scott's
Robin Hood
, which opened the event last Wednesday, displayed a strange schism; French audiences ignored the film's caricature of their venal, oyster-slurping ancestors and instead saved their hate for the real villains—the overtaxing British royalty. Shortly after
Robin Hood
's band of not-so-merry men screened, we saw
Wall Street: Money Never Sleeps
, Oliver Stone's entertainingly shallow look at the barracudas of the rich class. Doling out facile remarks about predatory lending while Gordon Gekko wheels and deals his questionable way back into his daughter's life, the flashy melodrama distills 2008's financial debacle into tart gulps that pack little punch.
RECOMMENDED: Full coverage of the Cannes Film Festival
Better than both was
Inside Job
, Charles Ferguson's essential primer for all still baffled by the meltdown. Vivid in execution, impeccably produced and downright damning, this indispensable documentary gets Paul Volcker, George Soros, Eliot Spitzer and countless other businessmen, lawyers and private investors to chronicle the seeds of the Great Recession. It's an explosive piece of truth-to-power reportage that deserves an audience when it comes out stateside this September.
But a quartet of other directors chose amour over avarice. Mike Leigh's
Another Year
and Woody Allen's
You Will Meet a Tall Dark Stranger
unspooled within an hour of each other and instantly became companion pieces that turned a gimlet eye to autumnal lonely hearts. Leigh's movie is superior, with its unsparing yet ultimately kind portrait of a midlife divorce (Lesley Manville) aching for a man. Allen's all-star trifle offered comparatively minor delights, examining the foibles of aging wife-dumper Anthony Hopkins, along with Josh Brolin, Naomi Watts and Antonio Banderas, who are all reevaluating their marriages.
Leave it to Cannes' young turks to be oversexed, as was the case with the star-crossed coeds of Gregg Araki's
Kaboom
and Xavier Dolan's
Heartbeats
. Araki returns to his
Doom Generation
sass to deliver an insistently silly comedy-thriller that mixes bisexual campus flings with witchcraft and end-of-world revelations. It's a charming mess, though nowhere near as stylishly crafted as Dolan's slight but inspired bisexual antithreesome between two friends vying for the same hunky guy.
Only one movie at Cannes has expertly combined affection and finances, eschewing pedantic tropes to deliver transcendent humanism. Brace yourself, because it's a surprise: Alejandro Gonzalz Irritu's
Biutiful
. Shelving the schematic gloss of previous works like
21 Grams
and
Babel
and returning to the promise of his debut,
Amores Perros
, the Mexican director casts Javier Bardem as a cancer-stricken father hustling to manage a sweatshop while doing his best to salvage a dissolving marriage. Cash comes at a human cost, love requires unending sacrifice, and Bardem's daily struggles hold painful truths in every frame. Punishing, uplifting and devastating,
Biutiful
lives up to its title as a truly sublime accomplishment. And that's the sort of cinematic coin Cannes fans love best.