John Waters interview: 'I didn't become a drug addict because I always had to make a movie'
He's been flying the flag for celluloid perversion for half a century. But as John Waters casts an arched eye over his career, is he now—whisper it—respectable?
By Terri White Thu Sep 4 2014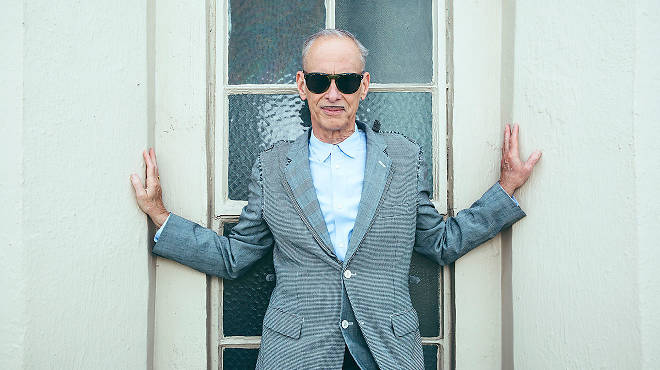 Photograph: Rachael Wright

Walking through the door of John Waters's cozy West Village apartment, all seems normal. Depressingly so, in fact: deep, green sofas, plush heavy drapes and a spotlessly clean kitchen that seems like it should come with an audible "zing!" But a second, more searching glance reveals more: There, on the floor, is a carefully curled (fake) dog turd. It's a fitting home for a man who's spent his life celebrating the vile and the vulgar in everyday suburban life.

Along with his crew of loyal collaborators, the Dreamlanders—led by deranged drag queen Divine—Waters has produced some of the most shocking, transgressive and downright depraved movies of the past 50 years, including the Johnny Depp–fronted Cry-Baby, Polyester and Pink Flamingos, in which Divine eats dog shit (hence the unexpected prop).

No one, then, was more surprised than Waters himself when he crashed through into the mainstream with 1988's Hairspray, which went on to become a hit Broadway show and an even bigger screen remake starring John Travolta.

Now, at the age of 68, Waters is preparing for his full U.S. retrospective, with showings of every film he's ever made—the good, the bad and the very, very ugly. The man who dreamed of dominating the underground is now well and truly aboveground. And you know what? He couldn't be happier.

So why did you want to do the restrospective now?
Well, first of all, they asked me. Fifty years seems like a good anniversary. Even after I'm dead, how much better could I get than this? I mean, it's great, I'm not dead, so I get to see it. Also, New York was the last place that my movies caught on. I didn't make underground movies in New York, and in the 1960s, they were very snobby about that, because the whole scene was here.

Is the retrospective a sign that you've become respectable?
Respectable and filthy, yeah! I haven't changed—the public has. I'm an insider now, which is hilarious. When I was young, no one wanted to be one; now even the President of the United States would call himself an outsider. So now I'm for insiders.

Then insider is the new outsider.
Insider can be more ludicrous. How did I ever end up [as one]? Carsick [Waters's book on hitchhiking] was on the New York Times best-seller list for five weeks. [One of the characters was] a singing asshole that does a duet with Connie Francis! Times have changed. That's mainstream, in a weird way.

Has it changed for the best or for the worst?
For me, for the best. I used to run away to New York from Baltimore all the time. I would get on the Greyhound bus and tell my parents I was going to some sorority weekend. I'd even make up fake permission slips, come to New York and just ask people on the street if I could stay with them and go see midnight movies.
Photograph: Rachael Wright

Which is your favorite of your films?
Oh, they're all the same to me. Every director when asked that question will pick the one that maybe didn't do so well at the box office. You stick up for them; it's like your fucked-up kid.

How do you feel about your early films now?
Well, they weren't shown for a reason. They're home movies, badly filmed home movies. Dreamland Studios then was my bedroom at my parents' house, mostly [starring] people who were in my high school. They look straight at the camera; they're uncomfortable doing it. So, are they good? No. Are they source material? You'll see these little hints. You'll see Divine in his twenties. You'll see themes.

Did your parents support your early films?
Yes. For the first one, I stole the film from a camera shop where one of the stars worked. I think the first my father backed was Eat Your Makeup. That was a few hundred dollars, which today would be maybe $7,000. It was filmed on the front lawn. When they model themselves to death and eat their makeup, you can see my parents' house behind them.

Tell us about your relationship with New York.
I've had this apartment since 1990. Before that, I couch-surfed for years. But I always wanted to live in Baltimore; I still do. If I had to choose, it would always be Baltimore. We have the cutest boys. And everyone mixes. Here, if you're a hillbilly, you're a faux hillbilly. We have real ones.

You went to NYU, right?
I went to NYU for a month. I was thrown out for pot—the first-ever drug bust on a college campus, as far as I know. I just went to Times Square and the underground movies, sometimes three a day. I did get my education. But I really believed then, in 1966, they would not have allowed me to make any of the movies I made. Today, you could make a snuff movie at NYU and get an A.

So getting kicked out was a blessing.
I never got along in school really—I already knew what I wanted to do. I have never in my life got a paycheck from anywhere in the world that asked if I went to school. You go to school to figure out who you want to be and how you can do it, and [maybe] I should have, because the films would probably be technically better.

How do you think the city's changed since the '60s?
It's everywhere, not just here. I live in San Francisco, I live in Provincetown. They're all the same, apart from Baltimore. Baltimore's the only cheap place left. What I can sell this apartment for I can buy a mansion in downtown Baltimore, a beautiful mansion. A lot of kids are moving to Baltimore, because we have a great music scene and we've got edge. Come on down, we've got scary edge. But great edge—it's still a city you can be a bohemian in. New York was scarier than Baltimore ever was. It was terrible in the '70s. I'm glad they cleaned it up. I got mugged; I had to go to the hospital. Every time you went out, you got robbed. It was horrible, you can't imagine. I saw a hooker taking a shit on the street in the daytime. Even I thought, This is a little much.

Writer Cookie Mueller, the star of many of your movies, was a real New York figure. Could someone like her exist today?
I loved Cookie. She was a much better writer than actress. She shouldn't have stuck with me in the beginning; she should have immediately become a writer. She would have had more of a chance. Cookie had a drug problem, too. I was estranged with her about it at the end. I don't like heroin, unless you're a jazz musician and then you have to be on it because jazz is the sound of heroin. She was not a jazz musician. [Laughs] But I adored Cookie. She was funny. She used to snort instant coffee before she went out. I don't know if there could be a girl like that anymore. She was the other side of Holly Golightly: Holly Golowly!

Did you meet Cookie in Baltimore?
I met her at the premiere of [my 1969 film] Mondo Trasho. She'd just been released from a psychiatric ward in San Francisco, came back to Baltimore and won the door prize, which was dinner for two at the Little Tavern, the worst hamburger shop. We all took a limo and made a movie out of it.

Did Baltimore inspire you to make films?
Yes, though I probably would have made them anywhere. Every city has something they're ashamed of. I would have made films about it and turned it into something positive. People still come to Baltimore and say, "I didn't realize you made documentaries."

Do you think your parents understood what you were doing?
No, until the day they died. I think they became very proud, even though they were mortified by the early films because no one liked them. At the premiere of Hairspray on Broadway, Harvey Fierstein's mom said to my mom, "Didn't we raise great sons?" and my mother just started sobbing, because I'm sure they'd both been through other nights when people didn't say that. I'm really happy they lived long enough, and I lived long enough, that all that was worked out. There was nothing left unspoken. Once I had a shrink who said, "Your parents are the fuel you run on," because I was raised in the tyranny of good taste. If my parents hadn't taught me all that, I couldn't have made fun of it. So I thank them, and they were loving. It takes a long time to realize that they made me feel safe when I lived a life which was very not safe. You know, I don't know how I made those movies. I went out every single night, I smoked pot every single day. I drank. We did everything, but I never became a drug addict or an alcoholic. Other friends are dead, many of them. So many people in this retrospective…in Female Trouble, almost everyone is dead.
John Waters Photograph: Rachael Wright

Is it strange looking back on how many people you've lost?
It's because creative people have drug problems, they have AIDS—all those things that strike creative people more.

Did your work ethic save you?
I don't know. The only time I had a normal boyfriend was during the time of AIDS, so maybe that saved me. It's certainly not karma. So many great people are dead, and so many assholes I know are still alive. Karma's bullshit. I wish it was true, but it ain't.

What about drugs? Just not your thing?
No, I did so many. I'm here today because of LSD. LSD gave me the confidence to be who I am today. Completely. I tried heroin. I shot up in high school, but I just thought it was so dreary: puking and nodding. I liked speed. I was on black beauties all the time. Nothing bad happened to me. I didn't become a drug addict because I always had to make a movie. We weren't stoned when we made them; I was stoned when I made movies up. I did them all. Coke didn't last long enough; it gave me a hangover for two weeks for being high for ten minutes. I'll have pot in my home for guests—I'm polite!—but I don't sit around and smoke by myself, ever. Not like I did when I was young.

Your work came first?
No, pot came first when I was young. But I did the work. It wasn't a battle of what came first. They went together like [Sings] "love and marriage, horse and carriage!"

Let's talk about Divine. You knew each other as schoolkids.
Yeah, but we didn't go to school together. Divine moved six houses away with his parents. They had a nursery school for kids, and Divine was the only child. He was an overweight nerd who got beat up every day at school.

Can you remember the moment you met?
I used to see him when my father would take me to school, and I'd be so angry and so insane. He'd be waiting for the school bus, and even standing there he made people uptight, because he looked [like a] nelly. But not flamboyant—he was a nerd. My father reacted badly to him, which made me interested.

Did you realize straight away what you'd be able to do together?
The first real thing was him as Jackie Kennedy [in Eat Your Makeup]. His mother found the bloody Jackie Kennedy outfit in the boot of his car and said, 'What is this?" and Divine said, "I am Jackie Kennedy!" His mother just changed the subject; she didn't know what to say.

How would you describe your friendship?
There were times when Divine wanted to get away from me, which I get. We were friends though, always. With Hairspray, we had a great experience. I always think of the last time I saw Divine: He was in the last booth in the back of the Odeon. Now every time I go in there, I look at that table. It was a wonderful night. We had a limo—heaven knows who paid for it, it wasn't me or him! And Hairspray had been out a week; it was a hit. If I had to pick a night that was going to be the last night…
Divine gets cozy in NYC with Waters back in the day Photograph: Lewton Cole / Alamy

Where were you when you heard he'd died?
In my apartment in Baltimore. His manager, who later wrote a mean book about him, called me and told me. Then everybody came over, and it was like being in an Off Broadway play. The phone rang so much that the answering machine broke. News teams were downstairs. I was shocked. I'm still shocked he's dead.

Was it fitting that Hairspray was his final film?
It's the only movie I made that's subversive, because they're doing it in every high school in America. A man's playing a woman, and two men sing a love song to each other.

Do you think you'll make another film?
Maybe. I have one all ready; I got a development deal.

So that's Fruitcake? Is that still alive?
Not really…sort of. I had a meeting about it recently. I don't know. The book [Carsick] was a best-seller; maybe I'll just write books. I'd like to make another movie, but I don't want to go back and [do] what they want you to do, to make it for a million dollars. I did that. I don't need a lot, but I need what I used to get, and they don't give you that anymore.

Is it difficult to try to make your kind of movie?
No, I think it's all independent films. There aren't any! If they were looking for me when I was making Polyester, then it'd be perfect, but they're not. I'm not looking for that. TV is much bigger and better now; far more people see it.

Is transgression still important to you?
Yes, but I never used that word until later, when somebody said it about me. I was always flattered, but I just want my movies to make money. I want to be commercial. I'm never the person who says, "I don't care if people don't see my movies." I always want people to see my movies.

What's left?
I have spoken, and I was understood. It's not like I'm a tragic person who wasn't understood. All those books are in print, all those movies are still out there, the audience gets younger. So I don't have that "I've got to do one thing before I die." I did it.

"Fifty Years of John Waters: How Much Can You Take?" runs at Film Society of Lincoln Center Fri Sept 5–Sept 14.
Love that dirty Waters: Three standout movie moments of delicious depravity:
2
Seafood sex attack (Multiple Maniacs)
In one of the final scenes, Divine—after going on a killing spree—is mounted and raped by a 15-foot lobster called (naturally) Lobstora. After the attack, Divine mutters, "You're a maniac now, Divine," before going on a frenzied, bloody rampage on the streets of Baltimore. Waters has since claimed that Divine played both parts: Lady Divine and Lobstora.
The plot centers around the quest to find the filthiest person alive, so it's no surprise that Pink Flamingos features Divine and Waters at their most gut-churning. The movie ends with Divine hungrily eyeing a defecating dog before kneeling down and putting its deposit—still warm—in his mouth. Both Divine and Waters confirmed that the scene is 100-percent real.
---
More film interviews
---
The best films now showing
Well-wrought if nerve-shredding, Ross Partridge's second indie, about an unusual friendship between a broken-down adult and a sad preteen girl isn't the kind of drama that screams out to be made
The hand-wringing neurotics of writer Charlie Kaufman (Adaptation, Being John Malkovich) take on a touching fragility via stop-motion animation in his latest dark night of the soul
The subject of Auschwitz does not suffer fools, and Hungarian director László Nemes is not one. He uses his feature debut to create an immersive hellscape of unspeakable power
See more Time Out film reviews