Real to reel
The doc is in at this year's 20th annual NewFest.
By Dan Avery Wed Jun 4 2008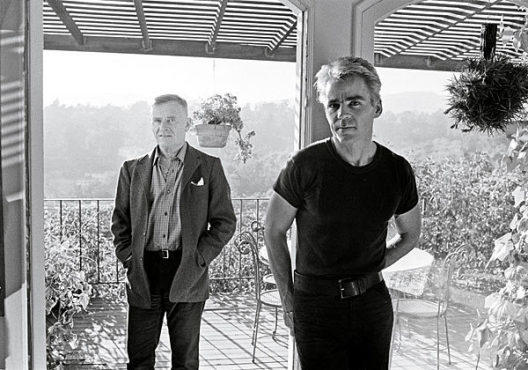 THROUGH THE AGES Chris & Don: A Love Story examines the cross-generational relationship of Christopher Isherwood, left, and Don Bachardy.
Inaugurated in 1988, NewFest: The New York Lesbian, Gay, Bisexual & Transgender Film Festival, preceded the dawn of New Queer Cinema by just a few short years. Now, two decades on, its vibrant vision has diffused somewhat into the mainstream. (In the late '80s, who would have thought that Gus Van Sant and Todd Haynes would eventually show at the multiplex?) But NewFest can still be counted on to present a diverse roster of films that both reflect and challenge contemporary gay culture. With the ten-day, 20th-anniversary series kicking off Thursday 5 at AMC Loews 34th St, we take a look at some real-life (and real-life inspired) tales generating prefest buzz—plus one unadulterated fantasy that melted our jaded homo hearts.
Searching 4 Sandeep

Saturday 7, 3:45pm
Dir. Poppy Stockell (2007, 56 mins)
A documentary that mines the director's personal life for material could easily skid into self-indulgence. But Australian filmmaker Poppy Stockell was wise to abandon her Internet-dating expos and focus on her blossoming online relationship with British Sikh Sandeep. The film tracks the evolution of their coupledom—from the security of the virtual world to a tentative first meeting in Thailand and beyond. The blush of their new love is tempered by scenes depicting the realities of a cross-continental, cross-cultural same-sex relationship. Stockell doesn't pull her punches—even when they're aimed at herself.
Chris & Don: A Love Story

Saturday 7, 8pm
Dirs. Guido Santi and Tina Mascara (2007, 90 mins)
On Valentine's Day in 1953, 49-year-old writer Christopher Isherwood met and fell for 18-year-old UCLA student Don Bachardy on a Malibu beach. As predatory as that sounds, viewers learn through vintage reels, comments from friends and colleagues, and interviews with Bachardy, that the two men embarked on an authentic 33-year relationship that saw them through the pre-Stonewall era, gay liberation, infidelity and separation, until Isherwood's death in 1986. We also see Bachardy, at first a wide-eyed Ganymede, slowly emerging from his famous lover's monumental shadow to become a respected artist in his own right (with Isherwood's encouragement). Chris & Don opens theatrically June 13 but, with Bachardy in attendance, NewFest's is a must-see screening.
Wrangler: Anatomy of an Icon

Saturday 7 at 10:15pm
Dir. Jeffrey Schwarz (2008, 82 mins)
Almost every gay porn star who survives to middle age gets the documentary treatment these days, but Jack Wrangler, the marquee attraction in such classics as Kansas City Trucking Co. and Summer in Heat, actually deserves the honor. One of the 1970s' biggest man-on-man performers, the openly homo Hollywood native (born John Robert Stillman) codified the image of the versatile stud before eventually switching to straight fuckfests like Debbie Does Dallas. But Anatomy of an Icon also documents Wrangler's widest left turn: his longtime marriage to 1940s singing star Margaret Whiting, 22 years his senior, who famously told him he was gay "only around the edges, dear."
Between Something & Nothing

Wednesday 11, 8pm
Dir. Todd Verow (2008, 105 mins)
New Queer Cinema veteran Verow (Frisk, Vacationland) used his experiences at Rhode Island School of Design to inspire this fictional cautionary tale about a wide-eyed art student named Joe (the square-jawed Tim Swain) who is seduced into the fast lane by a hard-partying classmate (Julia Frey) and into selling his body by an aloof hustler (Gil Bar-Sela). Joe's descent is framed by Hartleyesque deadpan deliveries from the leads, but Verow leaves a small window open for comedy—mostly at the expense of his alma mater's pompous art professors.
Were the World Mine

June 15, 8pm
Dir. Tom Gustafson (2008, 96 mins)
We were charmed by Tom Gustafson's short "Fairies" when it screened at the 2004 NewFest, and the spell only grows stronger with this feature-length version, a whimsical queer spin on A Midsummer Night's Dream that's been selected as the festival's closing movie. In a small-town boys' academy, a gay outcast (Tanner Cohen) is the frustrated Helena to popular jock's Demetrius (Nathaniel David Becker). Emboldened by a sympathetic English teacher, Timothy auditions for Shakespeare's classic tale and is cast as mischievous Puck. He concocts a love potion to snare his love interest, but winds up entrancing the entire town. Blending heartbreaking teen angst with the Bard's magical verses, Gustafson strikes a chord that's closer to Spring Awakening than High School Musical.
For a full schedule of films and events, visit newfest.org.