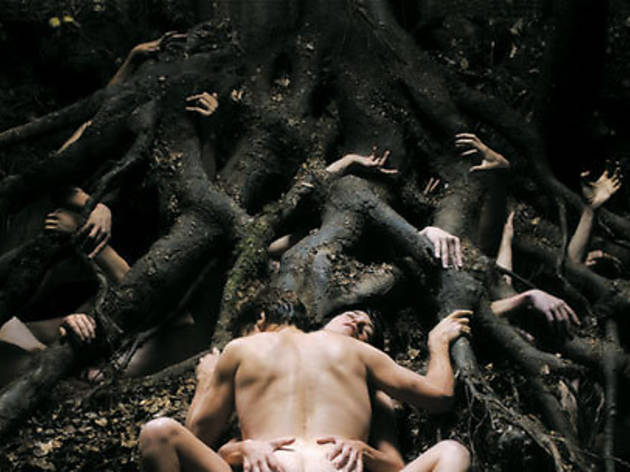 Report from Cannes
The French fest tones down the glitz but still delivers the cinematic gems.
Zut alors! Could the Cannes Film Festival actually be a kinder, gentler version of itself in 2009? Any event where tens of thousands of media professionals, movie moguls and celebrity gawkers convene could hardly be considered demure. But there's a distinctly less carnivalesque atmosphere at this 62nd installment, in a year when the browbeaten global economy and a lacerated press industry have taken a noticeable toll. (By one publicist's estimation, as many as a third of the U.S. journalists who would otherwise be here have stayed at home.) The tout-crazy billboards announcing film productions are also uncharacteristically modest: One eight-foot-tall Transformers model and a balloon-lofted dollhouse (for the festival's opening-night film, Pixar's animated parable Up) planted on the Croisette come off as halfhearted announcements of the summer's blockbusters. Even the star power is diminished. When Mariah Carey (here tub-thumping for her minor role in the Sundance prizewinner Precious, formerly known as Push) is the paparazzi's biggest prize, something has seriously gone off the rails.

RECOMMENDED: Full coverage of the Cannes Film Festival

But we're all here to watch movies, aren't we? And from that perspective, it's been a happily gratifying year. Whether it's an old lion like Francis Ford Coppola flexing his muscles with the tortured-artist family psychodrama Tetro or South Korean genre disciple Park Chan-wook sprouting fangs for the vampire-priest thriller Thirst, many films still offer beguiling insight and images, even the less triumphant ones. Case in point: Bright Star, a return to form for Piano darling Jane Campion that, despite being an emotionally featherweight treatment of an end-of-days romance between John Keats (Ben Whishaw) and the poet's strong-willed neighbor (Abbie Cornish), is still an impeccably pretty love reverie, sumptuously told. Best of the fest so far is Jacques Audiard's electrifying prison drama, A Prophet, a grand, harrowing discourse on the Arab soul of modern-day France as told through the rise of a young punk using any morally dubious opportunity to survive. Bold, ambitious and self-assured in every frame, A Prophet is exactly the kind of art-house feast that represents Cannes at its most relevant.

And then there is Antichrist. Lars von Trier's wickedly frisky, surrealistic portrait of a husband and wife (Willem Dafoe and Charlotte Gainsbourg) who cope with the death of their child by retreating to an isolated cottage in a very spooky forest. The human despair set against pastoral chaos mixes gender politics with horror tropes, creating a peerless stew of deranged symbolism and visceral mutilation. Requisite boos and huzzahs filled the Theatre Debussy after its maiden voyage, dividing critics with alacrity and sending many off in a state of shock. "Festival centerpiece!" one wag mischievously joked to New York Film Festival head honcho Richard Pea, who smiled diplomatically and kept walking.