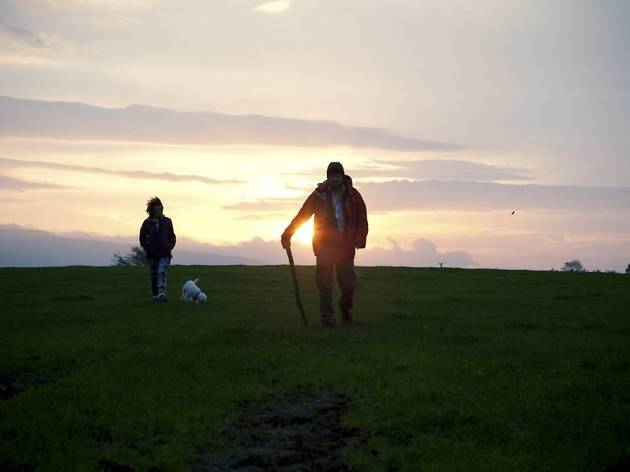 Why are British filmmakers so good at killing off actors while making audiences laugh? Something morbid and mirthful courses thicker in the blood overseas: It's only a matter of time before another A Fish Called Wanda, Shallow Grave or In Bruges reminds us of the darker nature of the buttoned-down, tea-tasting kind. Americans make black comedies too, like Fargo, but you almost expect violence from our character—and how funny can that be? Generally, we get lunkheads like the ones in Pain & Gain; England pursues that finer line between clever and stupid.
Doing his countrymates proud, Brighton-based Ben Wheatley pushes all sorts of inappropriate buttons in Sightseers, a sick gag of a film that's bound to scar only the irony-challenged. (If that happens to be you, stick with Wheatley's prior outing, 2011's Kill List, a top-notch horror film that's sober as a morgue.) Promisingly, the plot begins in a deeply dysfunctional suburban household, as an aged mum (Mike Leigh regular Eileen Davies) wails with grief, her codependent adult daughter Tina (Alice Lowe) hovering nervously. Wheatley cuts away to framed photos of a beloved dog, Poppy. Things haven't been the same since an awful accident involving knitting needles (brace yourself for the flashback), and it's probably time for a little distance.
Tina's out of there: Her knight in shining caravan, Chris (Steve Oram), a bearded nice guy and affable dork, is stealing her away on a whirl of the snoozy English countryside, where pencil museums and fussy tour guides await. Their romantic bond is so low-key ("Mint me," Chris commands from behind the wheel as Tina grabs the Mentos) that you laugh at "Tainted Love" on the soundtrack. How much synth-scored trouble can this pair get into?
Plenty. Wheatley, blessed with a keenly banal script penned by his co-leads (elsewhere a stand-up comedy duo), builds the mounting tension as a symptom of their squareness. Chris seethes at a litterbug tourist who blows him off. Revving the motor home in reverse, he unwittingly squashes the offender and, after a mild investigation by understanding police (again, something that would never happen stateside), the duo is on the road again, far more unhinged. Another camping site? Mint me.
Sightseers then becomes a fantasy—the kind that anyone who's ever raged at the insensitivity of others (who, me?) can chortle along with. Perhaps you'll pity the smug couple with the slightly fancier getaway gear, or the obnoxious bachelorettes at the table across the restaurant, but don't feel too bad for them. In the skewed moral universe of "we're on holiday" animal-instinct liberation, they deserve what's coming.
Even as Tina and Chris become experts at Windexing gore off side panels, the movie never loses sight of their nerdy neediness, and that's why Sightseers transcends. Tina adores being her frustrated novelist's "muse" (a crocheted pair of pink panties is hard to forget) and trouble looms only when Chris's affections are alienated. Wheatley, underplaying his stylishness, goes for a subtle national satire about geeks gone wild, and that's the fun here: On as mild-mannered a vacation as two Brits might devise, a killer comes along—and, after a while, is politely welcomed in, the kettle simmering.
Follow Joshua Rothkopf on Twitter: @joshrothkopf
Release details
| | |
| --- | --- |
| Rated: | N/R |
| Release date: | Friday May 10 2013 |
| Duration: | 88 mins |
Cast and crew
Director:
Ben Wheatley
Screenwriter:
Alice Lowe, Steve Oram
Cast:
Alice Lowe
Steve Oram

Rating Breakdown
5 star:

0

4 star:

0

3 star:

1

2 star:

0

1 star:

0
Joshua Rothkoph gets it right, however we caution there is some gore that might be a bit much. Our hero and heroine tromp about the countryside demonstrating their "unawareness" or failure to connect with others and show themselves to be the kind of people you wouldn't really want to meet. They carry on about their newly-acquired skills and you wonder who is going to be their next new friend? Despite some graphic detail, there is an edgy dark humor to this film; there will be times you'll see humor hidden and then released in a way that catches you off guard. But be prepared: this film is not really for the faint of heart. You'll have to have some tough leather in you to see past what's happening, and in so doing, you'll have quite a few laughs very literally at someone else's expense. The film's "noir" quality can be a bit overbearing; while some of the countryside filmed is absolutely lovely, the overall tone of the film and what unfolds is disturbing, such that you cannot look the other way and say it's truly in the league of five-star excellence...as five-star films are unforgettable for quite some time and deliver their story in such a way as to delight just about anyone.