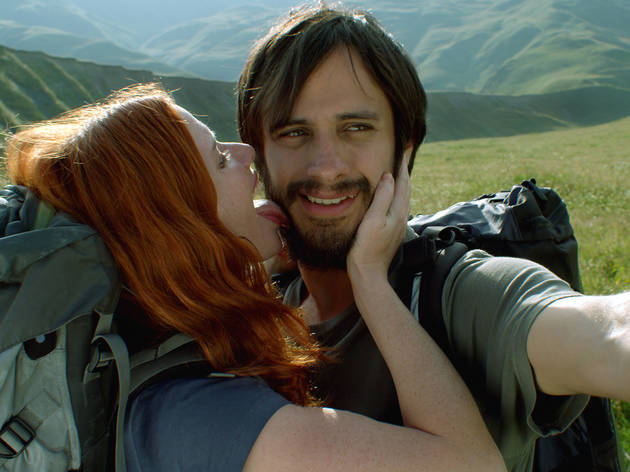 Adjust to the deliberate rhythms of this hiking movie—set on the lush slopes of Georgia's Caucasus Mountains—and the psychological payoff stings like a blister. Our characters are engaged lovers, still in the throes of puppyish dotage: Alex (Gael García Bernal) and Nica (Hani Furstenberg, a real find) evidently pride themselves on roughing it, eschewing fancy digs for bathing in unheated water and scrabbling over boulders. They smile at the locals with a minimum of chat, sneak off to paw at each other, and at one point, play an impromptu game of volleyball with an unseen stranger on the other side of a backyard wall. A quiet, authoritative guide, Dato (real-life mountaineer Bidzina Gujabidze), leads them deep within the countryside. The camera pulls away as the trio progresses, stride by stride, existing fully within the moment.
There's a reason for all of this, so pardon the coyness that forbids me from describing a split-second incident on the trail that changes everything. What could possibly go wrong between two people who are so intimately connected? In the widening eyes of Alex, we suddenly see a weakness, a failure of masculinity (Bernal's forte), and nothing is ever the same. Brooklyn director Julia Loktev likes to strip things down to the bone; her previous feature, Day Night Day Night (2006), managed to find its way into the cryptic head of a sullen Times Square suicide bomber. Her movies are journeys that arrive at a test of will, and she's seemingly more interested in failures of nerve than successes. (Hers is a kind of anti-action filmmaking.) Still, the trek goes on for Alex and Nica. The warmhearted couple we've come to know would surely be able to talk this rift out, but maybe they weren't that couple to begin with.
Follow Joshua Rothkopf on Twitter: @joshrothkopf
Release details
| | |
| --- | --- |
| Release date: | Friday September 30 2011 |
| Duration: | 113 mins |
Cast and crew
Director:
Julia Loktev
Cast:
Gael García Bernal
Hani Furstenberg
Bidzina Gujabidze

Rating Breakdown
5 star:

1

4 star:

0

3 star:

0

2 star:

0

1 star:

0
Astonishing: cerebral, emotional; constrained, sensual; taut, free-flowing; terrifying, comforting. REAL. Great acting, breathtaking scenery, expert directing. You've got to see this on the big screen. A unique cinematic experience.