Woody Allen, then and now
From Funny Guy to Great American Filmmaker: A look back at the many career(s) of Woody Allen.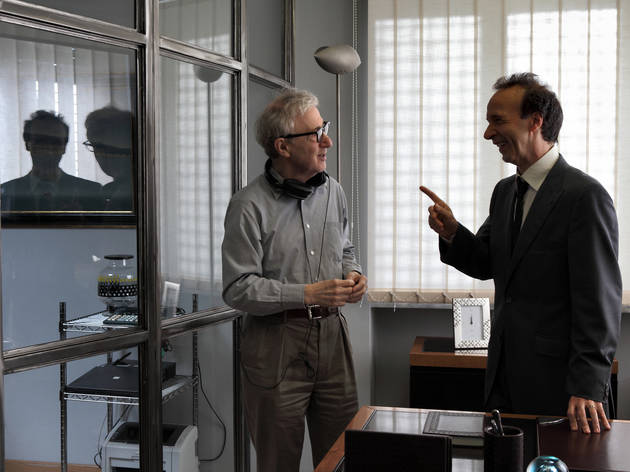 It's a great time to be a Woody-phile: Allen's latest, To Rome with Love, opens in New York Friday 22; that same day, Film Forum kicks off a weeklong revival of his 1977 classic Annie Hall; and comedian Janeane Garofalo will present a special screening of 1989's Crimes and Misdemeanors at Cinema Village on Tuesday 26. In honor of this Woodcentric week, we review three distinct phases of the writer-director-star's career.

Rise of the nebbish: 1969–1980
Already a fixture on the stand-up circuit and talk-show television, Allen parlayed offbeat supporting color into a directing-writing-acting career with 1969's Take the Money and Run—the one with the amazing gag of a bank-robber's gun fizzling into soapsuds. His limited budgets and efficient crews allowed the comedian to radically push the boundaries of movie heroism: Allen's delicate, highly verbal nebbish is a triumph of Jewish humor inflecting the mainstream. Potshots at radical chic (1971's Bananas), soulless futurism (1973's sci-fi lark Sleeper) and—incredibly—Russian literature (1975's Love and Death) followed. The hard but crucial thing to realize: These comedies would have been enough to guarantee Allen's place in the firmament, and Love and Death was a huge commercial hit. So with 1977's landmark Annie Hall—the only Hollywood film of its year to arguably overshadow the dawning era of Star Wars—you have an artist taking unnecessary risks and redefining the romantic comedy in the process. Gorgeously, Manhattan (1979) cements Allen's universe of urbane, lovelorn sophisticates (and uncomfortably young women)—by the time of 1980's Stardust Memories,Woody is able to make self-deprecating jokes about his "earlier, funnier movies." So much had been accomplished so quickly.—JR

Days of wine & neuroses: 1982–1997
Having established himself as a broad screen comic and a Bergman fanatic, Allen spent the '80s and early '90s bridging brows high and low: A Midsummer Night's Sex Comedy (1982) stuffs Shakespeare, slapstick and Smiles of a Summer Night into one farcical sausage skin, while sublime fantasias like Zelig (1983) and The Purple Rose of Cairo (1985) turn one-joke skit premises into hilarious, profound meditations on life. It's also the point when Woody meets Mia, a personal and professional partnership that will yield major works; Hannah and Her Sisters (1986) and Crimes and Misdemeanors would not be nearly as tender, wounding or funny without Farrow's touch. Allen would continue to ping-pong between light (1987's nostalgic Radio Days) and dark (1987's September), lit-esoteric (1991's Kafkaesque Shadows and Fog) and screwball-popular (1994's Bullets Over Broadway, 1995's Mighty Aphrodite), with varied—but always interesting—results. Tabloid infamy soon eclipsed artistic achievements, however, a topic which Allen addressed in Deconstructing Harry (1997), a minor misanthropic masterpiece that declared "the heart wants what it wants." He entered this period with a bang and went out with a scream.—DF

Anything else?: 1998–present
As the '90s came to a close, Allen seemed content to simply rest on his laurels. Aside from some striking cinematography here (1998's Celebrity) and a few notable performances there (Sean Penn in 1999's Sweet and Lowdown, Elaine May in 2000's Small Time Crooks), his work felt increasingly habitual. The less said about the fallow run from The Curse of the Jade Scorpion (2001) to Melinda and Melinda (2004), the better. But Match Point (2005) had some of the exhilarating acerbity of the writer-director's best satires, and its star, Scarlett Johansson, would become his muse for two more films: the comic murder mystery Scoop (2006) and the sensuous Spanish-set romance Vicky Cristina Barcelona (2008). Aside from that ill-advised Larry David vehicle Whatever Works (2009), Allen has shot everything from Match Point on in Europe, and the change of scenery has done him good. You Will Meet a Tall Dark Stranger (2010) is a razor-sharp mockery of impending mortality, while the delightful Midnight in Paris (2011) has become his biggest critical and financial success to date. There's life in the Woodman yet.—KU

Follow David Fear @davidlfear, Joshua Rothkopf @joshrothkopf and Keith Uhlich @keithuhlich on Twitter.