Fleet Week NYC guide
Honor the seafaring wing of the United States armed forces during Fleet Week NYC by streaming these events and services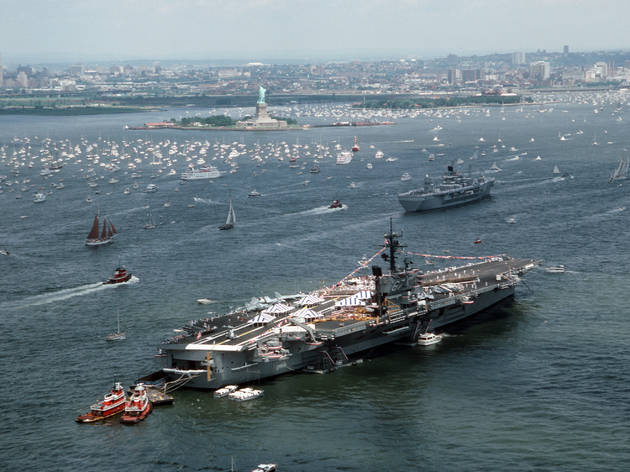 Fleet Week — the seven-day celebration honoring the U.S. Navy, Coast Guard and Marine Corps — with its flotilla of ships on the Hudson River, military demonstrations and string of parties is how we mark the beginning of summer fun here in New York City.
This year is different, for sure, but there will still be events you can take part in online.
"We're excited to once again connect with people online in New York and around the world," said Rear Adm. Charles W. Rock, Commander, Navy Region Mid-Atlantic. "No matter where you are, people will be able to find us on social media and watch whnever it is convenient for them so they can see how the Navy, Marine Corps and Coast Guard safeguard our nation and how incredible the men and women who serve in unifrom are."
In our guide to the annual affair, we share everything you need to know from Q&As to see to Fleet Week performances to check out.
For things to do this Memorial Day, be sure to check our guide.
When is Fleet Week NYC?
The 33rd annual Fleet Week in NYC will take place from Wednesday, May 26, 2021 to Monday, May 31, 2021.
Where is Fleet Week NYC?
Usually, a range of New York venues host the weeklong itinerary of events for Fleet Week, including Miller Field on Staten Island, Central Park, New York Harbor, Fort Hamilton, South Street Seaport, Washington Square Park, Pier 88, Pier 86, Times Square and more. But this time, it will all be on Fleet Week's Facebook page, Instagram and Twitter.
Where can I visit the Navy ships during Fleet Week?
USCG Cutter Penobscot Bay will be docked at the Intrepid Museum's Pier 86 on Saturday and Sunday (10am-5pm) and members of the U.S. Coast Guard will be on hand to answer questions about the cutter, a 140-foot Bay-class icebreaking tug, which will be on display through Monday.
The U.S. Marine Corps will also be onsite with vehicles (including restored and antique military vehicles), gear, equipment and more and visitors will be able to train like a Marine with a variety of demos and activities.
For Memorial Day on Monday, starting at 11am, the museum will host its annual Memorial Day ceremony with special guest speakers, the unfurling of a 100-ft American flag, and a wreath-laying ceremony. It will be livestreamed the entire ceremony on YouTube and Facebook Live.