Food & Drink
Your guide to the best of New York's food and drink scene, all available from the comfort of your couch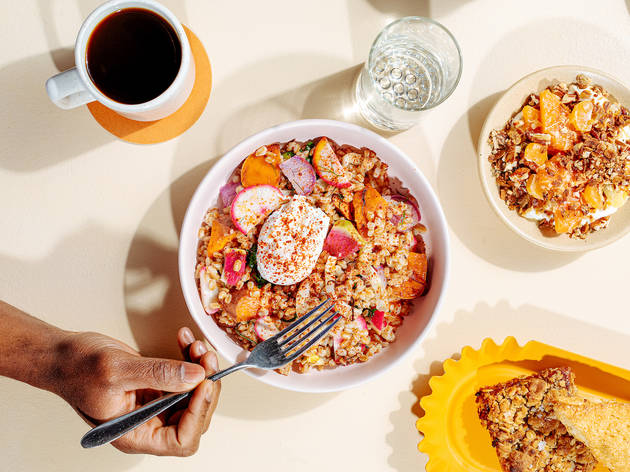 The best takeout and delivery restaurants in NYC
Hungry but can't manage to put pants on and go outside in search of tonight's dinner? That's where New York's best takeout and delivery restaurants come in—you can get anything from super-crispy fried chicken to top-rate New York pizza delivered straight to your door without having to pause your TV binge or workflow. In fact, some of the city's best new restaurants offer delivery services. So queue up a new movie on Netflix and order whatever your heart desires from our list of the best delivery restaurants in the city, available via individual restaurants's websites, Seamless, Caviar, Postmates and more. Tip well! RECOMMENDED: Find more of the best restaurants in NYC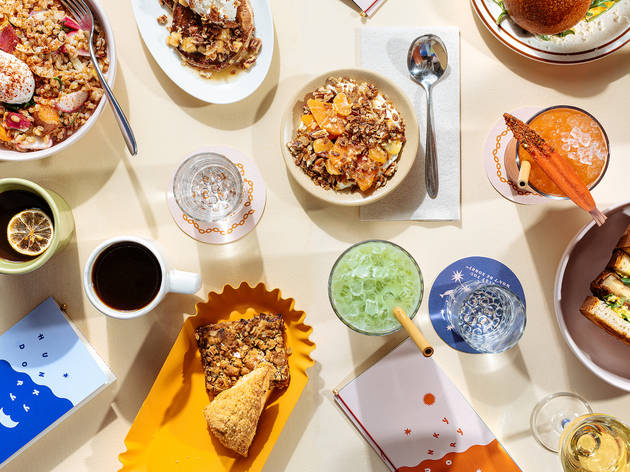 Restaurant gift cards and merch to buy during coronavirus shutdown
Our favorite New York restaurants and bars often feel like an extension of our cramped apartments. But the spread of COVID-19 is quickly changing all that as Mayor Bill de Blasio ordered all restaurants and bars to close—except for offering delivery and take-out—starting 8 p.m. March 16.  This still poses a significant challenge, as the profit margins have never been high for business owners feeding our city. The mandate puts pressure on restaurants and bars already struggling to keep their doors open. On top of that, many employees in the hospitality industry will be left with a paycheck (especially those who depend on tips). As critics crisscrossing the five boroughs looking for the best bites to share with our readers, we know it is our duty to help bring you the best of the best even when dining out is facing challenges. Even if you are self-isolating in the coming weeks, there are many ways to still support your favorite food businesses. Buying gift cards and restaurant merch is a great way to support your go-to spots in the meantime, so these businesses can continue to pay their bills and staff. When the public health crisis is under control, we'll be ready to patronize our favorite establishments (perhaps with a shirt or tote in hand). In the meantime, should you choose delivery, we put together a list of our favorite spots that do that, too. As always, if you have recommendations of spots we missed, please send them to food.ny@timeout.com  Adda (email hello@addanyc.co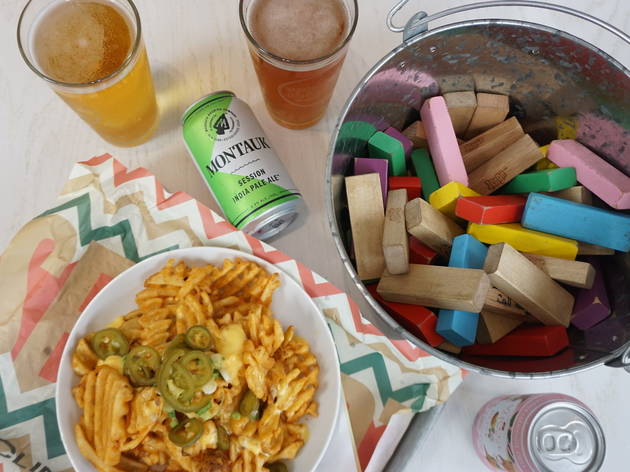 NYC restaurants are offering care packages with games and toilet paper
Whether you're ordering in dinner tonight or maybe spending the end of the work week scouting the best to-go cocktails, we know you're hungry for better ways to get through the time of social distancing. Restaurants are getting creative with methods to keep customers coming during this historic time for the hospitality industry. Those restaurants and bars that have made the difficult call of staying open via delivery-only methods—rather than temporarily closing down for the indefinite future—have been experimenting with ways in which they can bring a little added joy to these deliveries for folks who are self-isolating. For those looking for additional ways to support their favorite restaurants, we suggest checking out the way that merch and giftcards  can help. And, likewise, for those of you might be finding themselves recently unemployed, please check out all the restaurants across the city that are offering free meals.    Kopitiam  At this Two Bridges hit, you can get kits to make their kaya toast ($18) or nasi lemak ($25). They ask that you Venmo them a day in advance to give them time to make one for you. Likewise, they are offering complimentary care packages for those in need with items such as dried foods or a breakfast bag with oatmeal and bananas. They are also thoughtfully putting together books for parents to take home and enjoy with their children.  View this post on Instagram Dear Kopitiam Friends and Family, We hope that this note finds you and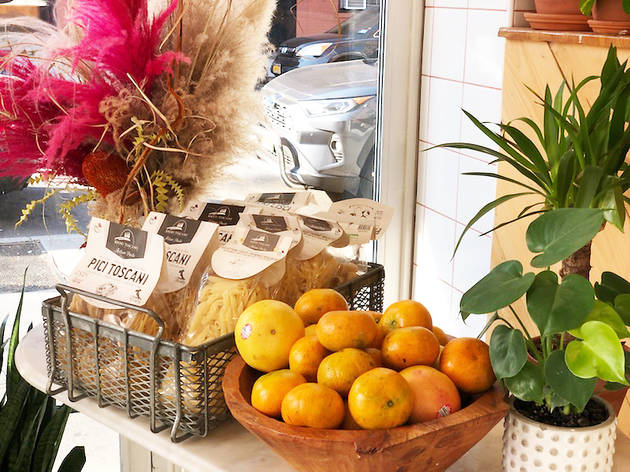 These New York restaurants have temporarily become grocery stores
Even before the state mandated last week that non-essential workers stay home, New Yorkers were already stocking up for the coronavirus quarantine. It was nearly impossible to find basics like eggs, dry pasta and frozen vegetables, among other things at many supermarkets and bodegas—forget about toilet paper and hand sanitizer. Luckily, delivery and takeout is still an option at many restaurants and bars (including alcohol to go), but there's still only so much of that our bank accounts can handle. It's a safe bet to say more of us are cooking (or at least upping our home bar game) than ever before. Now, there's another option for shopping as some restaurants morph into temporary corner stores selling everything from produce and condiments to noodles and yes, even hard-to-find toilet paper. For these restaurants, however, the new service is another revenue stream at a challenging time for the hospitality industry. You'll be supporting a store and a restaurant at the same time—just do it six-feet apart from other customers. The Clam Community Fish Market View this post on Instagram A post shared by The Clam (@theclamnyc) on Mar 20, 2020 at 1:38pm PDT From 11am-7pm daily, The Clam is now operating as The Clam Community Fish Market with Early Morning Seafood, which has been a longtime purveyor for the West Village favorite known as a seafood lover's haven. The quality of the seafood will be better than anything you find at grocery stores across the city and i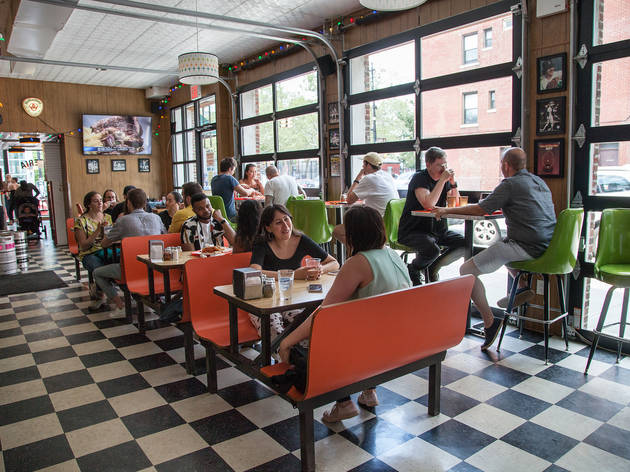 10 New Yorkers tell us the restaurant meals they're most looking forward to having
No one comes to New York to sit in their apartment...the rent is too damn high for that. With a city full of the best bars and restaurants, going out has always been one of the most unifying hobbies for New Yorkers and a point of pride over our friends in other cities (and, now, sadly, we have to find some new ones like squeegeeing our shower or taking isolation walks with iced coffee that we pretend came from a coffee shop). When the time comes for restaurants to safely reopen, we will welcome them with open arms. For us, our first stop will be a global dumpling tour of the city: starting at Dumpling Galaxy in Flushing, Queens, and then heading to have momos at Ridgewood's While in Kathmandu. Right now, you can get a lot of these dishes via delivery and takeout, but the atmosphere and communal experience just can't be replicated at home. So we reached out to some of our favorite New Yorkers about where they're most excited to hit up once this is all over, and where they'll never take a meal out for granted again. Keep in mind though, without government bailout of small, independently-owned restaurants, many of our favorite spots may never reopen, so keep calling your representatives and supporting your favorites in any way you can. Aidy Bryant, comedian and star of Hulu's Shrill: Café Altro Paradiso "I can't wait to go back to Cafe Altro Paradiso. For as much pasta that I've been making in quarantine, it doesn't hold a candle to Altro Paradiso's cacio e pepe. Or their citr
The latest food and drink news
The best takeout and delivery in NYC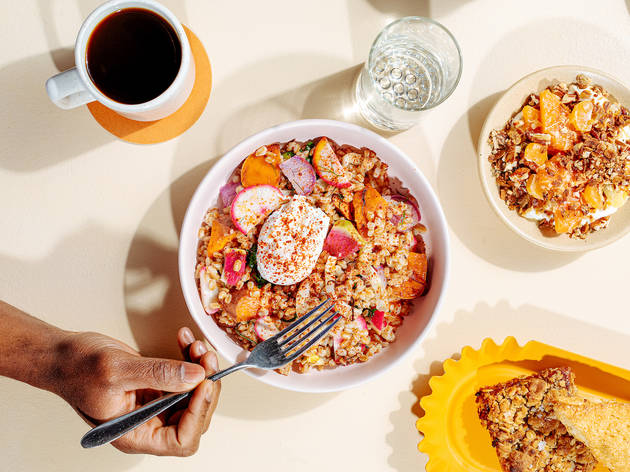 The best takeout and delivery restaurants in NYC
Hungry but can't manage to put pants on and go outside in search of tonight's dinner? That's where New York's best takeout and delivery restaurants come in—you can get anything from super-crispy fried chicken to top-rate New York pizza delivered straight to your door without having to pause your TV binge or workflow. In fact, some of the city's best new restaurants offer delivery services. So queue up a new movie on Netflix and order whatever your heart desires from our list of the best delivery restaurants in the city, available via individual restaurants's websites, Seamless, Caviar, Postmates and more. Tip well! RECOMMENDED: Find more of the best restaurants in NYC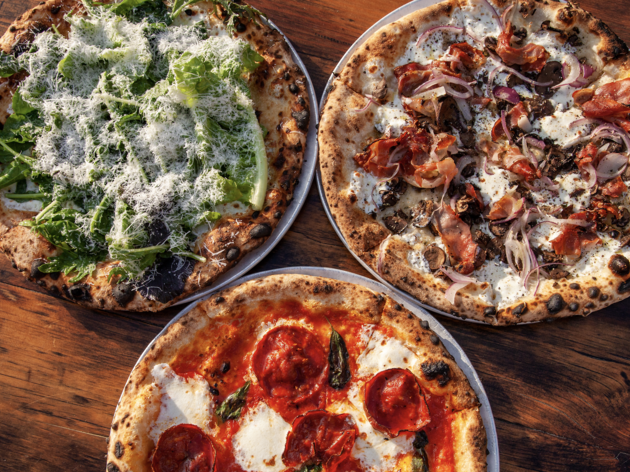 The best pizza delivery in NYC
There are few pleasures greater than New York pizza—except, that is, the ease and convenience of New York pizza delivery. Available by mobile app, desktop ordering or one of the city's growing number of delivery services, you can get piping-hot za from these delivery restaurants at the push of a literal button. Here is the best pizza delivery in New York City.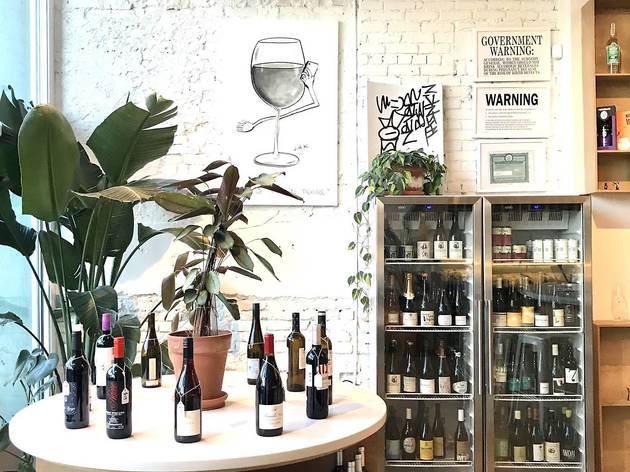 The best wine delivery in NYC
If you're like us and you've found yourself spending quite a lot of time inside these days, you might have wine on the brain. And whether you're looking to stock up on a glass you tried at one of the best wine bars in NYC, or one that you keep seeing all over your Instagram, we've got you covered. Some of the coolest wine shops deliver straight to your door—and with options at every price point, no less. What's better than getting uncorked and watching latest videos streaming on Netflix. Now that's a Friday night!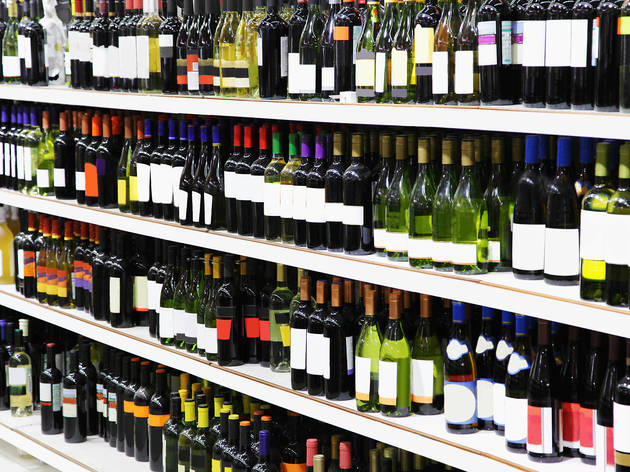 The best options for alcohol delivery in NYC
Shopping for groceries is a chore, especially when you're carrying around cases of beer and bottles of wine to your fourth floor walkup. So why bother carrying them all the way from the store to your apartment when there are so many delivery services that can get that done for you? New Yorkers order so many things direct to their homes that 'the city that never sleeps' might as well be renamed 'the city that never schleps'. Seriously, there's no end to what you can get dropped off at your door: groceries, flowers and even cleaning services in NYC are all readily available at the click of a mouse or tap of an app. You'll still have to show your ID to the delivery person and chill your champagne but the last thing you'll have to worry about is running out of booze.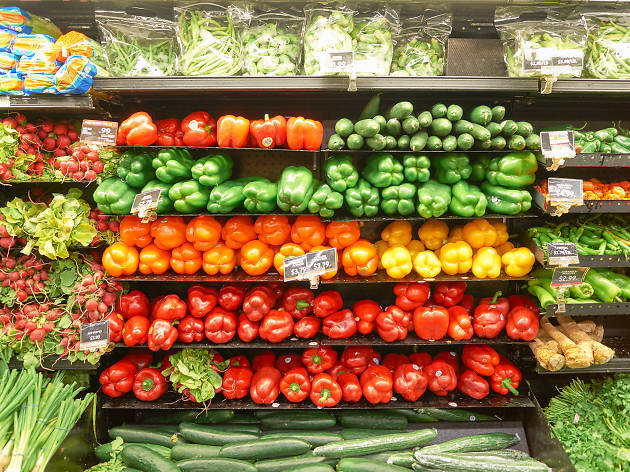 The best ways to get your groceries delivered in NYC
We're all short on time, so why wouldn't you take advantage of grocery delivery? On the list of things that put New Yorkers on edge, grocery shopping is on par with being anywhere near Times Square. But of course, you can't live on Seamless forever—that's why we've reviewed the best grocery store and delivery services in the city. Some are free, some arrive in less than an hour, some have late-night delivery and some even offer alcohol delivery in NYC, but all of them will help reduce your daily stress level.  RECOMMENDED: Full guide to shopping in NYC