The top ten New York City drag queens
Lashes, hairspray and a whole lot of sass—these fierce queens bring the sparkle to NYC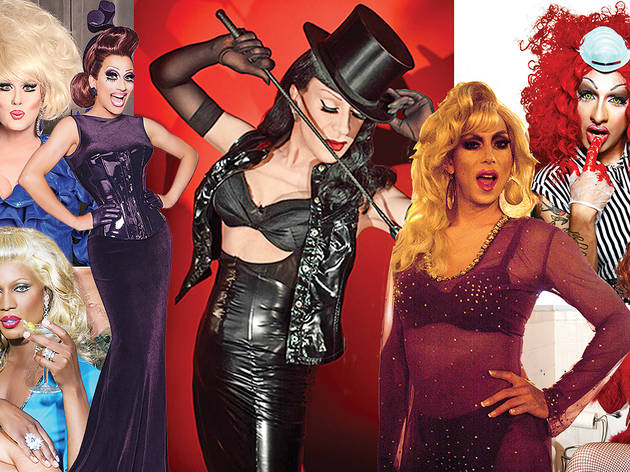 New York City wouldn't be the same without its vibrant drag scene, and our top ten queens supply the best couture costumes, humor and songs. In Manhattan nightclubs and on the silver screen, you can catch this fierce bunch owning it with pride.
RECOMMENDED: Full NYC drag queen guide
1
Lady Bunny
After cutting her teeth in Atlanta with some kid named RuPaul, the queen of trash talk hopped up to NYC in the mid-'80s and quickly became the driving force behind the pioneering Wigstock festival. Her gravity-defying hair and ultra raunchy song parodies (she works dark blue) have helped shape a generation of cross-dressing comedians, to whom she remains the unofficial fairy godmother.
2
Joey Arias
With his unique combo of outlandish couture-fetish costumes, potty-mouthed patter and Billie Holiday–channeling vocals, Arias has been an unhinged fixture of the East Village scene since the late '70s. His peaks include backing up David Bowie on Saturday Night Live, hosting Cirque du Soleil's risqué Zumanity and starring in his own phantasmagoria, Arias with a Twist. He returns regularly to spread his legend at venues like Joe's Pub.
3
Charles Busch
A devoted flame-keeper for classic silver-screen camp, Busch specializes in peerless embodiments of tough-as-nails Hollywood dames. After writing and starring in such downtown hits as Vampire Lesbians of Sodom and Psycho Beach Party, he's enjoyed crossover success as a playwright (Broadway's The Tale of the Allergist's Wife) and was the subject of the 2005 film documentary The Lady in Question Is Charles Busch.
4
Bianca Del Rio
New Yorkers have long known this New Orleans import for her hilariously cruel humor and flawless aesthetic. But when she appeared on RuPaul's Drag Race—a contest she seems all but certain to win tonight—we learned that behind those massive lashes and acid wit lies an incredibly sweet, generous and (yes) kind performer.
5
Sherry Vine
The long-standing class clown of NYC's drag scene, Sherry Vine takes funny very seriously, striking viral gold with parodies of Lady Gaga, Adele and Madonna, among other pop icons. Vine got her start performing alongside Joey Arias and Raven O at the era-defining Bar d'O in the '90s, the inspiration for a thousand drag careers.
6
Linda Simpson
Though she doesn't lip-synch, sing or dance, the quick-witted Simpson has been a fixture in NYC's nightlife circles for more than two decades, thanks to her work as a journalist (she's a former Time Out staffer), photographer (her 35mm photos were recently on view at Chelsea's ClampArt gallery) and writer-star of her own Off Broadway shows. These days, you can catch her pulling balls and cracking jokes at bingo nights around town.
7
Horrorchata
Drag ain't always pretty. Gender-fucking icons from Leigh Bowery and Divine to Sharon Needles have shunned girly (or "fishy") looks in favor of arty, creepy or downright icky. And a new breed of north-Brooklyn queen is taking that baton and running with it. Leading the charge is House of Bushwig cofounder Horrorchata, who tortures and delights boozy gipsters ("gay hipsters," you squares) with her punk-rock freak-show antics.
8
Lypsinka
The demented alter ego of ballet pianist John Epperson, Lypsinka raises lip service to a dance form in rigorously assembled collages of songs and spoken word, mouthing along to sound clips drawn from deep within the banks of collective camp memory. At her awe-inspiring best, she doesn't just own her material, but seems possessed by it.
9
Bob the Drag Queen
Until last year, Bob went by the stage name Kittin Withawhip, but her new moniker is typical of the irreverent humor and sass that has made her one of New York's faster-rising new stars. At her late-night shows all over town, she lip-synchs an eclectic repertoire of show tunes and pop, showing off a mix of sparkle and shadiness.
10
Shequida
Some queens lip-synch and some queens sing, but Shequida sings. The classically trained, Jamaica-born diva attended Juilliard and has parlayed her four-octave range into everything from an Off Broadway show called Opera for Dummies to an appearance on America's Got Talent. But she's not all about glass-shattering high notes: You'll find her camping it up at plenty of parties around Hell's Kitchen and beyond.
More New York City Top Tens
From integration and elation to extraterrestrials and rock tragedy, NYC's radio waves have caught—and created—some of the most major moments in our city's history
Read more
We shine a light on the city's most enduring rock music icons, from Lou Reed and Debbie Harry to James Murphy and Karen O
Read more
Lashes, hairspray and a whole lot of sass—these fierce queens bring the sparkle to NYC
Read more
Step away from the run-of-the-mill I ♥ NY tees and pick up these offbeat New York souvenirs
Read more
Coyotes, boa constrictors and finback whales—turns out King Kong was just one of many weird animals to make a scene in NYC
Read more
Think your New Year's party will be epic? It surely can't top these ten lavish shindigs, which featured real elephants, plenty of celebs and more extravagant touches
Read more
Get into the spirit of the season by watching these naughty (American Psycho) and nice (Miracle on 34th Street) Christmas movie scenes
Read more
See more in Gay & Lesbian