The best Airbnb Jersey City rentals
Put aside your prejudices against New Jersey and book one of these Airbnbs in Jersey City for your next trip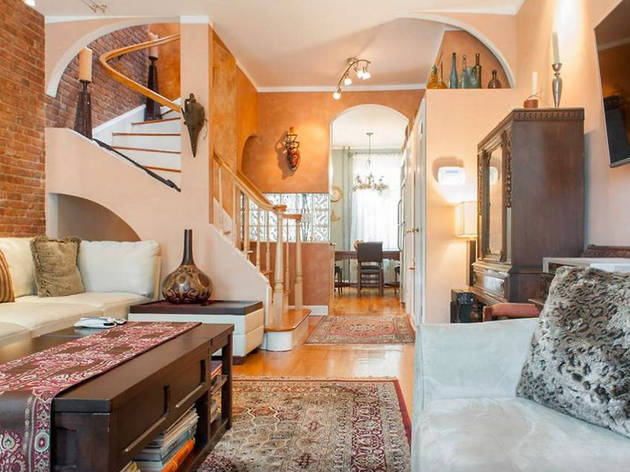 Just across the river from Tribeca, New York, these Airbnb Jersey City rentals make a surprisingly convenient (and affordable) choice for a trip to New York City. These apartments can be much cheaper than luxury hotels in NYC, and they're still not far from the top New York attractions. And contrary to what some New Yorkers would have you believe, Jersey City has plenty of nice places to offer: You'll find trendy lofts, historic brownstones and modern condos for rent on Airbnb. So next time you plan a trip to NYC, forget the best hotels in Manhattan and save some cash by staying just across the Hudson River in one of these Airbnbs in Jersey City.
RECOMMENDED: Full guide to the best hotels in NYC
Best Airbnb Jersey City rentals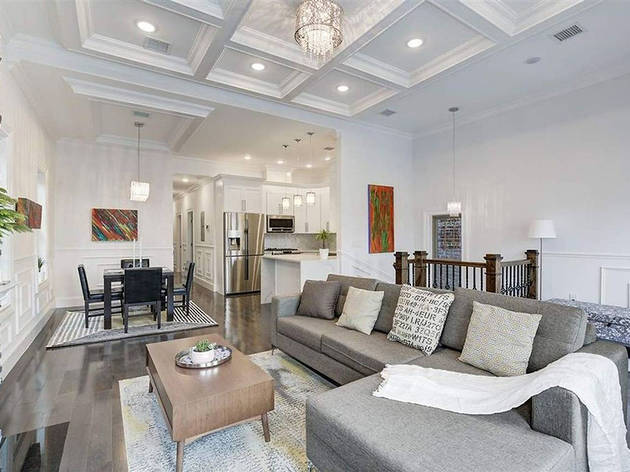 Photograph: Courtesy Airbnb
New Luxury Condo 20 Minutes From World Trade Center
Although this light blue home might look quaint and charming from the street, the interiors have been recently updated with a sleek new look. A modern grey color palette, stone fireplace, crystal chandelier and brand-new appliances make it feel high-end. From $130 per night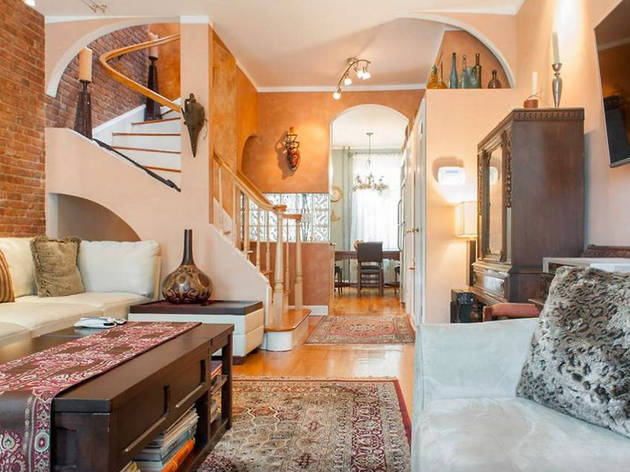 Photograph: Courtesy Airbnb
Beautiful Duplex Apartment With Parking
This restored row house has plenty of charming, unique features, like a spiral staircase, exposed brick wall and one-of-a-kind artworks. The full-sized kitchen, quaint guest rooms and comfy sofa will make you feel right at home. From $93 per night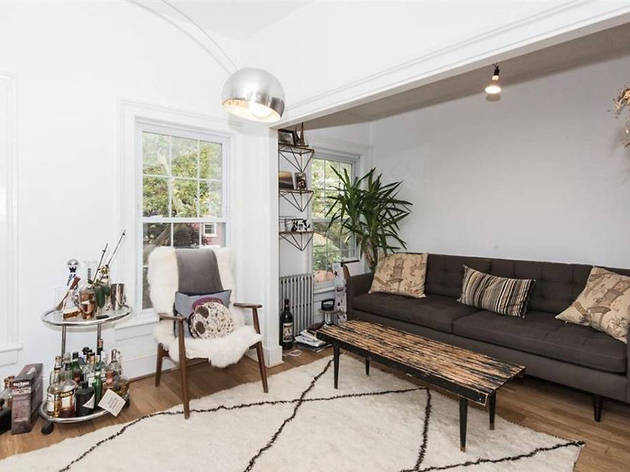 Photograph: Courtesy Airbnb
Historic and Modern: Sleeps Six
A recent renovation left this loft in stunning shape: The sleek white walls extend into the fully updated kitchen, subway-tiled bathroom and quaint sleeping alcove. The location in downtown Jersey City also makes it exceptionally convenient for both exploring the local bar scene and commuting into Lower Manhattan. From $39 per night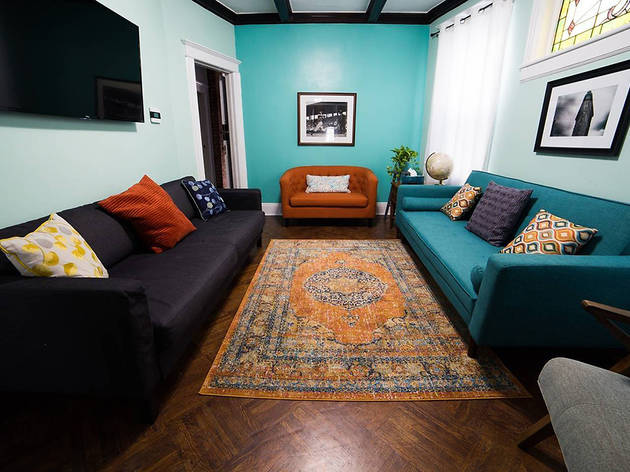 Photograph: Courtesy Airbnb
Chic Two-Bedroom Family Home
With turquoise walls, a burnt sienna armchair and ombre stairs, this restored Victorian home is bursting with color, but it feels unique and sophisticated rather than kiddish. Since the owners live in the attached home, they'll be more than happy to give you advice about train schedules, local restaurants and more. From $67 per night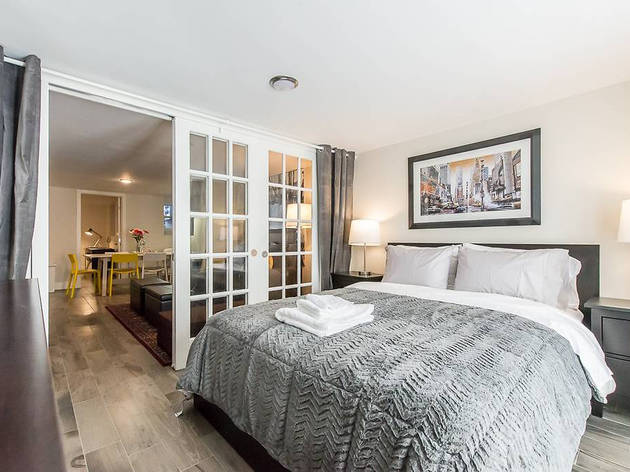 Photograph: Courtesy Airbnb
Modern Luxury Three-Bedroom Apartment
You won't even miss the hotel amenities when you check into this Airbnb: Just put on one of the fluffy bathrooms, dig into the snacks and plop down in front of the smart HDTV for some Netflix and chill time. The stainless steel appliances, leather sofa and backyard patio don't hurt, either. From $48 per night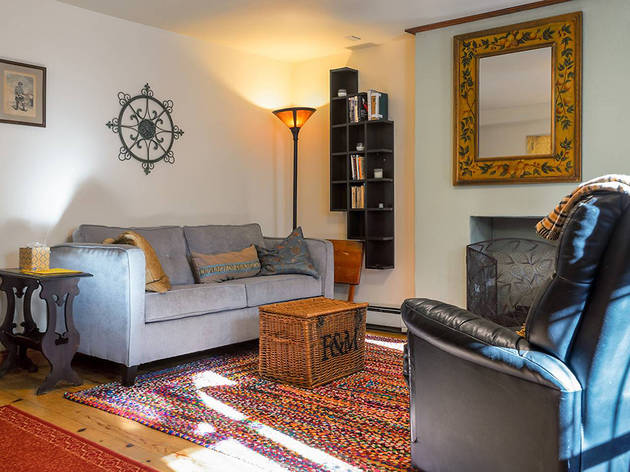 Photograph: Courtesy Airbnb
Garden Level Jersey City Flat
This one-bedroom apartment still retains the charm of the historic row house building, thanks to the rustic decor and exposed brick walls. It's also just a few minutes from Liberty State Park, so you'll have plenty of opportunities to take in sweeping views of Lower Manhattan and the Statue of Liberty. From $90 per night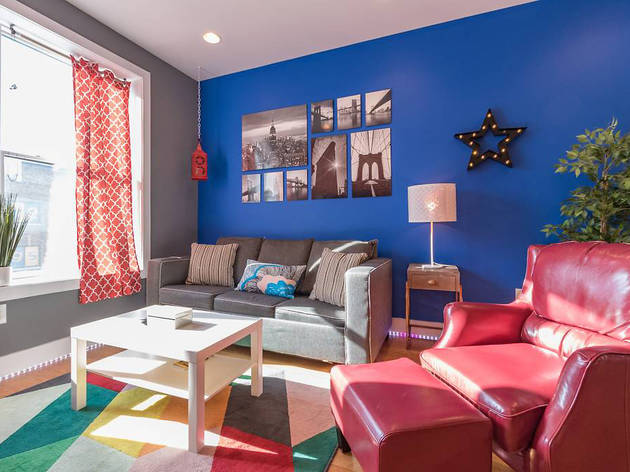 Photograph: Courtesy Airbnb
Stunning Luxury Two Bedroom
Vibrant accent walls, updated amenities and Big Apple–inspired art pieces give this Jersey City property some New York City flair. With a large kitchen, three beds and a washer and dryer, it's also an exceptionally convenient choice for families. From $121 per night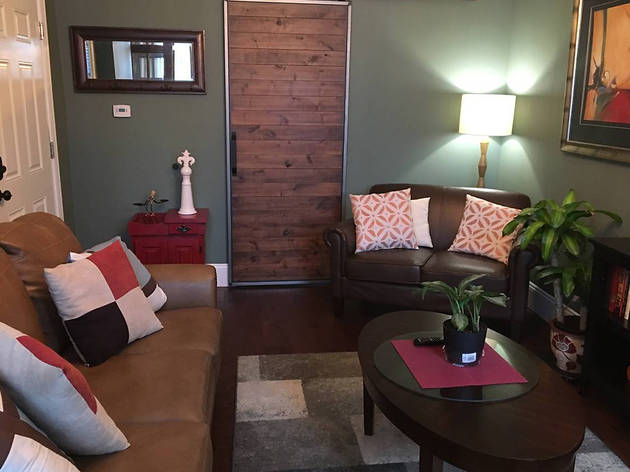 Photograph: Courtesy Airbnb
Beautiful Apartment Minutes From the PATH
The owners of this adorable two-bedroom apartment in Jersey City live right upstairs, so they're easy to reach if you need them. During the winter, you'll feel oh-so-cozy in the space decorated in dark wood and jewel tones; in warmer weather, guests can take a cup of coffee outside to the private deck to soak up some sunshine. From $99 per night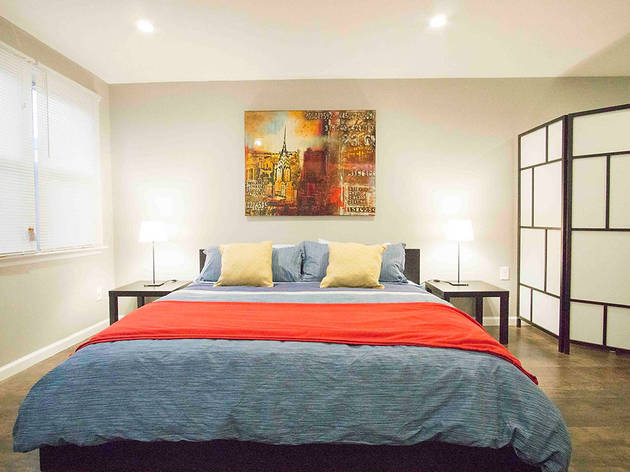 Photograph: Courtesy Airbnb
Lovely Spacious Three-Bedroom
Families might want to consider this three-bedroom first-floor apartment that sleeps up to seven guests. It comes with one parking space for guests and it's just a short walk from the Journal Square PATH station. From $99 per night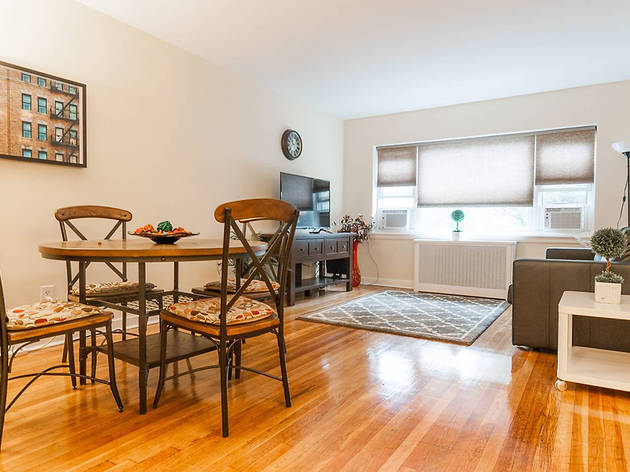 Photograph: Courtesy Airbnb
Bright, Fully Renovated Apartment by Saint Peter's University
Hardwood floors, brick red accent walls and a cushy leather sofa give this Jersey City apartment a homey feel. Though it only has one bedroom, the apartment can sleep as many as four guests thanks to the pull-out sofa in the living room. From $80 per night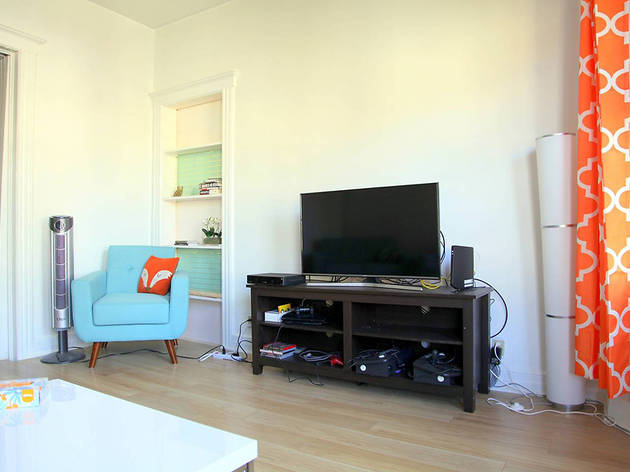 Photograph: Courtesy Airbnb
Park Views: Private Three-Bedroom, Three-Bath
Though this apartment does offer lovely views of nearby Lincoln Park, the interiors are really the star of the show. The high ceilings, ornate decorative moldings and stained glass are a HGTV fan's dream. From $99 per night
Looking for more things to do in Jersey City?
This bustling enclave has become a culinary hub in its own right, complete with waterfront restaurants and bars, fine-dining restaurants and a critically acclaimed pizza joint