Ten must-sees at the Museum of Sex
Good for: Kinky historians
By Sarah Bruning Tue Jun 28 2011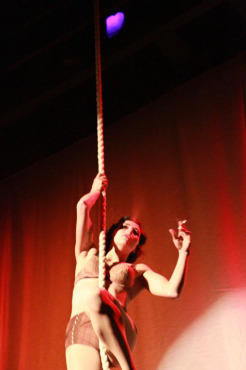 "Donald Duck Has a Universal Desire!" Tijuana bible
"[Comic books like this] were printed on really cheap paper, typically in the 1930s," says Forbes. Known as Tijuana bibles, the bawdy tomes lampooned movie stars, politicians and cartoon characters. This raunchy eight-page leaflet depicts Donald's quest to find a lady friend and his homoerotic pursuits when his initial search fails; the beloved Disney quacker is shown in several compromising positions, including a threesome.
Where to see it: "Comics Stripped," ongoing.
Vintage erotic photography
According to Forbes, a notable takeaway of the museum's old-school-stills collection is that the vintage images are just as hard-core as today's pornography. "People were engaging in every sex act and partnership possible," she notes. "We kind of think we're the first generation to do anything risqu, but our great-grandparents were posing for all kinds of dirty pictures." Popular representations of sex in the late 1800s and 1900s included couples or groups in the phases of a sexual encounter. Many series feature bondage or BDSM trysts.
Where to see it: "Spotlight on the Permanent Collection," ongoing.
Abyss Creations, RealDolls
If you've seen Lars and the Real Girl, then former mannequin builder Matt McMullen's creations will look familiar. Manufactured by Abyss Creations since 1996, these customizable, anatomically correct toys replace flesh and bone with silicone, steel joints and PVC for an eerily lifelike result. The dolls, which can cost upwards of $10,000, have become so popular that owners have launched blogs and film projects documenting their relationships and general "doll culture." In addition to examples of the full male and female forms, the museum also displays touchable versions of each sex's genitalia.
Where to see it: "Spotlight on the Permanent Collection," ongoing.
Pablo Picasso, Raphael and the Fornarina XI: The Pope Is Open-Mouthed in His Armchair
The Spanish painter gets a little meta with this bawdy work: His etching was inspired by Jean-Auguste-Dominique Ingres's drawing Raphael et La Fornarina (1814), which was in turn based on Raphael's painting La Fornarina from 1518. In this blasphemous twist, the voyeuristic Pope is watching Raphael getting hot and heavy with his muse/mistress, Margherita Luti. Picasso's in-joke here is that the Renaissance artist supposedly died at age 37 after a marathon romp session with Luti.
Where to see it: "Spotlight on the Permanent Collection," ongoing.
Michael Sullivan, Sex Lives of Robots
This two-part installation, set on a pedestal so you can view it at eye level, centers on Sullivan's animated film about mechanized whoopie. The main component is a gritty sculptural movie theater filled with painted dolls who have come to see porn. Sullivan's actual flick airs on the petite movie screen—watch carefully and you'll see irreverent scenes, from orgies to Matrix-like sperm fighting each other to fertilize an egg. Visitors can also peep a short documentary—produced by media company Disinformation—that combines footage of the film with clips of Sullivan constructing the elements, along with commentary about the artwork.
Where to see it: "Sex Lives of Robots: Spotlight on Michael Sullivan," ongoing.
Museum of Sex (MoSex), 233 Fifth Ave at 27th St (212-689-6337, museumofsex.com). Mon--Fri, Sun 11am--6:30pm; Sat 11am--8pm. $14.50, seniors and students $13.50, children under 18 not admitted.
While you're there...
Doubling as a classy sex shop, the museum store carries trinkets both tame (Bettie Page dress-up magnets, $20) and kinky (silicone cock -ring sleeves, $8.50).