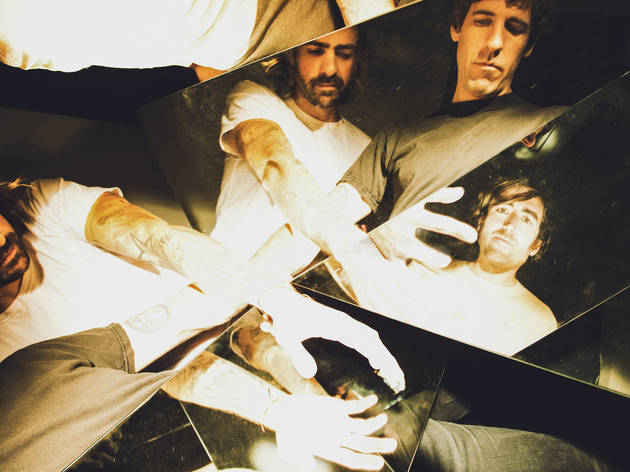 A Place to Bury Strangers talk vacating DBA and a new LP
We chat up Oliver Ackermann, frontman of the local noise-pop luminaries and former resident of DIY haven Death by Audio
Hundreds of bands cycled through beloved Williamsburg show space Death by Audio before it became a casualty of the year's great DIY purge. But one had a special connection to the joint: Brooklyn noise-pop institution A Place to Bury Strangers. The band's frontman, Oliver Ackermann, actually resided in the DBA compound and ran a homegrown guitar-pedal company (also sporting the Death by Audio name) from there. So it's only fitting that Transfixiation, the new APTBS LP, was partly recorded at DBA.
For Ackermann, his recent relocation represents a new lease on both life and on wax. On Transfixiation, Ackermann, bassist Dion Lunadon and drummer Robi Gonzalez, APTBS unleashes its turbo-shoegaze propulsion with pedal-hopping fury. Ackermann welcomed us into his Clinton Hill workspace to discuss Transfixiation and the legacy of DBA.—Brad Cohan

You called Death by Audio home right up until that final show on November 22 of last year. How has it been uprooting your life and settling into a new home?
I'm still kind of picking up the pieces and trying to make these things work out. When DBA closed, it was just so much work to move everything. I was living there, and we had the pedal-building space, the practice space and recording studio.

How long did you live at DBA?
I lived there for nine years, so it was a long time. But, you know, the time comes and that's what happens.

And you've found new digs?
Totally. I just sort of lucked out and found a bunch of spaces right in the same area. I still like the all-in-one living environment. But it's not always possible.

Let's talk about that last show at DBA. It must have been pretty heavy for you.
Definitely super emotional—really crazy and intense. I was completely physically worn down, but there was all this great stuff going on all at once. It was cool, lucky and amazing to have the opportunity of bonding with roommates and with so many people who I didn't know as well. It became this awesome sort of superfamily.

Do you think of moving out of DBA as a new chapter for you and the band?
Totally. I mean, why not? It may as well be. It's good. You take whatever challenges are coming to you and just do whatever you can.

Do you have any disdain for Vice Media, which took over DBA HQ?
No, I don't. I think maybe some people kind of do, but I don't really even know what went down, so I don't have any disdain.

It's been a minute since your last record, Worship, came out. Let's talk about Transfixiation.
Transfixiation was done March of 2013—like, totally done and finished.

Wow. So is this record already old news for you guys?
No, no. We haven't played the songs live and haven't even really been listening to it or anything. We did that on purpose to make it this exciting thing where we kind of revisit it. I'm just starting to get into this. We just had our first practice in months, to kind of gear ourselves up. We've been building the equipment and getting ourselves ready for this tour.

What do you mean by building the equipment?
We build a lot of things and we also need to fix all of our instruments that were broken on the last tour. We're doing some crazy things on these tours, so some of it requires some construction and building things.

Is that the usual process for your tours?
Yeah, usually we end up doing these kinds of things. We try to take things to another level and do something completely different with the show. We have some ideas that we think are kind of radical so it should be cool.

When you record, do you obsess over sounds and where they're placed in the mix, considering all the effects pedals you use?
A lot of times we do, but with this record we kind of had this big realization, or at least I did. We tried to do this thing of sort of capturing us live. We were recording our practices for a while, even before we came up with the best way to record live. We were recording tons of tracks at once to try to capture this kind of energy. I thought maybe it was about the sound, like, use 60 microphones or something. But it turned out that even some of the stuff we recorded in the practices—say, four mikes or something in a room—sounded awesome.
And the realization was that everyone needs to be really into it and do something really cool to capture that moment. It didn't matter how crappily we recorded it; it was just that everyone was doing something really awesome and it sounded way better rather than precisely measuring every microphone to make sure it was in phase—and in perfect spaces, even separating all of the instruments so you could really tweak the sounds. That was just never as successful as just capturing something really cool. And so that was a really big lesson to learn for me.

And you recorded it at DBA?
Yeah, most of it. Two songs were recorded in Norway.

Is there any subliminal message behind the title of the new record?
It's the jumble of the travel of our fucked-up lives or something.

The "Loudest Band in New York" tag has followed you around for years. Are you sick of that?
I don't really care. I mean, whatever—it's ridiculous and it always seemed just sort of silly. But if people are still picking up on that, then that's fine. It's not anything that we're really going for. But we are really loud and [the music] hits your body in a certain way.

A Place To Bury Strangers plays Music Hall of Williamsburg Feb 17.
See the show
Local heroes A Place to Bury Strangers split the difference between pummeling post-hardcore and gothy electropop. This show doubles as an album-release party for the band's latest LP Transfixiation, partially recorded at the late Death by Audio, a space that served as home to APTBS and frontman Oliver Ackermann's DBA guitar-pedal company. Art-punk faves Grooms and Ed Schrader's Music Beat set the stage.