Beatles and friends box sets and reissues
Even though the Beatles are finally on iTunes, you'll want these groovy sets.
By Sophie Harris, Jay Ruttenberg and Mikael Wood Mon Nov 22 2010
The Beatles Library of Congress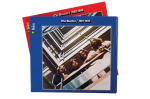 The Beatles
1962--1966 and 1967--1970 (Apple)
The Beatles
1962--1966 and 1967--1970 (Apple)
The so-called Red and Blue albums bring together all the Fabs' self-penned hits, from their mop-topped "Love Me Do" days to the gloopy "Long and Winding Road." But you already know this, and presumably you've already pegged yourself as a Red kinda guy or a Blue kinda gal. Either way, both albums are indispensable, and worth planning a road trip for, if only to get some solid sing-along time with these discs.—SH
Buy 1962--1966 on iTunes | Buy 1967--1970 on iTunes
Paul McCartney & Wings
Band on the Run (Hear Music/Concord)
In 1973, Linda and Paul McCartney surfaced in Lagos, Nigeria, with matching mullets and Denny Laine, the sole member of Wings who had not quit the band in the days leading up to the trip. In Africa, where they had randomly flown to record, the McCartneys were mugged at knifepoint, losing their demo tapes. They surmounted the odds to concoct this unlikely masterpiece, with intertwined themes too well spun to seem pretentious. Here, it's presented with requisite bonus material and a DVD depicting Wings creating...the cover photograph.—JR
Buy Band on the Run on iTunes
George Harrison
All Things Must Pass (Apple)
Whereas John and Paul converging in youth is the stuff of miracles, George's artistic ascendance is a story of simple osmosis. His masterful debut as an ex-Beatle is at once liberated from the men who had rejected many of its best songs and beholden to their genius. For its 40th anniversary, All Things Must Pass reemerges in its initial form: an elegant box of three LPs. Harrison still sounds like the oldest, wisest man who ever lived; he made the record at 27.—JR
Buy All Things Must Pass on iTunes
John Lennon
Signature Box (Capitol)
Coinciding with what would have been his 70th birthday, this 11-disc Lennon box packages crisply remastered editions of his eight solo studio albums alongside assorted demos, outtakes and singles. The revelation—at least for the new dad writing this—is a gorgeous, no-frills home recording of "Beautiful Boy (Darling Boy)," Lennon's heartfelt 1980 ode to his and Yoko Ono's son, Sean. Few songwriters since have duplicated Lennon's nervy mix of emotion and intellect.—MW
Buy Signature Box on iTunes
The Monkees
Head (Rhino)
By the late '60s, as the Beatles' every record became an instant classic, their peculiar TV clones achieved something nearly as odd: The Monkees seemed to have created instant period pieces. The 1968 film Head, scripted with a young Jack Nicholson (!), gave the band its obligatory "psychedelic" makeover. Lushly presented in a three-disc box set, the soundtrack—like much work from the era—is probably better than it should be, with contributions from Carole King and Harry Nilsson. Can you dig it?—JR
Buy Head on iTunes
Ravi Shankar/George Harrison
Collaborations (Dark Horse)
You might not think that Vedic chanting is your thing, but as Philip Glass notes in the introduction to this gorgeous set, there's scarcely a musician in the world who hasn't been touched by the musical partnership of the beardiest Beatle and Indian maestro Ravi Shankar (this year celebrating his 90th birthday). Contained herein: awesome, spooky-sounding chanting, a live DVD, a glossy book and much more to rejoice about.—SH
Buy Collaborations on iTunes
Various artists
Come and Get It: The Best of Apple Records (Apple)
The Fab Four's record label, founded in 1968, didn't just put out Beatles solo albums. Named for the McCartney-penned Badfinger hit, Come and Get It collects some of the label's unlikelier releases, including the Sundown Playboys' straight-Cajun "Saturday Nite Special" and a strangely sober reggae version of the Plastic Ono Band's "Give Peace a Chance" by Hot Chocolate (who later struck disco gold with "You Sexy Thing"). These stars-turned-execs had a ticket to ride, and they used it.—MW
Buy Come and Get It: The Best of Apple Records on iTunes
The Universal Thump performs All Things Must Pass at The Bell House Mon 29. Paul McCartney plays a Sirius Radio showcase at the Apollo Theater Dec 13.
Wanna win all these boxsets? Of course you do! Just click here