Black Flag + Good for You + The Men + The Netherlands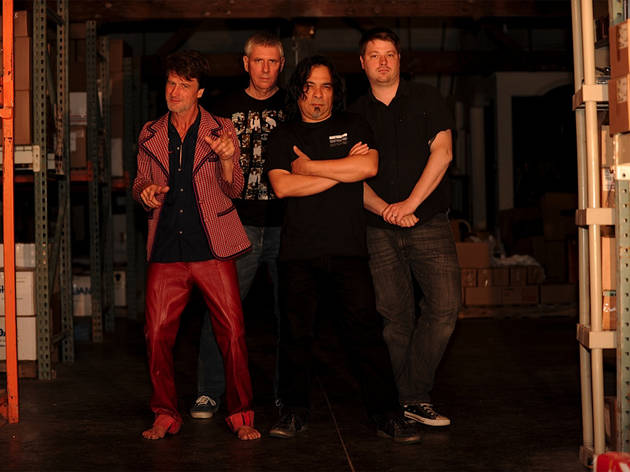 To hardcore enthusiasts, it's been clear for years that there's more than one Black Flag. Much like the Beatles, the Hermosa Beach, California, punk institution underwent a startling evolution during a career that lasted exactly a decade. Spin the 90-second 1978 burnout anthem "I've Had It" back-to-back with "I Won't Stick Any of You Unless and Until I Can Stick All of You"—a sprawling punk-fusion instrumental from 1984's Family Man, which opened with six tracks of post-Bukowski spoken word from then-frontman Henry Rollins—and you'll get a sense of how much ground Black Flag covered during its initial run. As if the group's legacy weren't convoluted enough, dual bombshells dropped simultaneously this past January: Greg Ginn, guitarist, founder and sole constant presence, announced that he was resuscitating the band for a new album and tour, while a cadre of other former members—including original vocalist Keith Morris (also of the excellent Off!) and bass standout Chuck Dukowski—proclaimed that they'd be staging their own series of greatest-hits-style gigs under the name FLAG. Baffled yet?
Assuming you're a nonfanatic, here's what you need to know about this week's shows, the first in NYC under the Black Flag name in more than 25 years: You'll hear a handful of passable new selections mixed in with a bunch of classic songs, drawn mostly from the band's early singles and immortal 1981 debut LP, Damaged, performed by Ginn, frontman Ron Reyes—who joined the band in '79 and stuck around long enough to record a sole EP, Jealous Again—and two new recruits. See FLAG at Irving Plaza on September 19 and you'll hear many of the same chestnuts played by a far-sturdier lineup of punk lifers, including Descendents/ALL mainstays Bill Stevenson (who did two stints with Black Flag in the early to mid-'80s) and Stephen Egerton.
So what exactly is the appeal of seeing the band calling itself Black Flag live in 2013? Simple: Greg Ginn, in rock mode. The serrated riffs and brilliantly queasy leads he spewed forth during the outfit's initial lifespan made him one the most riveting guitarists of his generation, but he's spent much of his time lately focusing on tranced-out, electronica-influenced jams. More so than the chance to pump your fist to hoary punk anthems of yore, then, this week's shows (see TicketWeb for details on Sunday's secret-venue gig) afford the opportunity to get close to a true musical live wire. Set aside your quest for the definitive Black Flag experience—doesn't exist; never really did—and gear up for a jolt.—Hank Shteamer
Follow Hank Shteamer on Twitter: @DarkForcesSwing
Venue name:
Warsaw
Contact:
Address:
261 Driggs Ave
Brooklyn
11222

Cross street:
between Eckford and Leonard Sts
Transport:
Subway: G to Nassau Ave
Price:
$25
Event phone:
718-383-5723
Event website:
http://europaclub.com