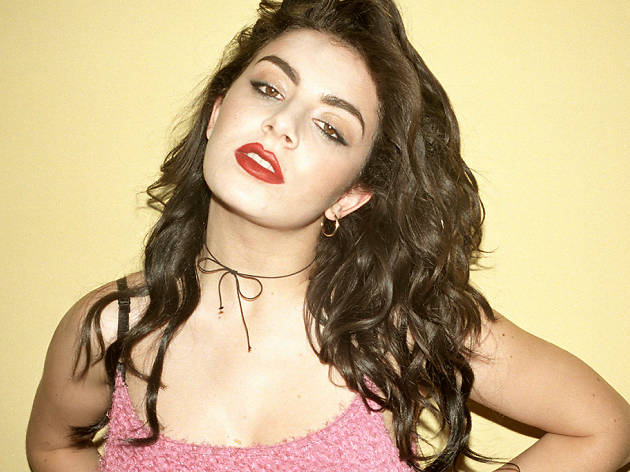 Charli XCX interview: 'I began to really not care what people think'
Fresh off her 'Fancy' feature, the singer steps into the spotlight with an ambitious new album
All said, it's very possible
Sucker
—the second Charli XCX LP, due December 16—has a shot at rivaling those successes: Lead single "Boom Clap," armed with a huge, euphoric hook, has already cracked the top ten. The song embraces bubblegum ambition in a way that Charli's debut, 2013's
True Romance,
mostly avoided. Crafted with help from guests including
Vampire Weekend
's Rostam Batmanglij and
Weezer
's Rivers Cuomo, the new record blends sugary surefire hits with noisy, maximalist productions. Its aggro title track falls squarely in the latter camp. "'Sucker' is about giving the middle finger to everyone who thought I couldn't be where I am now," says Charli, on the phone from London.
Since her stock has risen, the prolific songwriter has kept a busy schedule of studio sessions, both for her own projects and for big-name collaborations, and booked some intriguing gigs. This fall she headlines her first post-"Fancy" North American run—
including an October 7 show at Webster Hall
—and in 2015 she'll be opening for
Katy Perry's Prismatic tour
in Europe.
There's a lot about friendship on this new record. Who do you consider your friends these days?
My real friends are definitely the people I grew up with—the people who don't care about my music career at all. When it comes to making albums though I really only work with people that I consider my friends, like [producer] Patrik Berger. I completely trust him with my life—he's my musical soul mate. [Writing partner] Justin Raisen has become a really great friend of mine too. He's like my big brother now.
Has working with any of those more experienced people helped you stay grounded in the wake of your success?
I'm not interested in the idea of celebrity. I think that's something I was more concerned with when I was younger, when I was unsure of myself and more insecure. I feel like most 17- or 18-year-olds are. I feel like when people meet me, I'm very much not what they expected I would be. I'm not a diva and I'm not mean to people or have weird rules. Everyone's on the same kind of level.
Have you come to any lessons about songwriting from them?
In terms of songwriting, I've definitely started to realize that I shouldn't be scared. I've realized over the past year that things that I was afraid to say are actually way cooler than anything else I was saying before. I began to really not care what people think. I know a lot of people say that but I feel like with this record I've really put myself on the line. It's not supposed to be fitting in with what's on the radio now.
You're going on tour with Katy Perry in a few months. Do you see yourself aiming for that level with Sucker?
For me I'm very visually inspired. I'm more inspired by photographs and movies than I am by listening other music, so for me to create an amazingly intense visual live show is a dream, so I would love to be on that level for sure. I don't want to sell my soul or anything, but to go on a huge tour would be next level. That's why I'm so excited to go on the road with Katy. I've watched her film [
Part of Me
] and it looks fantastical.
What sort of films or visual things are you being inspired by at the moment?
This record is definitely inspired by this movie
Ladies and Gentlemen, the Fabulous Stains.
It's such a girl-power movie.
Clueless
and
The Craft,
too. Those kind of movies always inspire me because I think the female characters in them are always really punk and cool. Also lots of Japanese special-edition vinyl covers, a lot of yé-yé pop from the '60s. The record initially started with being inspired by both Paris and Japan, Tokyo in particular.
Do you have anything special planned for this U.S. tour?
I'm going to play some new songs, and I'm really scared for the people who created those songs with me, particularly Rostam because I'm worried he's going to hate it. I'm quite nervous about that. Also I have this whole pajama sleepwear thing. I'm trying to wear pajamas for the whole tour. I want to make the show punk and something that's inspiring for young girls to be whatever they want to be and still feel sexy at the same time.
So people should wear pajamas to the show?
Oh yeah, that would be cool I would love for it to be like one big slumber party.
Which one did you work on with Rostam?
This song called "Need Your Love." I wrote it with Rostam in this haunted hotel in the countryside in Sweden. I decided that I wanted to do a writing camp with all of my friends without record labels or publishers involved. We stayed in this hotel that was like
The Shining.
There was this woman that drowned herself in the lake outside in the 1900s and there was a documentary about this house that she was still there haunting it. In the snooker room, we managed to get a voice recording of her speaking. It was so real and freaky. That's where I wrote "Need Your Love"—it's super inspired by '60s girl groups.
Are other songs from that session going to see the light of day?
I really want to release some of the punk songs that me and Patrik wrote. We also recorded in ['80s superproducer] Trevor Horn's house in Bel Air. We stayed there for like a month and recorded quite a few songs. I think his place is haunted as well. The day we got there, there was a snake in the pool. And my friend saw a ghost in her dreams. We also had one of the best house parties ever there, and then we were told we could never go back to the house. So we recorded "Doing It" when we were really hung over after the house party, about being with all of these people and having one of the best time ever.
What's on deck? I think I read that you were working on the album after this one already.
I'm working on the album that's going to come after this album. I find it very difficult to sit on things. I have so many new ideas. I'm just thinking about the new shit. It's going to be totally different than this album, but I guess I shouldn't say too much about it because my record label will be like, "You need to focus!" I always have to write, though, it's the thing that I enjoy the most. It's frustrating because no one has even heard this album yet.
I'm sure other artists are hitting you up for some of your new songs.…
I've done a load of really cool writing but I'm not allowed to talk about it yet. But I'm excited to see who uses what. That will be cool.
Charli XCX plays at Webster Hall Tue Oct 7.