1/5
Photograph: Stephanie Berger
BAM Howard Gilman Opera House. Created and directed by Robert Wilson. Music by Philip Glass. Choreography by Lucinda Childs. With ensemble cast. 4 hours 25mins. No intermission. BAM Howard Gilman Opera House. Created and directed by Robert Wilson. Music b
2/5
Photograph: Stephanie Berger
BAM Howard Gilman Opera House. Created and directed by Robert Wilson. Music by Philip Glass. Choreography by Lucinda Childs. With ensemble cast. 4 hours 25mins. No intermission. BAM Howard Gilman Opera House. Created and directed by Robert Wilson. Music b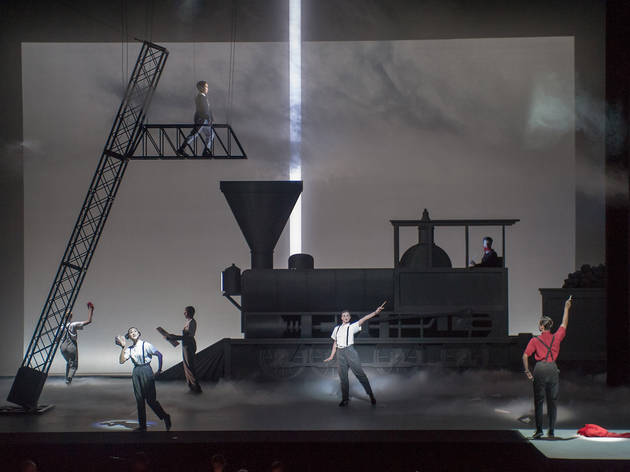 3/5
Photograph: Stephanie Berger
BAM Howard Gilman Opera House. Created and directed by Robert Wilson. Music by Philip Glass. Choreography by Lucinda Childs. With ensemble cast. 4 hours 25mins. No intermission. BAM Howard Gilman Opera House. Created and directed by Robert Wilson. Music b
4/5
Photograph: Stephanie Berger
BAM Howard Gilman Opera House. Created and directed by Robert Wilson. Music by Philip Glass. Choreography by Lucinda Childs. With ensemble cast. 4 hours 25mins. No intermission. BAM Howard Gilman Opera House. Created and directed by Robert Wilson. Music b
5/5
Photograph: Stephanie Berger
BAM Howard Gilman Opera House. Created and directed by Robert Wilson. Music by Philip Glass. Choreography by Lucinda Childs. With ensemble cast. 4 hours 25mins. No intermission. BAM Howard Gilman Opera House. Created and directed by Robert Wilson. Music b
In the decades since its 1976 premiere, Einstein on the Beach, an experimental opera by composer Philip Glass and conceptualist-director Robert Wilson, has been more widely discussed than witnessed. A watershed creation comprising five continuous hours of abstract declamation, song and gesture, including exuberant choreography by Lucinda Childs, Einstein has been restaged only rarely. BAM produced the work in 1984; Princeton hosted a 1992 revival that also played there.
Now Einstein is circling the globe in a new staging by its originators that sets sail in March. Reviewing the London premiere in May, the Guardian critic Andrew Clements said that the undertaking was "like watching the theatrical equivalent of a period performance." Wilson, he suggested, might have modernized the staging to lessen the anachronistic creaks that Clements perceived during a performance beset by technical gremlins.
Actually, scraps of video on the Web indicate that Wilson has subtly tweaked certain elements to invoke his mature Weimar-Kabuki style. But to pine for updates or revisions by other directors (inevitable and desirable as that prospect is) reduces Einstein to the dimensions of historic opera—something it patently is not.
True, Einstein is a product of its time. Bands of light slice through dark planes with the witness-bearing intensity of Barnett Newman's "zip" paintings. The music's hypnotic stasis and whirling-mandala rhythms recall a hippie-era quest for transcendence. Wilson's gestures are an apotheosis of the mundane. But add it up, and you have a communitarian realization of Wagnerian gesamtkunstwerk, with disparate parts combining to reveal the sublimity latent in our everyday milieu. You will almost certainly never again encounter another Einstein that's supervised by its creators; miss it at your peril.—Steve Smith
Follow Steve Smith on Twitter: @nightafternight
Buy Einstein on the Beach on iTunes