Five best indie dance parties
Dance to the sound of guitars at these cheap New York clubs and bars.
By Eva Medoff Tue Jan 11 2011
DJ Jeremy Bastard at Disco Down Photograph: Matt Reeves
Disco Down
It may look like a Chinese takeout joint from the outside, but this Lower East Side massage parlor-turned-lounge plays host to a night of wild abandon unparalleled on the downtown scene. With new wave, punk and indie on heavy rotation by DJs Bastard and Twig the Wonderkid, Tuesday night revelers are treated to a night of glam debauchery in this dancing den. Happy Ending, 302 Broome St at Forsyth St (212-334-9676, happyendinglounge.com). Tue 10pm; free.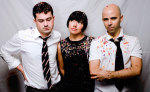 Mondo
Billed as a straight-up indie-pop shindig, Mondo proudly represents as an alt-music heavyweight without the cliquey hipster attitude. Rock out to a playlist of Britpop, college rock and girl-group material amidst a crowd known to include indie musicians (from the Pains of Being Pure at Heart, the Drums, etc.), Scandinavians and artsy types. According to DJ Kevington, he and party gurus Miss Modular and Dr. Maz create a "let's-throw-a-party-in-our-parents'-basement vibe." Various locations, check mondo-nyc.com for updates.
New York Night Train's Soul Clap and Dance-Off
Get down with soul impresario Jonathan Toubin as he spins his vast anthology of 45s to a mass of gyrating funk aficionados. Widely acknowledged as the mother of all soul jams, Soul Clap features a $100 dance contest for those willing to bank on their moves. Glasslands Gallery, 289 Kent Ave between South 1st and 2nd Sts, Williamsburg, Brooklyn (718-599-1450, newyorknighttrain.com). Third Saturday of every month at midnight; $5.

Whip out your saddle shoes and your fiercest pompadour for this rockabilly hoedown, where your vintage duds are just as important as your dance moves. East Village tiki bar Otto's Shrunken Head is the unlikely home of this retro throwback, where DJs Sei, June, Kick and Hiromu oversee a crowd of Buddy Holly clones and pinup girls bopping like it's 1956. , 538 E 14th St at Ave (212-228-2240, ottosshrunkenhead.com). Third Friday of every month at 10pm; free.
Shakin' All Over Sideways Down
Glam, punk and soul are just a few of the sounds that make up this Friday-night melting pot at hipster haven Home Sweet Home. Let Jonathan Toubin's vinyl collection lull you into a sweat-bathed soul stupor in a setting not unlike your grandpa's basement—complete with taxidermy and concrete floor. , 131 Chrystie St at Broome St (212-226-5708). Fri 10:30pm; $3.