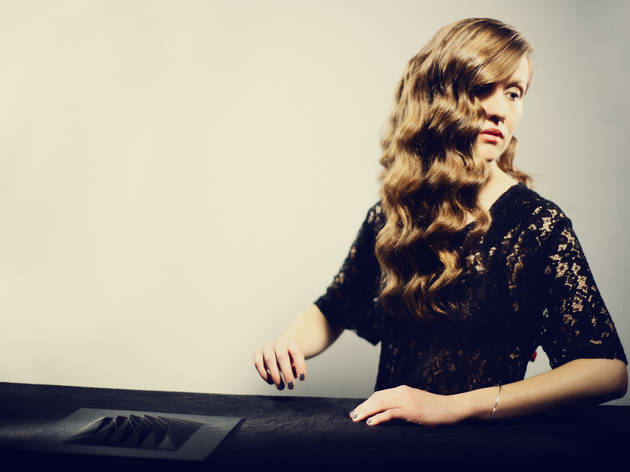 Interview: Jessy Lanza
The prodigious young Canadian singer-producer talks about working methods, collaborations and tetchy tech
When Ontario singer-producer Jessy Lanza received the opportunity to release her debut album on the highly regarded dance imprint Hyperdub, she was a little nervous. We assume she relaxed a little when The Guardian named her one of the "Future Stars of R&B" and XLR8R listed her among the year's best new artists. A collaboration between Lanza and Jeremy Greenspan of Junior Boys, Pull My Hair Back was one of 2013's more stellar efforts. We spoke with her about how the album and collaboration came about, and how some tools are more cooperative than others.
How did it feel to have your first album come out on Hyperdub?
Really intimidating—I didn't know how people would respond. They definitely responded in a much nicer way than I had anticipated. [Laughs] I was pretty nervous, because people can be really critical of things that come out on critically acclaimed dance labels. But I was also really, really excited, because I know that people have a lot of respect for what comes out on that label.
How did your collaboration with Jeremy Greenspan come about?
He asked me to do some session work with him on one of the Junior Boys records, and he knew that I wrote my own music and was interested in doing more production stuff, so we just started working on stuff together. What really pushed us to finish the record was that we talked to the guys at Hyperdub and they were willing to release a full record based on what we had sent them. That was definitely a push to finish an entire cohesive record.
What was your working process for the album?
A lot of times I'd start a track—like, have a skeleton of drums and a chord progression—and then I'd give it to Jer and he'd build on it a bit, and then give it back to me. We'd kind of just pass it back and forth until it was ready to be mixed. Or sometimes Jer would be like, "I wrote this chord progression and I don't know what to do with it, so you see if you can come up with something."
I suppose that's the nice thing about working in a pair.
Definitely, because with creative stuff you never want to force it, at the risk that it's just going to turn out really shitty. So it's nice that if you have an idea, you can pass off to somebody else and see if they can continue it in some way.
You used the Polymoog synthesizer on the album—how was that?
The Polymoog is an infamously complex synth. It's not very user-friendly. Because it's old and hard to use, I never know what I'm really doing on it. And it's broken, so I can only get the sound I want one time. It's cool, because once I record that sound, I'm never going to get it again.
You grew up in a very musical household. Both of your parents were musicians?
Yeah, they were both musicians. They met in a band, I think. My dad was a teacher, but he did music on the side, and then my mom always played piano.

What kind of music did they make?
I think it was 70s jam-rock… you know, kind of like the band Spirit. [Laughs] It was pretty '70s.

Did you start playing instruments at a young age?
Yeah, my parents put me in piano lessons when I was pretty young, probably like 6 or 7, and encouraged me to sing. It wasn't until I was a teenager that I started enjoying it and taking it seriously.

You're classically trained, right?
Yeah, I went to university for jazz piano.

I read that your master's thesis was "gendering of performance spaces in the 1920s."
Yeah, it struck me how in jazz music there were so many female singers and so few female instrumentalists. Which is funny, because it kind of parallels the imbalance in today's world: there being lots of female vocalists, but way more male producers and male instrumentalists.

Speaking to that imbalance, I saw that you organized a class last year to introduce young women to producing.
Yeah, Christie Sealey, who also lives in Hamilton—she is in a band called Orphx—did a lot of work applying for grants that got us a bunch of rental computers and sound cards. And Ableton gave us a bunch of trials to put on the computers and give 20 girls, age 14 to 18, the opportunity to come in and learn how to use Ableton. It was called "In the Loop." It was at-risk youth, girls that wouldn't have necessarily have had the opportunity to have a computer, because buying all that shit is not cheap.

That's really cool. Was it just one workshop?
It was a month, so we started off with the basics, and then the end result was that they did a soundtrack to a minute clip of this weird movie from the '60s called Carnival of Souls. It was really cool seeing how quickly they learned how to use everything and what they managed to come up with.

Do you plan on doing more things like that in the future?
I think Christie plans on running another workshop. If she's willing to have me, then I definitely would love to do it again. It was really fun.

When did you start producing?
Probably about 4 or 5 years ago. I got a copy of Logic, which was really my first introduction into using software. Up until that point I really was just writing songs in a singer-songwriter kind of way, just using voice and piano. But when I got Logic, I started hooking up instruments and fucking around with it. It comes with crappy sounding reverbs, delays, EQs. I didn't know how to use any of that stuff before.

How did you go about learning?
I did a lot of YouTube tutorials. It's such a great way to learn how to use that stuff. It's amazing how eager people are to show you how to use something that they know how to use.

How has your classical training helped and hurt you?
I've definitely written a lot of crappy music using my knowledge of the proper way to write chord progressions or follow tonal harmony. I'm sure lots of people have great success using that kind of teaching, but for me it never really clicked. I think one of the great advantages of going to school for music is learning how to really listen—how to listen for bass lines and figure out the voicings of chords. That's something that I still use now in figuring out how to play songs that I like. Copying other people's music and incorporating it into my own has been a really big advantage for me.

Are there any artists in particular that had a big influence on you?
For this album, I was listening to a lot of post-disco, boogie music. Patrice Rushen was a really big one. Kashif as well. I listened to a lot of Prince, too.

I'm pretty sure Prince also used the Polymoog.
Yeah, my dad bought one of those in the '70s and I still have it now. I didn't know Prince used it. I mean, that makes sense. He must have a massive collection.
Jessy Lanza plays Glasslands Gallery Jan 17 and Mercury Lounge Jan 18.
Follow Kristen Zwicker on Twitter: @djdopeshoes
Buy Pull My Hair Back on iTunes