Interview: The Rockettes
Radio City's high-kicking troupe chats about its new numbers, getting in sync and---what else?---Christmas.
By Amanda Angel Sat Dec 10 2011
Photograph: David Rosenzweig
The Radio City Christmas Spectacular has gotten a face-lift. This year, the 79-year-old production features a number of fresh scenes, including a brand-new routine from the show's star attraction, the Rockettes, that utilizes 3-D graphics. But don't worry—the spangled costumes, signature moves and cheerful routines are still there. TONY sat down with five of the dancers to chat about the troupe's legacy, its future and all those high kicks.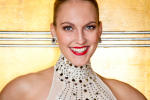 Samantha Harvey
, 25; Baltimore
Fourth season
How did you join the Rockettes?
My mom and dad took my sister and me to see the Rockettes perform. We got to meet [one of them] and took a tour, and after that I wanted to be a dancer. I was a dance major, and in my last week of school, I came up to audition. The day that I moved into my apartment I got a phone call, and I found out that in three months I was going on tour with the Rockettes. It's sort of a magical story.
The troupe works as a unit, sort of like a sports team.
It's absolutely like a sports team. In fact, [fellow Rockette] Katie Hamrah's dad calls us athletes in diamonds because what we do is so hard. We are athletes; we do up to five shows a day, 300 kicks a show. We're definitely working hard, but it pays off.
Are there different types of kicks?
We have strut kicks that go up to the knee, out at 90 degrees and then down. We have develop kicks that come up through the knee, then extend out to a straight leg and come down. And we have our famous eye-high kicks where our toes goe to eye-level.
Not all of the Rockettes are the same height. How do your kicks all reach the same level?
We're set up so that the tallest woman is at the center and the shortest are on the sides. I'm an end girl because I'm a shorty. We actually have a special trick: We all kick to our own eye, so it creates the optical illusion.
Do you ever feel self-conscious as one of the shortest girls?
I'm excited that I'm the end girl. It's always easier for my family to go, "There she is, right on the end." Some of us also make a little map for our parents [to point out where they stand].
How different is the type of dancing that the Rockettes do from other styles?
My boyfriend works in the Broadway dance world, and he's amazed at how clean and precise we are. Precision is something that a lot of dancers strive for, but something that the Rockettes have perfected.
---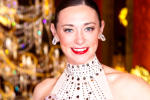 Corinne Tighe
, 27; North Plainfield, NJ
Ninth season
What's the earliest that you've had to get into costume to perform?
Some of our photo shoots can be really early. We had one last year on Black Friday at 4am. But [once] we put on our red lips and our eyelashes, we're ready to go. We synchronize our makeup as well as our moves onstage.
How long does it take for all of the dancers to learn to move in perfect synchronization?
We have rehearsals for six weeks before the show [opens] to learn all the routines and to get everything in coordination. We have nine different numbers and eight different costume changes. Some of the routines, like "The Parade of the Wooden Soldiers," take a little more time feeling each other out as a line. [Before] we do the soldier fall, you really have to get used to the person next to you.