LCD Soundsystem interview: 'Nobody goes walking naked down the street; if you don't chicken out, you're just crazy'
James Murphy on rock posturing, heroism and taking the soft option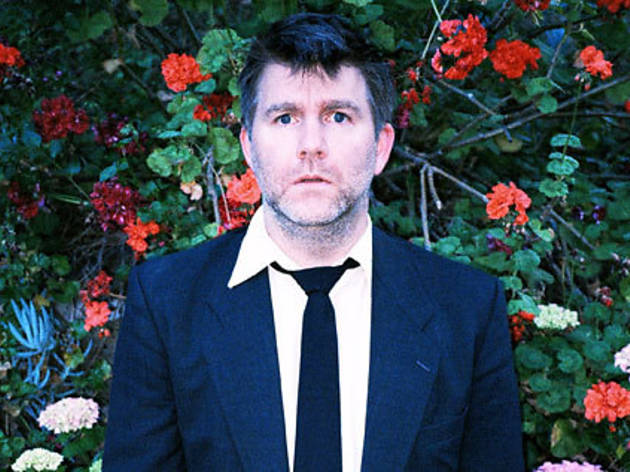 Asked how he feels about being cast as a musical hero, James Murphy replies, as if with sincerity, that he's making Savior soda. "It's Savior of Rock & Roll soda," he says. "There's also Savior of Dance soda, which is more grape-flavored." Which is as neat a way as any to avoid acknowledging just how much hope and expectation people have pinned onto your band. Three years since he released Sound of Silver and toured with Arcade Fire, James Murphy is poised to drop his third record with LCD Soundsystem, This Is Happening. The band's two "secret" warm-up gigs this past month sold out in minutes—and were blogged about, breathlessly, as the best shows of the year. This week, LCD returns from touring Europe to play four sold-out shows at Terminal 5.
Setting the stage for Murphy's current success, Sound of Silver distilled the flavor of the time—the hopes and fears of all the years, if you like. Talking to Murphy at the end of 2007 when the record had topped every Best of the Year list, I asked him why he thought his song "All My Friends" struck such a chord. "Because people are old-ish, and sad," he shrugged.
Then, as now, Murphy was funny, self-deprecating and aware of his situation's ridiculousness—not least that the hipster hero is 40 years old and didn't actually dance in clubs till after his 30th birthday—and that's pretty much the key to his music's appeal. People loved Sound of Silver because it's an album you can dance to, run to, make out to and, if you're so inclined, bawl to.
Despite the weight of expectation, there's a real sense of freedom to This Is Happening, from the clattering party anthem "Drunk Girls" to the soft album closer, "Home." The songwriting came easier this time, Murphy says via telephone from Luxembourg, "because I wasn't worried. It's usually only worrying and time responsibility that get in the way." His approach to making music is surprisingly disciplined and, in his words, workmanlike. "When it's time to make a record, you have a bunch of aesthetic goals that you try to achieve," he says. "Like, I wanted to sing a little bit more and have more melody. I wanted to use synthesizers differently and try to play a little guitar—just some basic goals—and try to make it a little less chicken." Less chicken? "Yeah, there's always a little element of chickening out. Everybody does, I think, a little bit; nobody goes walking naked down the street; if you don't chicken out, you're just crazy."
Murphy and his bandmates moved to L.A. to make the album, installing themselves for three months at a palm-fringed studio that Murphy dubbed "The Manshun," which they draped with flags and rugs. ("We made it our home almost immediately," he says.) L.A.-style mega-debauchery was not at the top of the agenda, however: "We were sometimes pretty drunk, but we were working. We kept calling the record 'The Point': we have to remember 'The Point.' "
It is to LCD fans' credit that they remember the point too. Life at home in Williamsburg is still pretty normal for Murphy, who finds he can go about his business relatively unmolested. "Usually people are very nice and friendly, and they might say something small—like, as their subway stop comes, if they've been sitting across from you, they might say [Quickly], 'I like your band,' and then walk off. It's pretty mellow."
And Murphy obviously loves what he does. He's suspicious of rock posturing. "There are certain things that seem de rigueur for bands," he says, "just fuckin' acting like you're cool and writing songs about how you feel what everyone else feels. [Laughs] All that stuff just makes me wanna die."
But he's not averse to at least some of the more enjoyable trappings of stardom; LCD's show at Coachella had Murphy in a white suit, swigging champagne from the bottle. "I always wanted to be in a band," he says. "I don't think anybody produces who doesn't want that. If you're a kid who likes baseball, you wanna play baseball. If you like space, you wanna be an astronaut. And if you like music, very often you wanna be in a band. But I gave up on it and forgot about it for a while, and a lot of this has been accidental. There hasn't really been a big plan, but once it got rolling, we all decided to do it and be in a band." He pauses for a moment and adds, "As long as we stayed the same wonky band we started out as."
LCD Soundsystem plays Terminal 5 Thu 20--Sun 23.