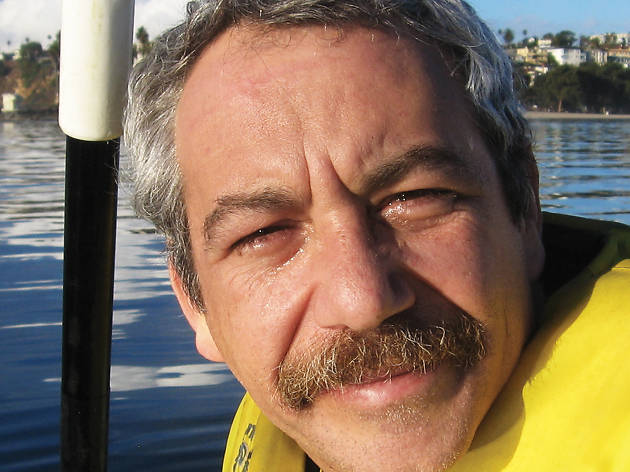 Interview: Mike Watt
The Minutemen bassist visits NYC to celebrate a new book.
At Coachella 2012, among headline-grabbing performances by Radiohead, Pulp and a deceased rapper, festivalgoers got to witness a more unassuming rarity: flannel-clad bass legend Mike Watt on tour with his post-Minutemen project fIREHOSE for the first time in 18 years. Watt still gigs regularly with his trio the Missingmen, as well as the Stooges, of which he's been a member since 2003, but the vet has also taken some time this year to look back. He and drummer George Hurley performed their Minutemen songs at the All Tomorrow's Parties festival in March.

When Watt comes to Le Poisson Rouge on May 2, he'll be digging up another vintage project, joining J Mascis and Murph of Dinosaur Jr. to form Hellride East. The band's only previous performance was a 2000 gig at the now-defunct East Village venue Brownies, where they played a set of jammed-out, shred-heavy Stooges covers. They reconvene to mark the release of Mike Watt: On and Off Bass (Three Rooms Press, $25), a new book of photographs Watt snapped while biking and kayaking around the harbor of his hometown of San Pedro, California, accompanied by quotes from his online tour diaries. The serene shots capture an introspective side of the bassist taking a breath between stints on the road. The LPR bill promises special guests, but Watt wouldn't divulge any hints in our interview. He did, though, talk about the book, the fIREHOSE reunion and some of his other upcoming projects. A condensed version of the chat is below.

Time Out New York: How did the book come together?
Mike Watt: I write these diaries when I go out on tour. And they're rambling, I never read them, they're insane. And I got into [photography] when I started riding a bike again. I didn't ride for 22 years. I got a car when I was 16, and I thought that shit was for little kids. It was suggested to me to put some of these things together—pictures are like memories, and this tour stuff is like memories. So they go together.

The publisher went through the online journals to pick the text. What do you think of how they put it together?
I like the way there's a lot of space, not too much spiel. I think that was smart of them.

Has all the biking and paddling affected your approach to the bass?
Actually I do a lot of my composing now while pedaling or paddling. It's rhythmic kinda shit. It's different from when you're holding the bass in your hand, which is basically like doing the stuff you already know. This way, you're making the music up in your head, then you bring it home and try to actualize it on the bass, instead of the other way around.

How have you been prepping for the fIREHOSE shows?
We've been doing prac every day for two weeks for this tour coming up. I haven't played with these guys as a band in 18 years, so there's a lot of having to remember. I played with Edward and Georgie in different situations. In fact [in March], Georgie and I did some Minutemen songs as a duet in England, and in January, we made the fourth Unknown Instructors album.

Do you have any plans for fIREHOSE shows on the East Coast?
I've got to go back to do Stooges. And then in October, I'm going to do one more tour of the third opera, Hyphenated Man, and then I got an album coming out I did in Italy with two Italian guys. For November, I'm going to tour Europe with the il sogno del marinaio album. So maybe after this stuff, we can do more.

I heard some of the il sogno del marinaio tracks online, and they're great. How did you hook up with those guys?
It was an accident. This guy rode with me on one of my Secondman tours, six, seven years ago. He got an opportunity to do some gigs—he was a musician too, it turns out, and he said, "Will you come over and do these six gigs. I got a buddy who plays drums." I said, "Okay, if we're going to do the music for these six gigs, why not make an album out of it?" It was that easy; it was a coincidence how I found them. They're really good cats. They come from the avant-garde, so there's a different flavor with this trio. And they cooked for me almost every fuckin' day. Ate a lot of pasta. I'm hoping to bring them to do a tour of the U.S.

Now that you've set up your clenched wrench label, are you excited to be putting these things out?
I don't want to put them all out there at once because I want them to have their own personality. These collaborations are a lot about the people I'm playing with. Of course it's me bringing my bass. Sometimes I write all the music, but I still think they're a product of the people I'm playing with. Bass is tricky that way—we're kind of like glue, we glue shit together. If you've got nothing to glue to, to stick to, you're just a puddle. I don't want to be a puddle. I wanna stick to shit.

You just put out the Spielgusher record on the label. What was it like finally releasing a project with Richard Meltzer?
I think that record tripped people out. I'd seen some reviews, and they don't know how to deal with the music, or Richard, or both. But that was a personal thing. I'm 54 now, Richard's 67. I was just glad to put that out as a document. It took a lot of work to do, all the editing and mixing, but it's well worth it, man. I'm really into that thing. Other people can't see it, that's okay. I learned to let that shit roll off from the old punk days.

What's going to happen at your Hellride East show?
I played with Murph and J after that sickness almost killed me 12 years ago. In a way, it's kinda coming full circle on that motherfucker. It ain't a regular kind of gig. It is a weird anniversary—that shit almost killed me, that was a hell ride. I made it though. That was very heavy because J took me on tour to play bass for J Mascis and the Fog. We came through Ann Arbor. And then that led to Scotty [Asheton] playing for us. In that way, J's kind of responsible for the Stooges reunion. Not on purpose though, that's just the way things worked out, coincidence.