Lianne La Havas vs. Divine Fits
Two buzzier-than-thou acts hit town this week: rising young Brit Lianne La Havas and pedigreed pack Divine Fits. Here's your chance to see how they stack up.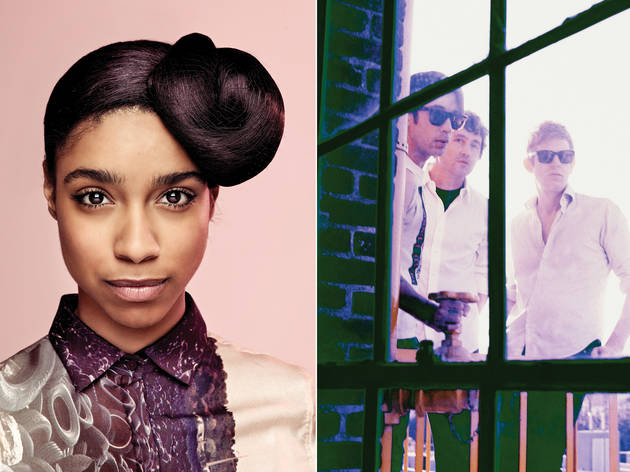 Lianne La Havas
Debut
Is Your Love Big Enough? (Nonesuch)
Sounds like…
She turned her heartbreak into a No. 1 record, but don't compare La Havas to Adele. Her spare songs are more folk than pop, by turns jazzy and R&B-inflected, anchored by her honeyed, soulful voice and deft guitar-playing.
Desired effect
To make your heart and soul melt. Also, grrrl power.
File next to…
Joss Stone, Nina Simone, Alicia Keys
Name-dropping credentials
She just nabbed a slot as John Legend's opening act. Matt Hales (Aqualung) is her writing partner and producer. Stevie Wonder serenaded her with one of her own songs after he attended an L.A. concert.
Key track to know
"Don't Wake Me Up"
Fan base
Fashion-forward tastemakers impressed by the lady's impeccable style and asymmetrical 'do
In her own words
"I was seven the first time I ever sang, and I was inspired because I saw Lauryn Hill.… So I tried singing one day, and I loved the way it felt, so I carried on from there."—MTV Iggy
Catch her here
Bowery Ballroom; Tue 11
Divine Fits
Debut
A Thing Called Divine Fits (Merge)
Sounds like…
Beefy basslines, sharp-angled guitars, joyous percussion and crunchy keyboards—this well-paced disc packs tight, spiky hooks and precisely ambiguous vocal stylings into minimalist indie rock.
Desired effect
To make you feel clever, and proud of it. The songs are smart! So are the lyrics!
File next to…
White Rabbits, Guided by Voices, Spoon
Name-dropping credentials
The trio is composed of indie royalty, a supergroup à la Wild Flag: Britt Daniel from Spoon, Dan Boeckner from Wolf Parade and Handsome Furs, and Sam Brown from New Bomb Turks.
Key track to know
"Shivers"
Fan base
Ironic-T-shirt wearers with high expectations, given the band's ancestry
In their own words
"It was pretty obvious from the beginning that this wasn't set up to be a vanity project or just a hobby band or simply a side project. It's a band."— Dan Boeckner, Stereogum
Catch them here
Music Hall of Williamsburg; Sun 9
You might also like:
See more in Music