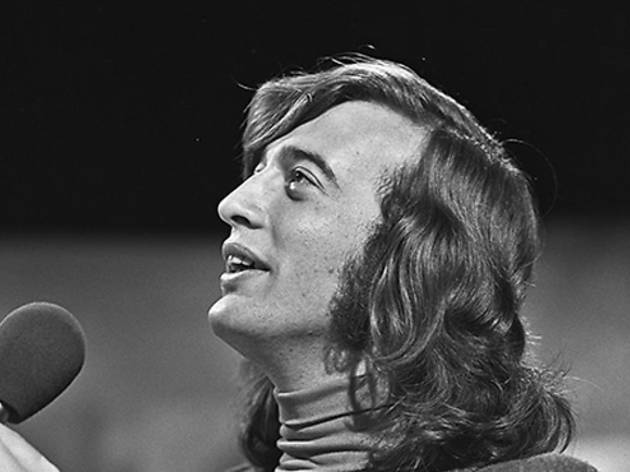 RIP: Robin Gibb
Paying tribute to the Bee Gees songman.
It's been a tough month in music. In the past five weeks, we've lost Band leader Levon Helm, Beastie Boys luminary Adam Yauch, disco goddess Donna Summer, Booker T bassist Donald "Duck" Dunn and go-go godfather Chuck Brown.

We were dismayed to learn this morning of the death of Robin Gibb—one third of the Bee Gees, and brother of Maurice and Barry. The siblings had been making records together since 1965, and Robin briefly stepped out on his own with 1970 solo album Robin's Reign (a hit in the U.K.).

The songs we associate most keenly with the band are its disco anthems; notably 1975's phenomenal whirl "Jive Talkin'" and tracks from 1977's Saturday Night Fever—which is now among the best-selling albums ever. But Gibb's questing, quivering voice is what makes the Bee Gees more emotional tracks so moving; it's Gibb who sings "Massachusetts," "I've Gotta Get a Message to You" and "I Started a Joke."

Gibb had battled cancer for some years now, and his last work was The Titanic Requiem—composed with son RJ to commemorate the 100th anniversary of the sinking of the Titanic. Just age 62, Gibb was hospitalized last month and passed away last night.

Musicians who paid their respects on Twitter include Stevie Nicks, Justin Timberlake, Bruno Mars, Nile Rodgers and Bryan Adams.

Read tributes from John Travolta, Kenny Rogers, Dionne Warwick and more here.